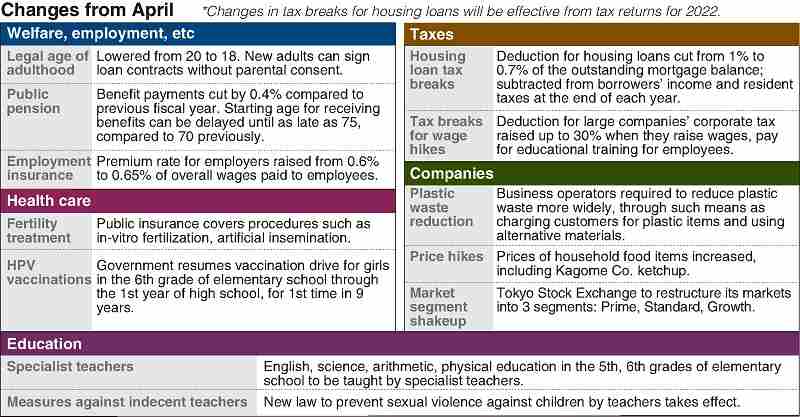 7:00 JST, April 1, 2022
A number of changes and new systems have taken effect with the start of the new fiscal year today, in areas including welfare, education and taxation.
The legal age of adulthood has been lowered to 18 under the revised Civil Code, down from 20. People aged 18 and 19 are now adults under the law.
Public pension benefits have been reduced by 0.4% compared to the previous fiscal year, as the novel coronavirus pandemic has forced down wages among the working-age population. Pensioners could previously choose to start receiving benefits between the ages of 60 and 70; now the starting age can be delayed as late as 75.
New subjects have been introduced for high schools, in line with the new Course of Study. Among them is the subject "Public," which teaches about sovereignty.
To protect students from indecent acts at school, a new law to prevent sexual violence against children by teachers came into force on Friday.
The tax deduction for housing loans has been cut to 0.7% from 1% of the outstanding mortgage balance, to be deducted from borrowers' income and resident taxes when they file tax returns for 2022 onward.
The length of the tax break for a newly built home has been extended from 10 years to 13 years.
In response to the rising cost of fuel and raw materials, a wide range of products and services increased in price Friday, including food items and other daily necessities, electricity and gas.
The Tokyo Stock Exchange will restructure its market segments on Monday.
Add TheJapanNews to your Google News feed.