Families of Japanese abductees fight on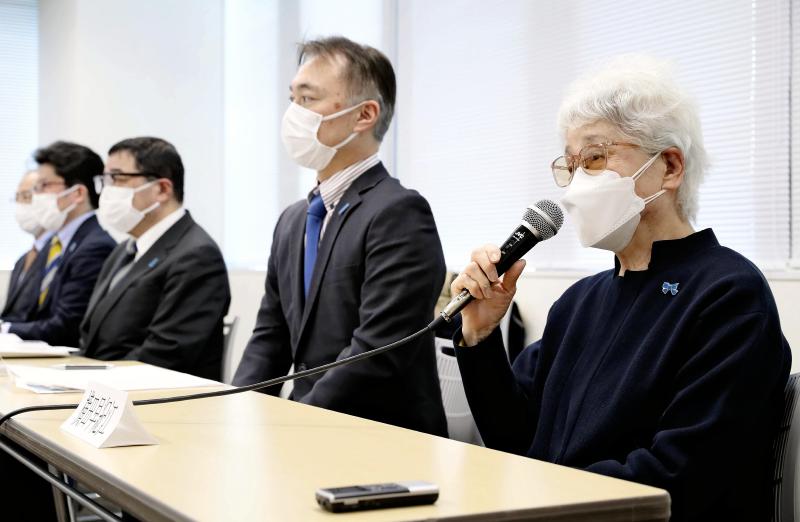 7:01 JST, April 1, 2022
It has now been 25 years since the founding of the Association of the Families of Victims Kidnapped by North Korea, and although the issue is widely known thanks to the families' efforts, only five out of 17 abductees have returned to Japan. With just two parents of the victims still alive, the relatives are calling for concrete action from the government.
Sakie Yokota, 86, is the mother of Megumi Yokota, who was abducted by North Korea in 1977 at the age of 13. Yokata told reporters on March 13 that she feels a sense of futility, as so many years have passed since her child was taken.
The family association was established on March 25, 1997. The families stood on streets calling for a resolution to the issue, although the abductions were widely viewed as nothing more than suspicions at that point.
The turning point was the first summit meeting between Japan and North Korea on Sept. 17, 2002. Then North Korean leader Kim Jong Il admitted to the abductions and offered an apology. In October that year, Kaoru Hasuike, 64, and his wife returned to Japan along with three other people.
"We hoped at that time that all the abductees would soon return home," said Kenichi Ichikawa, 76, who has been active in the association since its formation. Ichikawa's younger brother Shuichi was abducted in 1978 at age 23.
However, no one else has come back, with North Korea claiming that Megumi and seven others had been confirmed to be dead. In November 2004, Pyongyang returned ashes that they said belonged to Megumi, but analysis by Japanese experts later proved they were the remains of someone else. Negotiations between the two countries stalled.
Shigeru Yokota, Megumi's father and the first representative of the association, died in June 2020 at the age of 87. The group's leadership was taken over by Shigeo Iizuka, who died last December at 83. Iizuka's younger sister, Yaeko Taguchi, was kidnapped in 1978 when she was 22.
More than 10 family members of the 12 abductees have died. The only parents still living are Sakie and Akihiro Arimoto, 93 — the father of Keiko Arimoto, 23 years old at the time of her abduction in 1983.
Calls for a resolution have been growing, and the number of signatures on a petition demanding the government rescue the abductees exceeded 10 million in 2013. Last year, it reached 15 million.
In September 2017, former U.S. President Donald Trump referred to the abduction issue at the United Nations.
"It's important not to lose this momentum," said Takuya Yokota, 53, Megumi's younger brother and the third leader of the association.
The family association plans to call on the government to hold a Japan-North Korea summit as soon as possible and to indicate the process and deadline for the rescue of the victims.
"I have no intention of giving up on this issue, no matter how many years pass," said Koichiro Iizuka, 45, Yaeko's oldest son. "I want to see Sakie and Akihiro embrace their daughters by the end of this year."