Japanese companies develop sophisticated robots built for companionship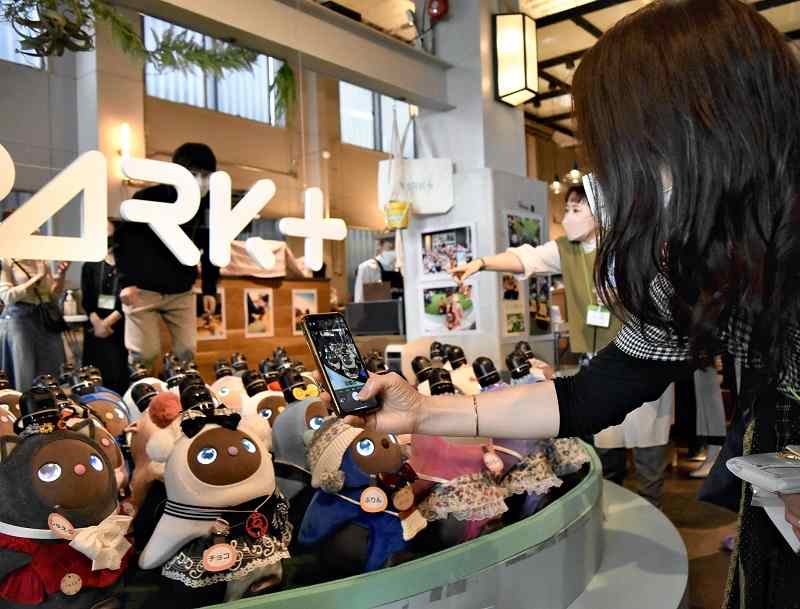 11:15 JST, March 29, 2022
Humankind's quest to develop technology is creating the kind of artificial intelligence that can transform itself into a much-needed companion, in this case "communication robots," which have become a magnet for people as opportunities for face-to-face contact become increasingly scarce amid the coronavirus pandemic.
In fact, some owners become so attached to the items, they consider them pets or family members.
'Adorable' additions to the home
About 50 robot owners had a rare get-together at a cafe in Tokyo's Shibuya district one day early in March. Each of them brought a Lovot, a technology developed by the robot start-up company Groove X, Inc.
Each Lovot communicates in squeaks when called by its given name, assigned by its owner, and asks to be picked up.
"It's so adorable. For me, it's kind of like its part of my family," said a 54-year-old male company employee from Yokohama who participated in the meet-up.
Lovot is embedded with more than 50 sensors, and its internal 360-degree camera recognizes human faces and voices as well as also spotting obstacles.
Thanks to its AI technology, Lovot learns how to interact with people, and the more you pet it, the more it becomes attached to you.
Weighing about 4 kilograms, people can feel its slight warmth when they hold it. Thanks to engineering innovation, Lovot can also use its eyes to express itself in various ways.
Since its launch in 2019, the robot has been a hot item, and sales have increased more than tenfold compared to pre-pandemic figures.
The price, about ¥350,000, is not inexpensive, but Groove X said the items fill a role.
"Although not necessarily useful, robots that are close to people and can fill their hearts with joy have been well-accepted during the pandemic," a company spokesperson said.
Amagami takes 'affectionate nibble'
Yukai Engineering Inc., another start-up, this summer plans to release Amagami Ham Ham, a robot that gives your finger a "affectionate nibble" when you put it in its mouth.
It was developed to recreate the heart-warming sensation that occurs when pets or babies gently nibble on fingers.
Although the robot is unusual because it does nothing notable other than nibble on fingers, it does so in dozens of strength and rhythm patterns that can make for long-lasting enjoyment.
Qoobo, released in 2018, is a therapeutic robot in the form of a cushion with a tail. It wags its tail when being stroked. The movement of the tail changes depending on how it is caressed, as if it can sense the emotion of humans.
The robot has been well-received by people who cannot have pets because of allergies, selling more than 30,000 units. Qoobo is said to have been developed to leave room for users to determine its feelings from its moves, even though it does not speak or show any facial expressions.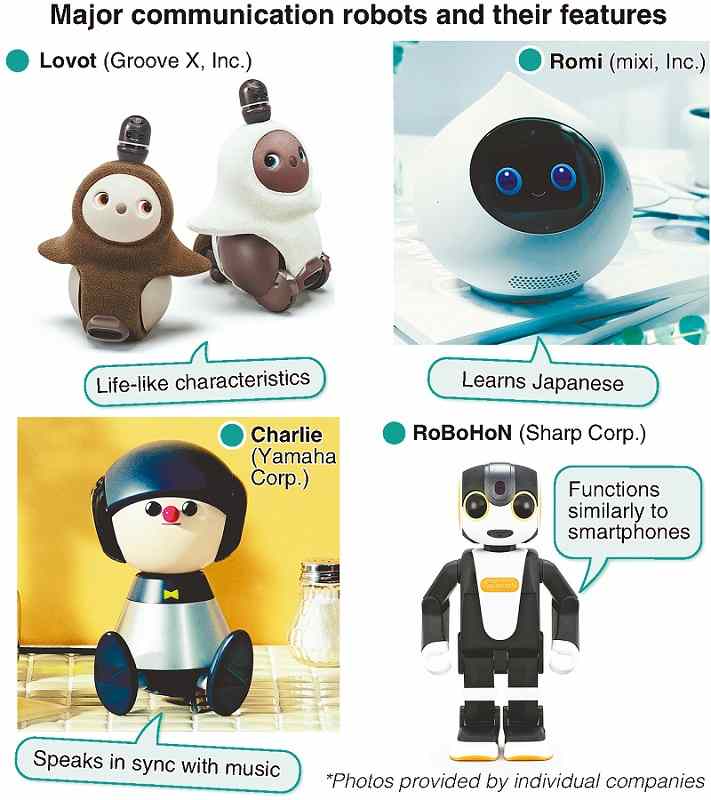 Smartphone-like functions
Sharp Corp. developed a robot equipped with functions like that of smartphone. RoBoHoN, which has 50 applications that can be installed, makes calls or checks email.
It can snap pictures when people or objects are in motion at a home when no one is supposed to be there, and email the images to a family member.
It can also offer advice on health care or sing a song that's requested. Its apps are updated regularly, and the robot "develops," increasing the number of songs it can perform as well as the dances it can do. Using the paid "health checkup" service, owners can have the robot's sensors and other devices factory-inspected.
The robot serve as a gift to parents who live in remote locations or can watch over children who are home alone.
"We want to continue devising new ways to allow people to use the robot over a long period of time," said Yuko Iwakoshi, in charge of the item's planning and development.
Tetsuya Ogata, director of the Institute for AI and Robotics at Waseda University, said: "The more recent robots are characterized by functions that allow them to interact with people, using a deep-rooted ability to learn. We can expect to see more robots that are useful not only in communications, but also in our daily lives."
Add TheJapanNews to your Google News feed.