Japan schools aim to increase political awareness, boost young voter turnout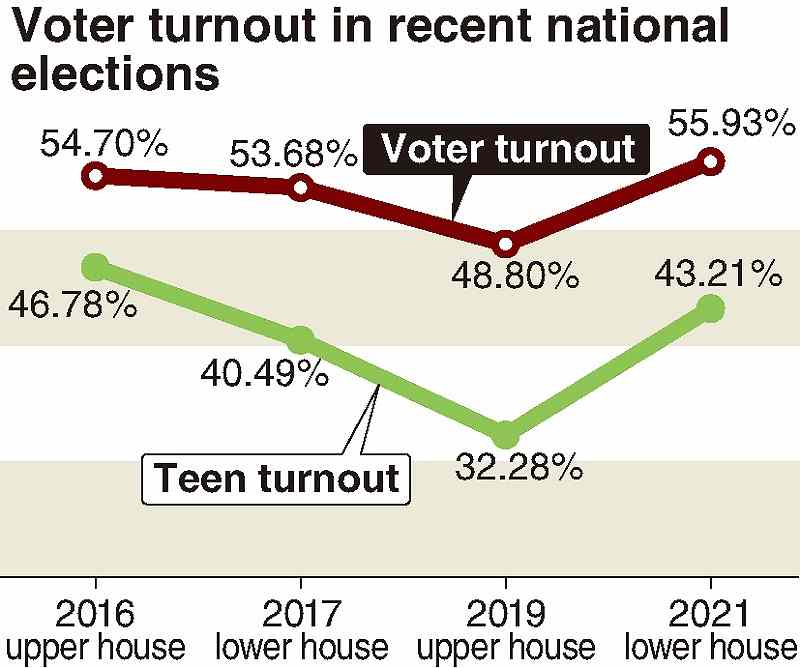 10:05 JST, March 27, 2022
A change to the Civil Code that will take effect in April will designate all 18- and 19-year-olds as adults, including high school students.
The change will increase this group's societal responsibilities, but there are concerns about low voter turnout among young people.
Classes in the new "public" civics subject will start the same month, based on the government's new curriculum guideline. It is hoped the new subject will raise awareness of voting-related matters through practical training that goes beyond merely holding mock elections.
High school polling station
Karasuyama High School in Nasukarasuyama, Tochigi Prefecture, has been promoting education on sovereignty issues through such means as hosting a polling station for early voting since the 2016 prefectural gubernatorial election.
In the House of Representatives election last October, 29 people, including 14 third-year students, cast votes at the school.
The school and the city's election commission are trying to boost voter turnout among young people also by having students from the school give public voting announcements from vehicles that drive around the city.
Currently, the high school civics curriculum addresses ethics, politics, economics, and modern society, but from April, "public" will replace modern society.
Classes will use an "active learning" style that is characterized by independence and interaction. Students will study deeply about such topics as the voting system through mock elections, among other methods.
"By having the school serve as a genuine polling station, [students] become more familiar with elections and their awareness of issues surrounding sovereignty increases," said a 33-year-old teacher at the school who expects to be teaching the new subject.
"Elections occur almost every year, whether they're general elections or prefectural assembly contests," he added. "I want to use these occasions to explain about the significance of participating in society as an adult."
88 schools in 20 prefectures
A revision to the Public Offices Election Law in 2015 lowered the voting age to 18. However, in all four national elections since, turnout among teens has been lower than the overall average.
In January, The Yomiuri Shimbun asked the election commission secretariats in all 47 prefectures whether any high schools had provided polling stations for early voting in last year's lower house election. A total of 88 schools in 20 prefectures, including Fukushima, Mie and Kagoshima, confirmed that they had. Nagasaki Prefecture topped the list with 19 schools, followed by Gifu Prefecture with 11 schools, and nine schools each in Aomori and Ibaraki prefectures.
Nagano, Ishikawa, Mie and Hyogo prefectures said they planned to ask high schools and municipalities to provide school-based polling stations for early voting in this year's upper house election.
Nagasaki Prefecture has established such polling stations in high schools since the upper house election of 2016. A growing number of schools are following suit: For last year's lower house election, six cities and one town provided such facilities.
Yamanashi Prefecture joined the trend for the first time in the previous lower house election, with sites at two high schools each in the cities of Kai and Minami-Alps.
Teen turnout in Kai was 6.25 percentage points higher than the national average of 43.21% and in Minami-Alps it was 1.8 points higher.
For this year's upper house election, the Yamanashi prefectural election commission secretariat plans to encourage as many municipalities as possible to host early-vote polling stations in high schools.
Urban challenges
Twenty-seven prefectures have yet to provide facilities for people to cast early votes at high schools, including Tokyo, Kanagawa, Chiba and Saitama prefectures in the Tokyo metropolitan area, and Osaka and Kyoto prefectures in the Kinki region.
Early votes must be cast in the municipality in which a person lives. This could create problems if polling stations are established in urban schools where students hail from various municipalities.
"There are various issues with setting up [early voting sites] in high schools and universities," said a Tokyo election commission official. "[For example], students who commute from outside the municipality can't vote at such places. We're prioritizing more effective placement of sites, such as at commercial premises and public facilities near train stations."
Waseda University Associate Prof. Masahisa Endo, an expert in public elections, said: "It's about more than just convenience. Putting polling stations in high schools is effective because it sparks conversations that help raise awareness. Upper house elections are for prefectural districts and are held at specific times. [Initiatives such as] setting up voting sites will help [students] become more attuned to politics."
Add TheJapanNews to your Google News feed.