Derailed Shinkansen moved 1 meter off tracks despite presence of safety devices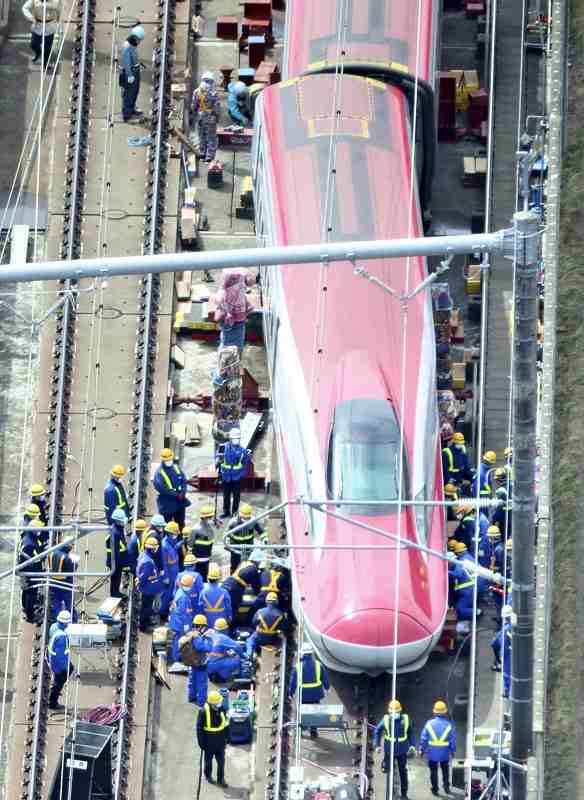 14:45 JST, March 26, 2022
A car of the Tohoku Shinkansen bullet train that derailed due to a powerful earthquake in northeastern Japan on March 16 has been found to have moved 1 meter away from the rails because devices to limit its deviation from the tracks did not function properly.
East Japan Railway Co. (JR East) announced Friday that car No. 6, the 12th car from the front of the Yamabiko 223 bullet train on the Tohoku Shinkasen line, came about 1 meter off the tracks.
All 17 cars of the train were equipped with the L-shaped guides on their wheel hubs to prevent cars from moving too far from the tracks. The guides are meant to catch on the rails if a train car derails, thereby limiting lateral movement. The devices, however, did not function properly for some cars, including car No. 6.
The L-shaped guides are supposed to prevent the body of a train from moving drastically off the tracks. This helps prevent cars from overturning or crashing into trackside walls or other structures.
All but one car of the train left the tracks, and 12 of the cars did not deviate too far from the rails as the devices properly functioned.
But car No. 6 came to a stop with all of the guides off the rails, shifting about 1 meter toward the oncoming tracks. Some of the guides on cars No. 4, 5 and 17 also did not catch properly on the rails. The very front car, No. 17, moved about 60 centimeters off the rails toward the trackside wall.
While JR East stated that the situation did not pose a serious danger, Kazuhiko Nagase, a visiting professor at Kanazawa Institute of Technology who specializes in railroad system engineering, pointed out the high risk involved in more serious accidents.
"If a car deviates by 1 meter, the risk of a collision increases if an oncoming train passes by. The deviation-prevention function of the L-shaped guides needs to be examined," he said.
Add TheJapanNews to your Google News feed.