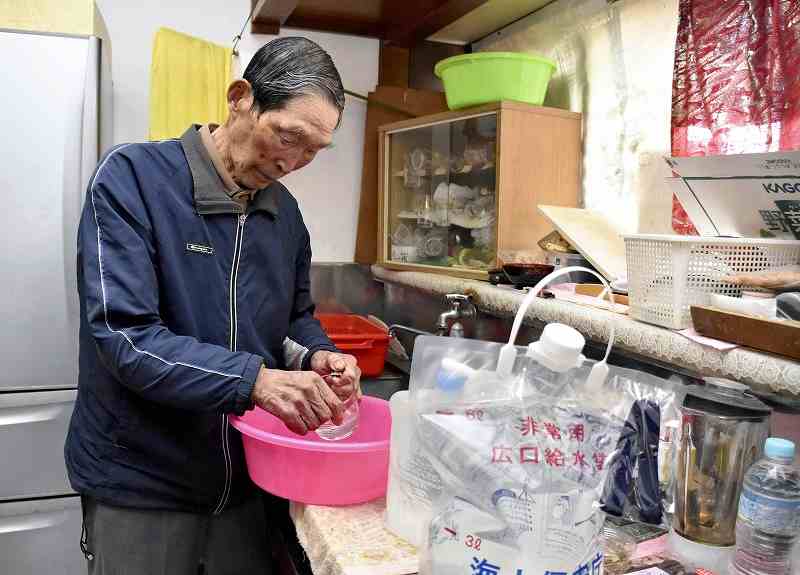 16:00 JST, March 24, 2022
Water was still cut off in some areas of Fukushima Prefecture on Wednesday, one week after an earthquake that measured a maximum of upper 6 on the Japanese seismic intensity scale.
Water pipes that had not been reinforced against earthquakes were noticeably damaged, and full restoration is expected to take some time.
"I can't take a bath or even wash the dishes. I hope life will return to normal soon," said Manshu Watanabe, 89, of Soma, which was hit by a tremor measuring upper 6. Watanabe has been receiving water from a patrol vessel of the Fukushima Coast Guard and from the house of a neighbor whose supply has been restored.
Some houses have suffered damage to their exterior walls and windows, but "contractors are busy and I'm not sure when the damage will be repaired," he said.
According to the Soma regional association of waterworks businesses, 40-centimeter and 25-centimeter-wide water pipes connecting water treatment plants and distribution reservoirs were damaged in three municipalities. This caused widespread suspension of the water supply.
At least 160 water pipes, including some that were not earthquake-resistant, are believed to have sustained extensive damage. Restoration work is expected to take a long time.
According to the Health, Labor and Welfare Ministry, 56.3% of major water pipes had been made earthquake-resistant as of March 2021 in Fukushima Prefecture, compared to a national average of 40.7%. "There is significant damage to water pipes that are not earthquake-resistant. We must promote countermeasures," a ministry official said.
The March 16 earthquake cut off water to up to 70,000 homes in Miyagi and Fukushima prefectures. As of 5:00 p.m. Wednesday, water had still not been restored to 120 households in Soma, Minami-Soma and Shinchi in Fukushima Prefecture.
Add TheJapanNews to your Google News feed.