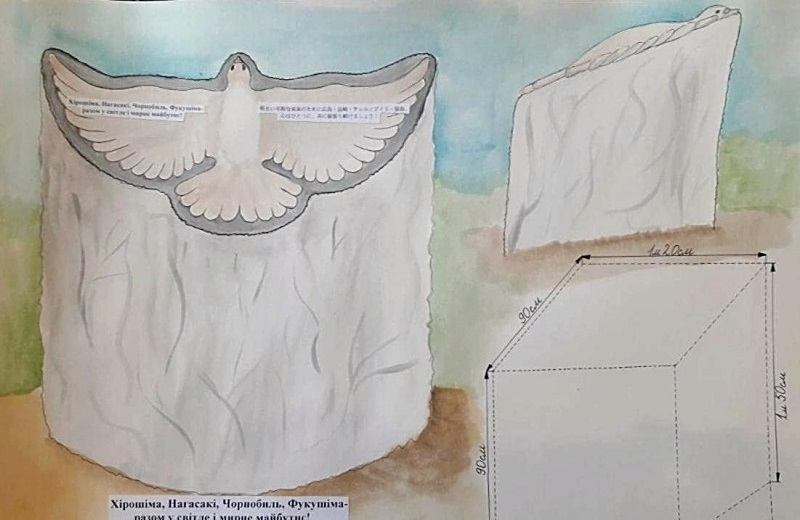 16:30 JST, March 23, 2022
The unveiling of a monument bearing the words of a survivor of the 1945 Nagasaki atomic bombing has been postponed due to Russia's invasion of Ukraine.
The monument was due to be unveiled in the Ukrianian capital Kyiv on April 26 — the day of the 1986 Chernobyl nuclear accident — but the plan has been put on hold due to Russia's invasion of its smaller neighbor and its seizure of a nuclear plant, fueling fears of a nuclear attack.
Minoru Watanabe, the Japanese man who organized the commemorative installation said, "It's difficult now, but I won't give up."
The project's origins can be traced back to April 26, 2018, when Nagasaki A-bomb survivor Toyokazu Ihara — who passed away in 2019, age 83 — delivered a speech at a ceremony in Ukraine to remember the victims of the Chernobyl disaster. Attending in his capacity as a special envoy of the Foreign Ministry, Ihara shared his memories and experiences of the bombing.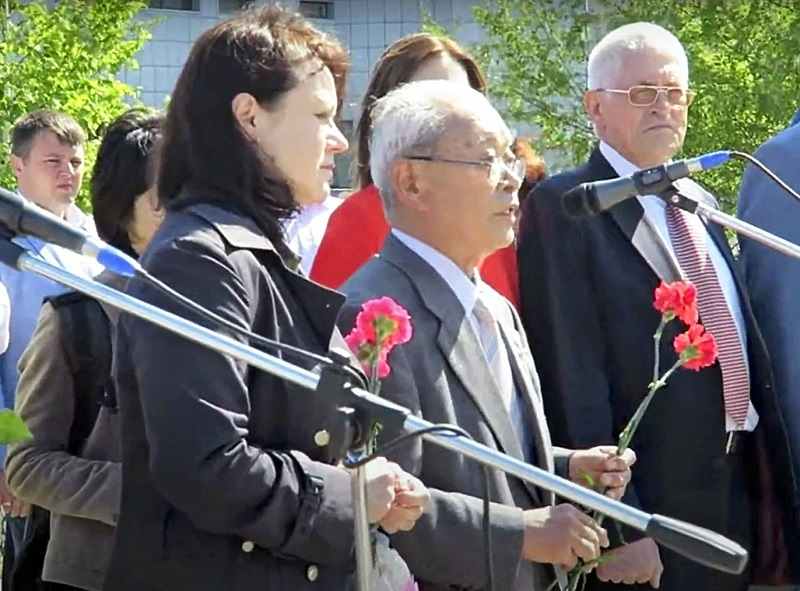 Ihara was 9 when the bomb exploded, and was exposed to radiation in an area about 6.5 kilometers from the hypocenter. His mother, Kano, had tended to injured victims immediately after the bombing, but her health gradually deteriorated due to an unexplained illness, and she died about seven years later.
Watanabe, a native of Fujinomiya, Shizuoka Prefecture, coordinated Ihara's speech that day. He recalled Ihara saying to the about 3,000 attendees: "Hiroshima, Nagasaki, Chernobyl, Fukushima — let's unite as one and move forward toward a bright and peaceful future."
Later, a group called Zemlyaki — comprising residents who had been forced to leave their hometown due to the Chernobyl catastrophe — urged Watanabe to create something that could represent the residents' connection to Japan. Watanabe suggested a monument, which developed into a plan to install a memorial sculpture in the Kyiv plaza where Ihara has given his speech.
The concrete monument is slated to be 1.5 meters high, 1.2 meters long and 90 centimeters wide, and feature a motif depicting a white dove — a symbol of peace. Ihara's pledge, "For a bright and peaceful future," will be inscribed on the bird's wings in Japanese and Ukrainian.
Production was scheduled to start mid-March at a local studio, with the finished monument to be unveiled at a memorial event for the nuclear accident attended by officials from the Ukrainian National Chernobyl Museum and the Japanese Embassy in Ukraine. The Russian invasion, however, changed everything.
Watanabe, 65, said he received a message written in Ukrainian from Zemlyaki's chairperson when Kyiv came under attack in early March. Delivered via social media and written in Ukrainian, the message read, "We didn't expect they would attack Kyiv…I'm sorry."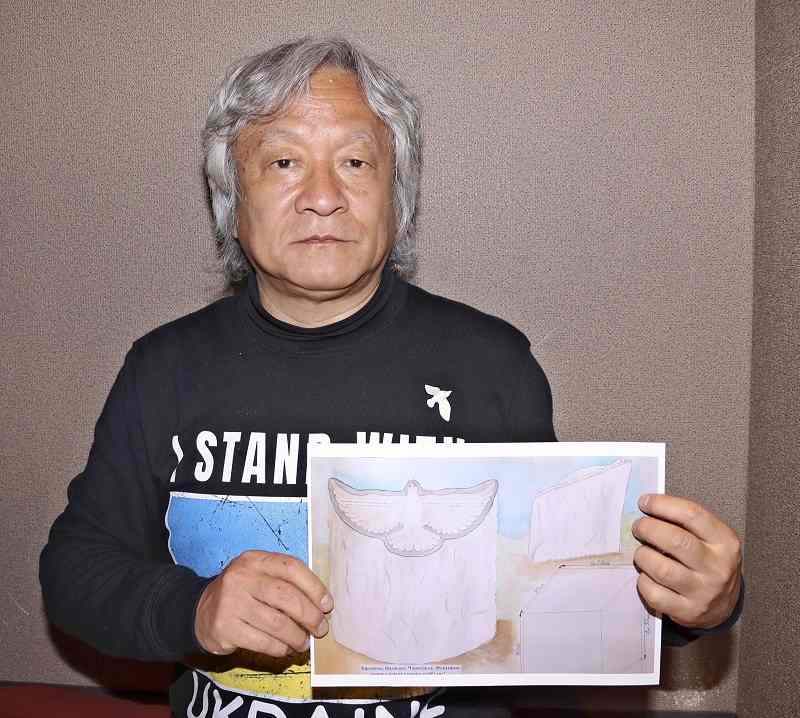 After the chairperson fled to Germany, it was no longer possible to proceed with the plan, Watanabe said.
"In this situation, the voices of hibakusha [A-bomb survivors] like Ihara who wished for peace have become even more meaningful," Watanabe said. "Things are difficult now, but I intend to keep taking action."
Ihara's eldest son Kazuhiro, 64, said: "If my father was still alive, he'd be angry and frustrated with the situation. It's my hope that his words and thoughts inscribed on the monument will provide people with an opportunity to think about peace."
Add TheJapanNews to your Google News feed.