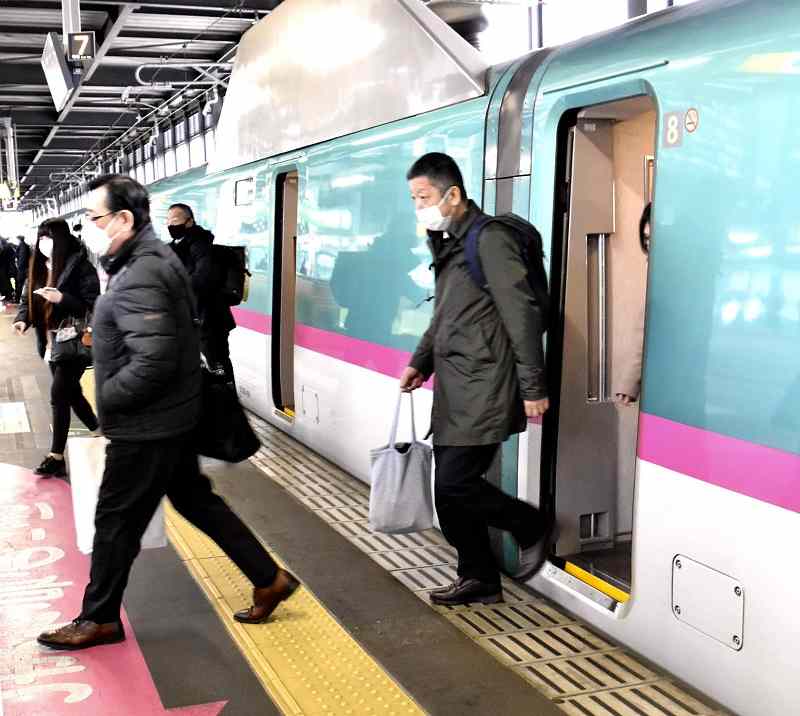 18:19 JST, March 22, 2022
Operation of the Tohoku Shinkansen bullet train resumed Tuesday in parts of a section that was suspended following an earthquake-caused derailment last week.
The line runs from Tokyo Station to Shin-Aomori Station, at the northern end of Honshu.
The magnitude-7.4 earthquake off the coast of Fukushima Prefecture last Wednesday caused the suspension of the line between Nasu-Shiobara Station in Tochigi Prefecture and Morioka Station in Iwate Prefecture.
On Tuesday, trains resumed running north from Nasu-Shiobara Station to Koriyama Station in Fukushima Prefecture. They also began to run south from Morioka Station to Ichinoseki Station in Iwate Prefecture. Special timetables were in effect for both sections.
Service has yet to resume in the gap that remains between those two reactivated sections. The gap, between Koriyama and Ichinoseki stations, includes the major stations of Fukushima and Sendai.
Trains on the restored sections are making about half as many runs as usual. Operation along the entire line, including the still suspended stretch, is likely to resume around April 20.
Meanwhile, service has also been affected on the Akita Shinkansen line, which shares Tohoku Shinkansen tracks from Tokyo to Morioka before branching off and heading west to Akita Station on the Sea of Japan coast. Those trains are now limited to shuttling between Morioka and Akita stations. Their number of runs has also been reduced. It not yet known when the service will return to normal.
Add TheJapanNews to your Google News feed.