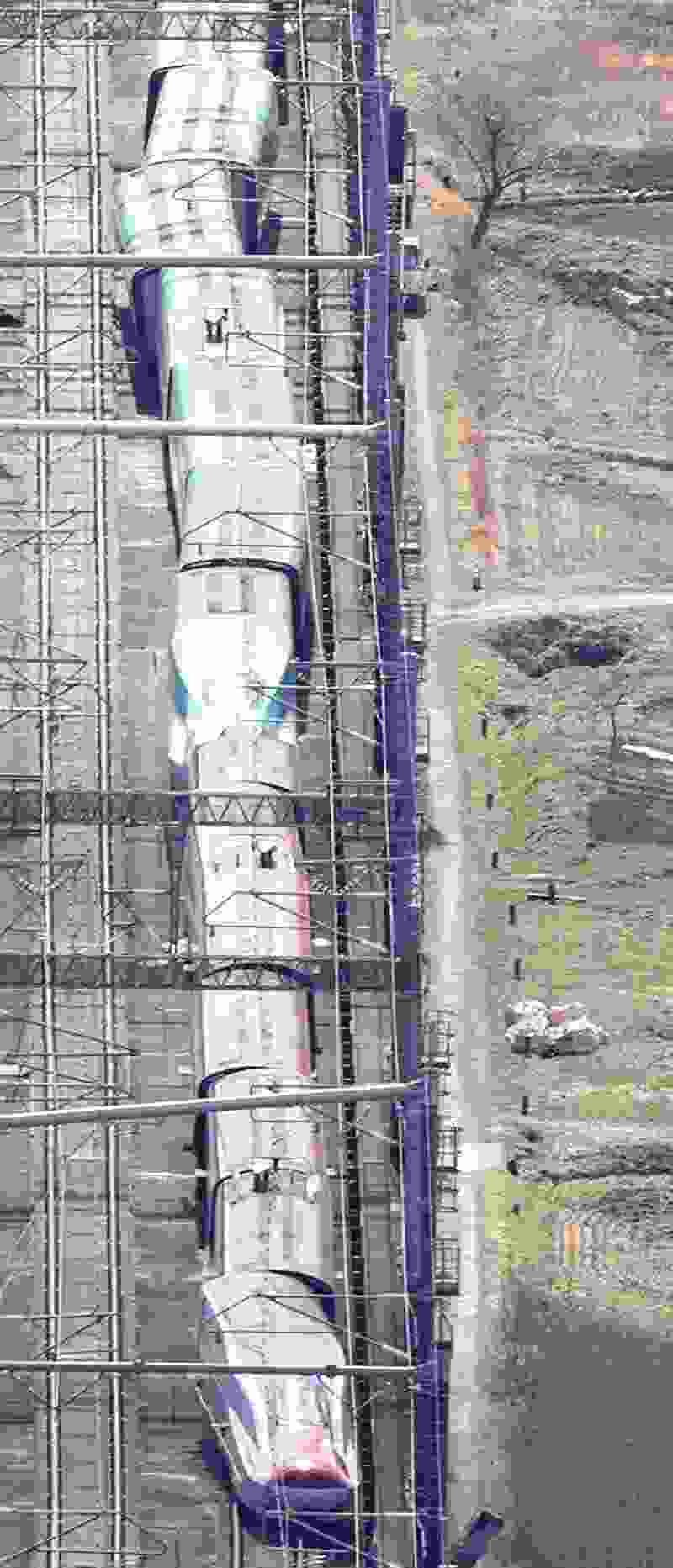 17:53 JST, March 18, 2022
A Tohoku Shinkansen bullet train that derailed in Miyagi Prefecture during the powerful earthquake that struck off Japan's northeast coast Wednesday night may have been knocked from the rails by the second jolt of the quake, according to the transport safety board.
It was the second time in railroad history that a Shinkansen train was derailed while in operation, following a similar accident that occurred in the 2004 Niigata Prefecture Chuetsu Earthquake.
Emergency brakes are expected to automatically activate on Shinkansen trains of East Japan Railway Co. (JR East) when seismographs detect a large tremor.
That mechanism did not prevent the train from derailing this time, which will likely prompt JR East to reexamine its emergency braking system.
Of 17 cars of the Yamabiko 223 bullet train on the Tohoku Shinkansen line, all except for car No. 13 came off the tracks; 14 of the cars had all of their wheels come off the rails.
It is believed that the train derailed just before or after it stopped, an investigator from the Japan Transport Safety Board of the Land, Infrastructure, Transport and Tourism Ministry told media after the field investigation Thursday evening.
Given that large jolts occurred in succession this time, "the train may have been stopped by its brakes after the first jolt, and then derailed due to the second tremor," the investigator said.
"It is quite challenging to completely prevent a derailment," JR East Vice President Totaro Ichikawa stated on Thursday, referring to the difficulties involved in safety measures against earthquakes.
After the Chuetsu Earthquake, JR East introduced L-shaped guides on train wheel hubs and anchoring devices on rails as part of efforts to prevent the body of a train from hitting trackside walls or other structures, thereby reducing the risk of injury to passengers. But the devices are not intended to prevent derailments.
The L-shaped guides are to prevent train cars from deviating too far from the tracks as the guides catch on the rails if a train car moves sideways. The anchoring devices are to prevent the rails themselves from overturning when they are struck by the L-shaped guides.
Some JR East officials believe that the devices served as a fail-safe, with no passenger casualties being reported with regard to the derailment this time. However, it cannot be denied that casualties could have occurred depending on the circumstances.
Ichikawa indicated that the firm would examine how it can respond to the issue based on the safety board's investigation. "If there were any shortfalls, we must address them," he said.
Delays in improving the earthquake resistance of facilities has also emerged as an issue.
After an earthquake hit off the coast of Fukushima prefecture last year, which measured upper 6 on the Japanese seismic intensity scale, it took 11 days to fully restore service on the Tohoku Shinkansen lines because of damage to utility poles and overhead power transmission lines.
For the same reason, it is expected to take a long time to restore the entire line this time.
JR East has been promoting earthquake reinforcement based on lessons learned from the Great East Japan Earthquake of 2011.
Of about 20,000 concrete utility poles on the Tohoku and Joetsu Shinkansen lines, however, only about 10% have been seismic reinforcement as of fiscal 2020.
JR East revised its earthquake resistance plan in response to last year's earthquake, but it has yet to indicate a timetable for completion of seismic reinforcement of all utility poles.
"In some respects, JR East's preparations [against a quake] have worked this time, but it needs to reexamine its measures for future disasters," said Toyama University Prof. Yoichi Kanayama, who specializes in transportation policy.
Add TheJapanNews to your Google News feed.