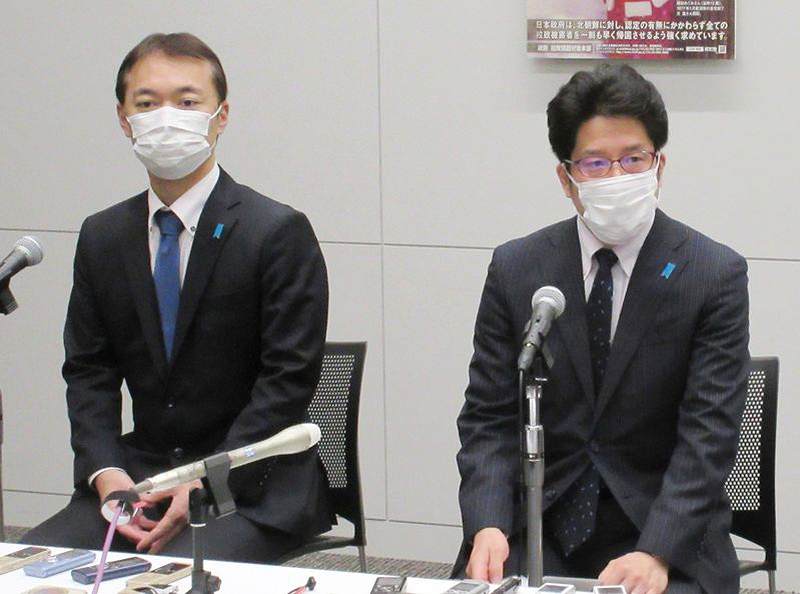 16:08 JST, December 12, 2021
TOKYO (Jiji Press) — Shigeo Iizuka, 83, head of an association of families of Japanese nationals abducted by North Korea decades ago, resigned for health reasons Saturday.
The resignation of Iizuka, abductee Yaeko Taguchi's older brother, was approved at an extraordinary meeting of the association. Takuya Yokota, 53, a younger brother of abductee Megumi, was chosen as the next head of the group.
Koichiro Iizuka, 44, Taguchi's first son, is set to take over the post of head of the group's secretariat from Yokota.
According to Koichiro, Shigeo was taken to hospital in mid-November and still remains hospitalized. He has expressed his intent to step down as leader of the association, Koichiro said.
At a symposium held in Tokyo on Saturday, Yokota expressed his resolve as the association's new head, saying: "We won't change what we demand regardless of the representative change. We'll continue to speak up for the resolution of the abduction issue."
Prime Minister Fumio Kishida told reporters that he hopes that Shigeo Iizuka will get well soon.
The news of his resignation "made me realize again that
the abduction issue is a very important problem that must be resolved without any more delay," Kishida said. "We'll do all we can without missing any opportunities."
At the government-sponsored symposium, Chief Cabinet Secretary Hirokazu Matsuno renewed the government's pledge to realize early return home of all abductees.
"In order to remove the sense of distrust between Japan and North Korea, Japan has little choice but to take the initiative and establish relations at the top level," Matsuno added.
Iizuka assumed the group's leadership in November 2007 to succeed Megumi's father, Shigeru Yokota, who died at 87 in June last year. Iizuka devoted himself to work to realize the return home of all abductees, collecting signatures and giving speeches across Japan.
Just like Iizuka, Yokota resigned from the position also due to health reasons. Many abductee family members have grown old as Japan remains unable to make a breakthrough in the abduction issue.
Iizuka was working actively until recently, participating in a major rally to call for the immediate return of the abductees held last month in Tokyo. But he sometimes mentioned worries over his health condition.
In October, Iizuka told a press conference after meeting with Kishida that he could not move his body the way he wanted. Iizuka left the session early, supported by others.
Add TheJapanNews to your Google News feed.