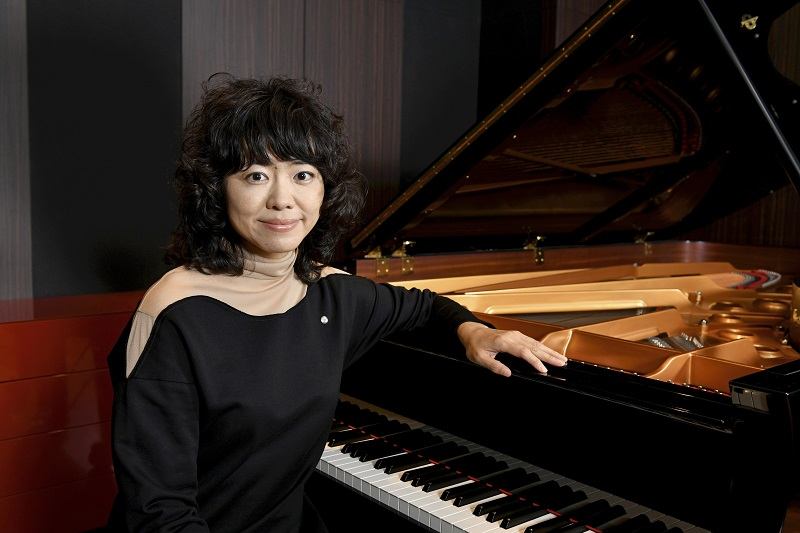 15:51 JST, October 24, 2021
Even amid the hard times of the pandemic, internationally renowned jazz pianist Hiromi Uehara has dedicated herself to making music. Her new album "Silver Lining Suite" — released under the group name Hiromi: The Piano Quintet — "reflects my feelings of 'don't give in,'" Uehara said.
The entire music industry was struggling last summer, including Uehara, who couldn't perform as much as she wanted. This prompted her to launch the "Save Live Music" project at the Blue Note Tokyo, a jazz club in the Minami-Aoyama area of the capital.
After giving solo performances for 16 days, she came up with the idea of collaborating with a string quartet. This resulted in the formation of a group that performed at the jazz club from late last year to early this year.
Filling out the quintet were violinists Tatsuo Nishie and Sohei Birmann, violist Meguna Naka and cellist Wataru Mukai.
The title piece of the album is a four-movement suite composed by Uehara during one of the periods last year when people were requested to stay home due to the pandemic.
"I wanted to compose music that would reflect the changes in my feelings and emotions during the pandemic," Uehara said. "I could deal with depressing thoughts like 'it's wrong to give live performances right now' as long as I put them to music."
The first movement is titled "Isolation," and it starts with lightly accented phrasing with a portentous melody. While the string players occasionally, and purposefully, sound grating to the ear, Uehara's piano nimbly and reassuringly maneuvers within the composition.
"Someday," the sixth track on the album, features light backing by the strings and vibrant piano playing — at the end, the piece evokes a sense of light.
"After all, we have big hopes," Uehara said. "There are many things I want to do after the pandemic ends, and I'm sure everyone feels the same way."
At the opening ceremony of the Tokyo Olympics, Uehara performed with kabuki actor Ichikawa Ebizo, elating many viewers with an energetic performance.
The 42-year-old musician has not been sitting idle amid the pandemic, but has been taking on challenges by actively doing what she can as a performer. However, keeping her spirits high hasn't been easy. "I was feeling very unstable," Uehara recalled. "There were times when I thought, 'I can give a concert — OK, I'll do my best,' but then it was canceled. My feelings were up and down all the time."
So, like a diary, she started recording the melodies that came to mind daily.
"Sinister melodies are in there," Uehara said. "There were many things that made me angry, and many things made me sad. I've overcome such waves."
Over the past 1½ years, she has seen many live venues close and friends' businesses go under, which made her think more about her role.
"I've always played the piano because I love and enjoy doing it, but I had never fully realized the employment that my piano playing can create," Uehara said. "I have to do what I can. Even though what I can do is tiny, if all individual musicians pitch in, we can create something big and powerful."
Add TheJapanNews to your Google News feed.