Forestland rental services help solo campers enjoy private slice of nature in Japan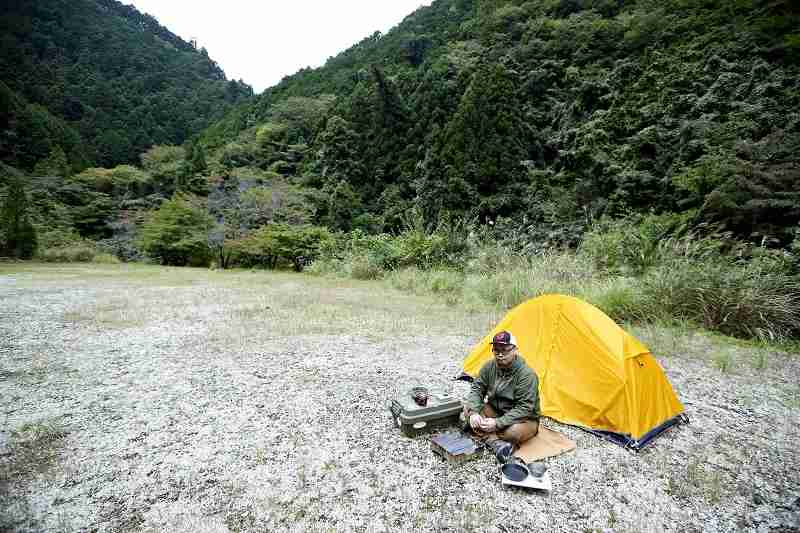 16:48 JST, October 15, 2021
Many solo campers in Japan have been turning to land rental services that offer a convenient way to escape the crowds on their own private plot of forest in the mountains. Kindled by a pandemic-driven camping boom, the industry has grown as a mutually beneficial arrangement for campers who want a little restorative alone time in the great outdoors, as well as rural landowners struggling to tend to their expansive properties. The forest rental business also helps to conserve the nation's scenic vistas, as the rental fees are providing landowners with a welcome financial stream that can be used to help better manage their forests.
Great escape
Masaharu Kimura recently traveled to a secluded campsite in the mountains of Gojo, Nara Prefecture. After assembling his tent in under 15 minutes, the 35-year-old director of Osaka-based internet ad agency Medicom, Inc. sat down and admired the view. "Solo camping lets me decompress in peace and quiet," he said. "It's the best way to escape from stress."
The site was formerly used as a helipad for lumber transport. It is now one of dozens of properties registered with Yamakas, a rental service launched by Kimura in March.
Interest in solo camping has surged as a comparatively safe way to enjoy some rest and relaxation during the pandemic.
But at the more popular conventional campgrounds, "alone time" must often be spent surrounded by boisterous group campers and other solo travelers who all had the same idea.
Kimura said he started up the rental service after realizing that there were many camping enthusiasts who, like him, craved a place where they could simply be alone.
850 applicants
The service works by connecting campers and landowners who have registered on the Yamakas website. Campers can book their secluded getaways for a month at a time, at prices in the ballpark of ​¥11,000 to ¥18,000 per month. Rent is then remitted to the accounts of landowners, minus a commission taken by Yamakas.
The website lists 26 plots — ranging from about 300 to 1,600 square meters in size — in seven locations in Kyoto, Nara, Hiroshima and Saitama prefectures. As of Oct. 8, a total of 848 users had applied to reserve a plot. Several plots have already been fully booked for this year.
Yamakyo Co., a lumbermill in Higashi-Shirakawa, Gifu Prefecture, started its own service that lets campers rent 1,000-square-meter forest plots at the price of ¥60,000 for the entire year. When the service launched last November, the company was flooded with 400 applicants clamoring for an initial 17 plots. In response to demand, the company expanded to offer 57 plots by asking nearby landowners for cooperation.
Both Yamakas and Yamakyo conduct strict identity checks of applicants and ask that forest owners and campers communicate with each other to discuss the details of their arrangement before the rental period starts.
Increase in 'absentee landowners'
Such initiatives can also help landowners, by providing resources required to properly manage unruly forestland.
According to an online survey conducted by the Land, Infrastructure, Transport and Tourism Ministry in fiscal 2011, of 3.24 million forest owners in the nation, about 790,000 — 24.4% — are "absentee landowners" who do not live near their land. About 80% of these absentee landowners reported that they were no longer tending to the upkeep of their property. Over the intervening decade, the number of absentee landowners is believed to have further increased.
Unattended forests are said to be prone to landslides, a consequence of weak tree roots and poor soil moisture-retention.
Rental revenue can be used by forest owners to cover the upkeep costs, such as hiring specialists to thin out overgrown plots and prevent degradation.
But as interest in outdoor activities surges, so have instances of people setting up camp on private land without the consent of owners, after being unable to snag a reservation at a regular campsite. Landowners hope the availability of the rental system will also help keep illegal campers at bay.
Add TheJapanNews to your Google News feed.