11:54 JST, October 12, 2021
KOBE — Hyogo Prefecture has long played a key role in the colorful history of Western-style confections in Japan. Many of the nation's most beloved confectionery brands originated in the region, particularly in Kobe, the cosmopolitan capital of Hyogo Prefecture. Since the opening of Kobe Port in 1868, a thriving confectionery culture has arisen in the city, producing an irresistible array of cakes, pastries, puddings and cookies that were once foreign but now brighten Japanese dining tables as "Kobe sweets."
Gateway to the world
Fashionable patisseries line the streets of the Sannomiya and Motomachi districts in Kobe. Lured by the enticing aromas wafting out through open shop doors and the colorful array of confections in their showcases, a steady stream of sweet-toothed customers can be found happily perusing the confections with smiles so wide as to be visible even from behind their face masks.
But it wasn't always so.
As a Hyogo Confectionery Association official explained, "In those early years after the port was opened [in 1868], Western-style pastries were still quite foreign to the common folks in town."
It wasn't until 1897 that Western confections would gain a foothold in the city, with the establishment of Kobe Fugetsudo Co. At first, the company's high-end desserts almost exclusively catered to the foreign community. It would take a while for Japanese customers to come around to the idea of cream puffs and marron glaces in their midst, let alone on their plates.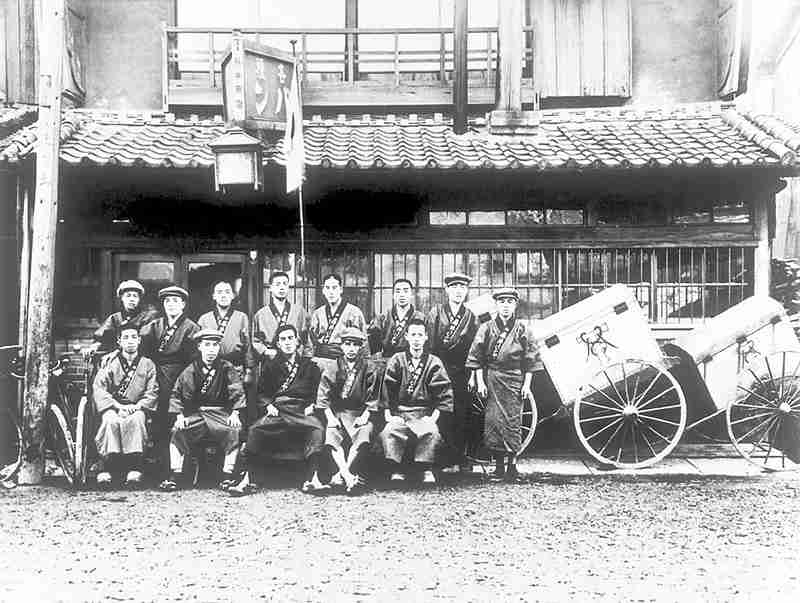 The Taisho era (1912-1926) brought an influx of confectionery shops opened by Russians who had fled the revolution at home. Makar Goncharoff and Fyodor Morozoff are two such emigres whose names remain a familiar sight on signboards.
Many Germans also relocated to Kobe, in some cases after being brought to Japan as prisoners during World War I. Prisoners-turned-patissiers Karl Juchheim and Heinrich Freundlieb founded two famed shops that still exist today.
These early ventures were aided by their proximity to the international port, which provided access to sugar and other ingredients, as well as plenty of foreign customers.
Over time, pastry chefs refined their craft, raising the level of the local confectionery scene.
Friendly rivalry

Courtesy of Morozoff Ltd.


Morozoff employees pack confectionery products at a factory in the 1950s.
In 1946, a cooperative was set up to help confectioners in the prefecture procure raw materials that were in short supply in the wake of World War II.
The group was one of the nation's first on a prefectural level. As one official pointed out, it also goes to show how many confectionery shops were already in Hyogo at the time.
Now known as the Hyogo Confectionery Association, the group currently counts nearly 620 shop owners and others on its membership roll, making it the third-largest confectionery association in the nation.
According to Economy, Trade and Industry Ministry data for 2019, Hyogo ranked fourth in Japan by shipment value of "unbaked Western-style confections" (¥52 billion), fourth in "biscuits and other dry sweets" (¥32.6 billion) and seventh in chocolate (¥28.9 billion).
The prefecture is serious about its pastries.
"The confectionery industry has grown as a key local sector, thanks to support from discerning customers and a friendly rivalry among local shops striving to cater to their customers' needs," said Yasuo Sano, the 68-year-old chairman of the confectionery association.
A pastry chef himself, Sano runs the Kobe shop Reve de chef, where customers can hear about the time he scarfed down 20 cakes in one sitting, followed by a bowl of hot udon noodles to salve the ensuing heartburn.
"No one can match my love of cakes," he said.
Sweet smiles
After the devastating Great Hanshin Earthquake in 1995, many stores and factories were forced to suspend operations or close their businesses entirely.
The industry rallied together with the support of the confectionery association, which held business seminars and other events to make it through the crisis.
Despite reeling from the disaster themselves, pastry chefs continued to bake cakes and cookies for their fellow community members who had lost homes and loved ones.
"Sweets have the power to bring happiness to others," Sano said.
When the Great East Japan Earthquake struck the Tohoku region in 2011, the association was quick to reach out to the Hyogo prefectural government to offer emergency supplies. Through the Federation of Japan Confectionery Associations, it also sent monetary donations to the affected areas.
It's this desire to put a smile on the customer's face that has made Kobe sweets a winning recipe over the generations. But as the saying goes, the proof is in the pudding.
Add TheJapanNews to your Google News feed.