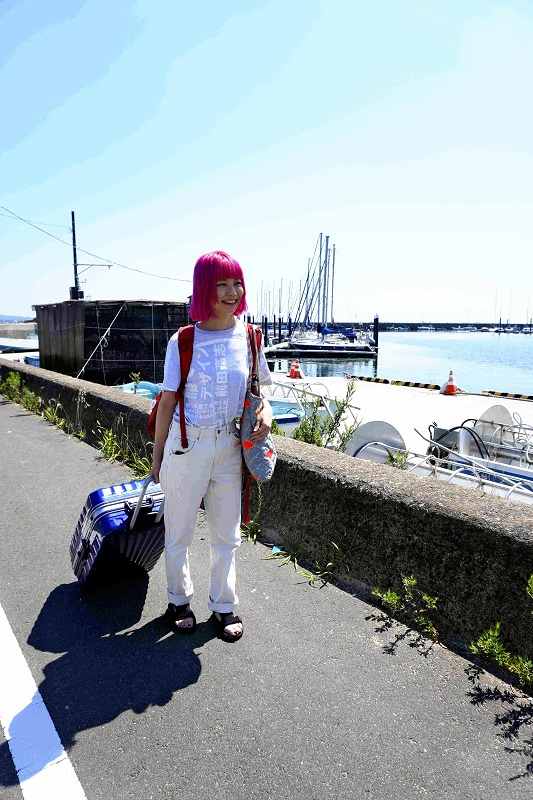 11:36 JST, October 3, 2021
"Address hopping" has become the latest Japanese buzzword of choice among a growing contingent of those with wanderlust who eschew the stability of a fixed address in order to travel from place to place.
With no clear-cut definition, the term has been co-opted to describe a diverse range of living arrangements, from itinerant travelers who bunk up exclusively in temporary lodgings, to people who still own or rent a permanent home they can return to after stints on the road.
The phenomenon is similar to the digital nomad movement, championed by remote workers who jet around the world to live wherever there are picturesque views and a fast Wi-Fi connection.
But at a time when the pandemic has made international travel difficult, the homegrown address hoppers represent a growing tribe of people embracing flexibility on a more local level in Japan, a country which arguably places more emphasis on maintaining roots in one place, and has traditionally posed social barriers to the peripatetic life.
The Yomiuri Shimbun recently checked in with some of these modern-day nomads, to learn more about the logistics of their unconventional lifestyle and what it can teach us about happiness.
Change of pace
Fumi, 37, is one such address hopper, who agreed to be interviewed on the condition that her last name be withheld.
She said she used to live in a share house in Osaka, while working part-time at a sake bar in the city's Shinsaibashi district to supplement her income as a web designer. But the bar was forced to close during the pandemic, cutting off her social outlet. She found herself glued to the computer screen in her room, and entire days would go by where she would not talk to even her flatmates.
Seeing little reason to remain in the share house, she moved out in June last year once the infection rates ebbed and began to live as an address hopper.
Fumi now travels around the nation, using a service that lets her take her pick of hotel rooms and other lodgings for a fixed subscription rate.
Most of her business interactions can be handled via email, so she can work anywhere there is internet access. During downtime between assignments, Fumi said she likes to take walks and enjoy the scenery in each new locale.
"It helps me refresh and has improved my concentration," she said with satisfaction.
Her belongings now consist of a suitcase for overseas travel and a backpack, in which she carries a computer, a change of clothes, toiletries and a few food supplies such as miso and wakame seaweed. She unencumbered herself of her former furniture and home appliances and keeps her winter clothes in a rented storage facility.
Fumi feels at home on the road and plans to travel overseas, too, once the pandemic has subsided. "I'm on my own, which means it's easier to stay mobile. I want to make the most of this sort of lifestyle while I still can."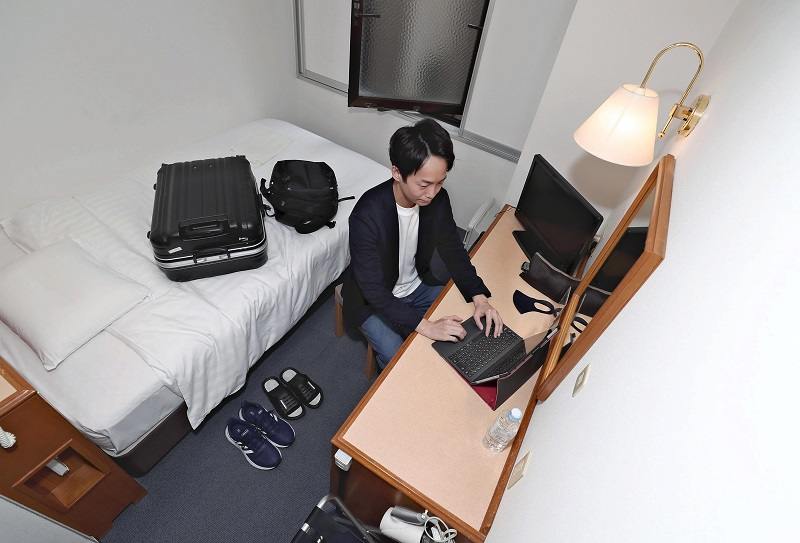 Online meetings
Satoru Kubo, 32, a sales representative for Knit Inc., an office agency in Shinagawa Ward, Tokyo, has been working remotely since before the pandemic. Apart from the rare request to meet with a client in person, Kubo said he conducts all conferences online. Inevitably, those meetings always begin with a good-spirited, "So, where are you now?"
Kubo moved out of his apartment in Fukuoka when he turned 30, with a mind to scope out as many places as possible before deciding where to settle down in the future. He generally stays in a location for between two weeks to a month, before decamping to somewhere else.
Kubo first decides on a general area, then narrows down his search for cheap hotels online.
He has lived in Taiwan, Vietnam and Hong Kong, but returned to Japan because of the pandemic. He now resides mainly in business hotels in Tokyo, Osaka and Fukuoka. He said the approach affords an intimate feel for the character and livability of each neighborhood.
"This is the natural way of life for me," Kubo said. "I want to continue this lifestyle for several more years."
Going forward, he envisions that he will continue traveling around the country and abroad every three months.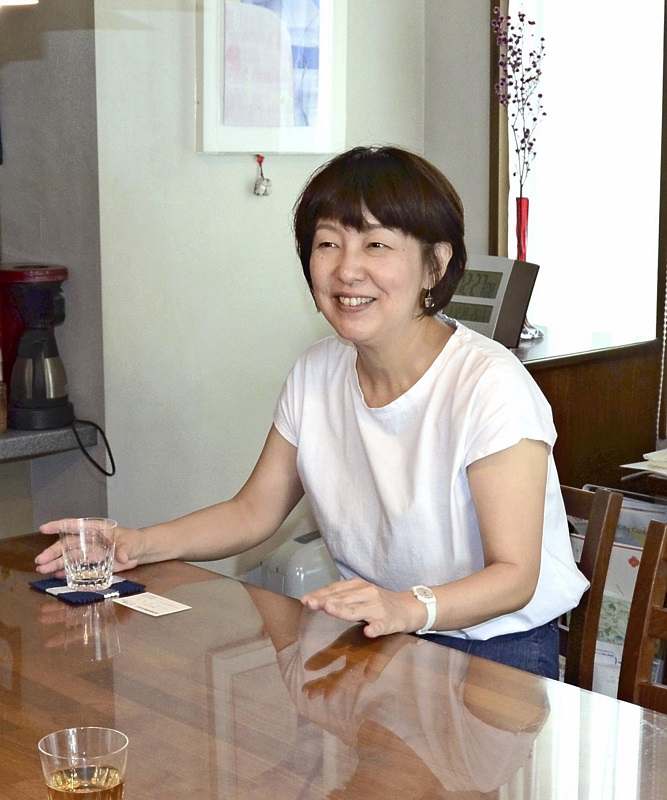 A small world
Keiko Yabe, 54, quit her job in June last year and moved out of the condominium where she lived alone. She now travels around the country, from her new base in a Tokyo share house.
Yabe began her career at a department store as a new graduate, then changed tracks and went to work for a foreign cosmetics company.
After spending years in the cosmetics industry, surrounded by people with similar values, she said she gradually began to feel her "world may be too small."
Encouraged by rising healthy life expectancies and the notion of the "100-year-life," Yabe decided to make a change. "Even if I retire at age 65, I will still have a lot of time left," she said. "I thought, 'Let's try something new.'"
The leap of faith has paid off.
A self-identified introvert, Yabe said she has gradually warmed up to meeting new people every day. Her travels have provided new encounters outside of her former social sphere, such as the young man who works for Uber Eats Japan Inc. and an aspiring cafe owner.
"I have learned about different ways of living and realized that what I had taken for granted was not the norm," Yabe said. "I now feel that I can live in any situation, whatever the future holds."
Not all glamour
Of course, life on the road does have its drawbacks. Address hoppers can travel with only the bare minimum of clothing, and receiving products purchased online can be problematic when it's not possible to schedule a delivery date.
There are also bureaucratic hurdles to overcome. In many cases, address hoppers register their parents' homes with the government as their official address on paper and pay their resident taxes there.
The lifestyle can also be physically demanding. The less glamorous aspects of schlepping one's belongings around town quickly convince some would-be hoppers to return to a more sedentary lifestyle, albeit with a newfound appreciation for their routine creature comforts.
Address hopping can also be expensive, as travelers must shoulder the cost of constant lodging and transportation. Fumi said she tends to eat out more, which adds another hidden expense. At the end of the day, address hoppers report that their cost of living is likely not all that much different from someone who lives full-time in the city center.
Add TheJapanNews to your Google News feed.