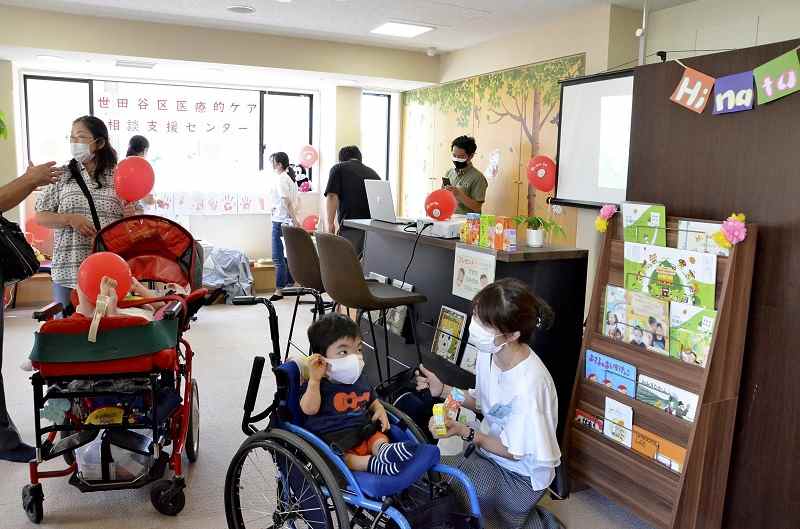 13:32 JST, October 1, 2021
More facilities are being set up in Tokyo to provide support for homebound children in need of constant medical care, such as those on respirators, and their parents or guardians.
This comes following the enforcement of a law last month stipulating that the central and local governments are responsible in providing necessary support for these children.
As such families can easily feel isolated amid the coronavirus pandemic, the move has been welcomed as offering an outlet for their worries and creating peace of mind.
In August, the Setagaya Ward office set up a medical consultation support center for children, which it named "Hinata," on the premises of the National Center for Child Health and Development.
Specialized staff provide consultation via phone or through home visits, and put together plans for home nursing and rehabilitation that will be necessary following release from the hospital.
The support center is also stocked with toys and picture books so that such children and their parents or guardians can spend time in a relaxing atmosphere.
Terumi Higuchi and her 10-year-old son Kentaro attended the opening event of the center on Aug. 3. Kentaro requires around-the-clock oxygen supply and is hooked up to a respirator at home.
"When I started caring for him at home after coming back from the hospital, I was worried because I didn't know who I turn to for advice," Higuchi said. "It's a relief that there is a place I can go to when in trouble."
The Shinagawa Ward office opened an indoor facility, called "Inclusive Hiroba Bell," in July as a place where children with medical needs can play with healthy children. At present, about 40 families have registered to use the facility.
Inclusive Hiroba Bell is also expected to be utilized as a place for interaction between families who feel isolated from society because of their children's needs. Nurses and childcare workers are always present, and consultation services on child-rearing and welfare are available.
Operation of the facility has been entrusted by the ward to Florence, a certified nonprofit organization engaged in childcare businesses.
In a space set aside for people to eat and just relax, there are hooks to hang nutritional supplements and power outlets for medical equipment. Another room has light- and sound-emitting equipment to stimulate the visual and auditory senses and promote children's development, as well as a hammock and a ball pool.
"We want this to be a place for parents and guardians of children in need of medical care, who are feeling alone, to get out into the community and interact with other people," said Michiro Morishita, the head of the facility.
Home care cases rising
Against the backdrop of rapid advances in medicine, the number of non-adults requiring constant home care following extended hospital stays has been increasing.
There are now about 20,000 nationwide, according to estimates by the Health, Labor and Welfare Ministry.
Such households seek support in various areas such as medicine, welfare and education, which are often handled by different government sections. Family members providing care bear a heavy burden, and with a lack of available facilities, are sometimes forced to quit their jobs.
The law to support children in need of medical care enforced last month obligates prefectural governments to set up support centers and offer consultation services. The law also requests that childcare facilities and schools have nurses on site to make available appropriate support.
Add TheJapanNews to your Google News feed.