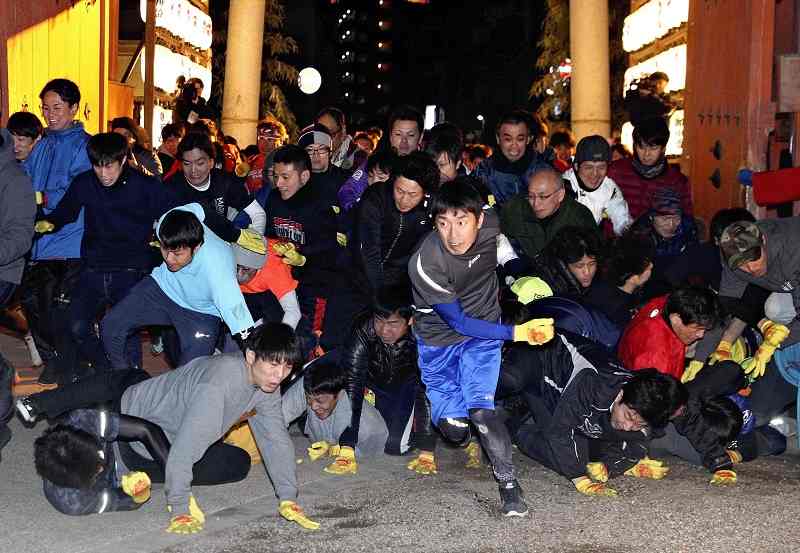 10:21 JST, September 26, 2021
NISHINOMIYA, Hyogo — Nishinomiya Shrine in Hyogo Prefecture holds a ceremony to select "lucky men" every year on Jan. 10.
At the "gate-opening" ceremony, participants run about 230 meters from the front gate to the main hall to be the first to worship, with the top three named "fuku otoko" (lucky men).
Being proclaimed a fuku otoko is supposed to bring good fortune, but what have been the experiences of past lucky men?
"I got married in February this year," said Yuki Itami, 33, a comedian from Nishinomiya who was lucky man No. 2 in 2019.
Itami belongs to the Yoshimoto Kogyo comedy talent agency. He had been part of several manzai comedy duos, but frustrated at not making it big, he decided to try to become a fuku otoko.
Since winning the designation, his income has quintupled, and he got a spot with the Yoshimoto Shinkigeki theater troupe.
"I became more confident and really positive, thinking, 'I can do anything,'" he said.
The Shinto shrine in the Shakecho district of Nishinomiya is the head shrine of the Ebisu Shinto sect.
The gate-opening ceremony is called "Kaimon Shinji" and has been going on since the Edo period (1603-1867).
The shrine's front gate opens at 6 a.m. on Jan. 10.
When the Hanshin Electric Railway Co. was established in 1905, it ran trains overnight in accordance with the ceremony, according to Hironori Arakawa, 44, an associate professor at the National Institute of Technology's Akashi College who has studied Shinto ceremonies for more than 20 years.
Many worshippers, including those from outside the prefecture, come to witness the gate opening.
"The festival has become something really exciting, with people running to be the first to worship," Arakawa said.
The first worshipper was initially covered in newspapers and recorded in the shrine's daily log in 1937.
A man named Taichi Tanaka of Nishinomiya was described as the "No. 1 lucky man" that year for his 16th time.
The festival is believed to have spontaneously started, though in 1939 the shrine started giving out large kagami mochi rice cakes as supplementary prizes and in 1940 began recognizing the top runner, making it into more of a competition.
A newspaper article from 1939 describes women in "sailor" school uniforms participating, indicating the event was open to everyone regardless of gender.
Initially the event went by various names — such as "fuku arasoi" (battle for luck), "ichiban nori" (first to arrive), and "ichiban fuku" (No. 1 lucky) — but the fuku otoko name appeared from 1939.
A 'lucky' accident
The lucky-man race this January was canceled due to the pandemic, and only the gate-opening ceremony was held.
To date, a cumulative total of 200 lucky men have been selected.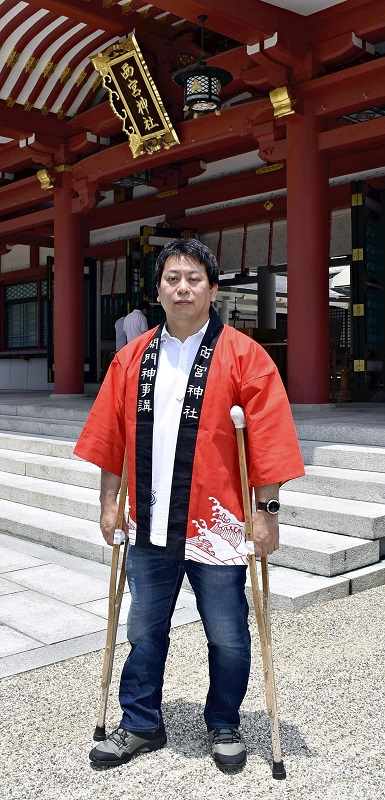 Ryo Hirao, 45, heads a group of past lucky men and others who help out in lucky-men races.
He was lucky man No. 2 in 1997 and 1998. He tried for the top spot again in 1999, and was in the lead before falling in front of the main hall.
He was described as an "unlucky man" whose fortune had run out. Later that year he nearly died in a car accident and suffered a serious injury to his right leg.
"I was supposed to make people around me happy, but all I did was cause trouble," he recalled feeling. In 2002, he began to work for the event behind the scenes.
"The accident was unfortunate, but it wasn't a negative thing. I'm proud to still be involved in the ceremony," he said.
Junshiro Osako, 40, is a member of the Nishinomiya city assembly who has participated in lucky-man races since 2003.
With quick feet from a successful career in high school baseball, he was No. 3 in 2005 and No. 2 in 2009.
He said it makes him happy when people tell him that meeting him brought them luck. He is still trying for No. 1.
"Whether lucky men are happy or not is up to each individual to decide," said Yoshihide Yoshii, 60, the chief priest of Nishinomiya Shrine. "It's a natural kind of faith — the manifestation of a desire to worship as quickly as possible. It's truly a tradition created by the human heart."
With the pandemic still raging, it is unclear whether the fuku otoko race will be held in January 2022, though many are hoping to again have the chance to witness such a passionate ritual.
Add TheJapanNews to your Google News feed.