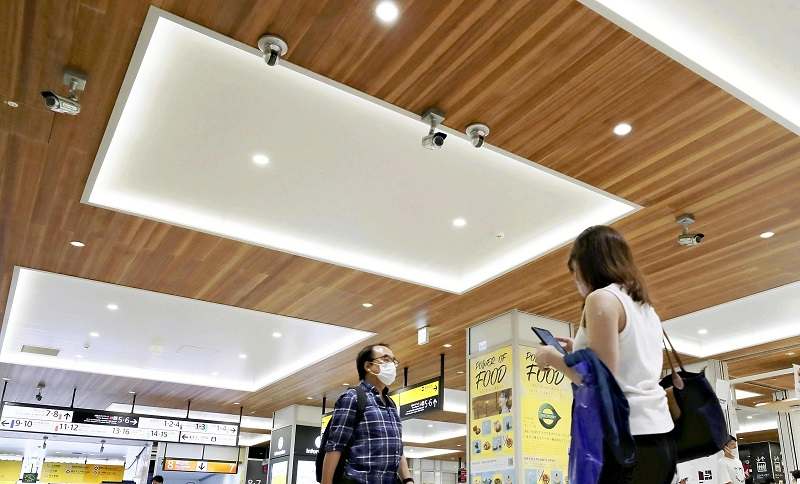 17:02 JST, September 22, 2021
East Japan Railway Co. (JR East) will not use its facial recognition system to track former prisoners and parolees for the time being, the company said Tuesday.
JR East said it reached the decision to suspend such surveillance, citing the fact that "social consensus was not sufficiently formed" on issues such as monitoring former convicts who have served their sentences.
The company began operating facial recognition cameras on July 19 in stations and other locations as part of terrorism countermeasures for the Tokyo Olympics and Paralympics. JR East said it would take such action as searching the bags of the people on its watch list if they were detected.
Individuals who have served sentences for committing serious crimes in which JR East or its passengers were involved, wanted suspects, and people behaving suspiciously were among the people who could have appeared on the company's watch list.
JR East had announced the introduction of the facial recognition system but had not stated that the watch list would include people who had been released from prison and parolees.
It announced changes to its security measures following the publication of an article in The Yomiuri Shimbun on Tuesday that included details of their detection targets.
There are no laws or regulations in Japan that directly regulate the operation of facial recognition cameras. JR East has decided to suspend surveillance in some cases until such rules are developed.
JR East's system can automatically cross-check the commuters captured by its camera with the facial images of people stored in its database.
The company had planned to register the images of former prisoners whose mug shots had been published by the media if it received notification of their release from the Public Prosecutors Office under a scheme for crime victims.
Its watch list has not included any such individuals to date and the company said it will not include them going forward.
JR East said it will continue to use the system to detect wanted suspects and people behaving suspiciously.
"There are pros and cons to targeting people who have been released from prison, but there are no clear rules, so we decided the move was premature," the company said.
Add TheJapanNews to your Google News feed.