Religious scholar confronts memories of forgotten Class-B and Class-C war criminals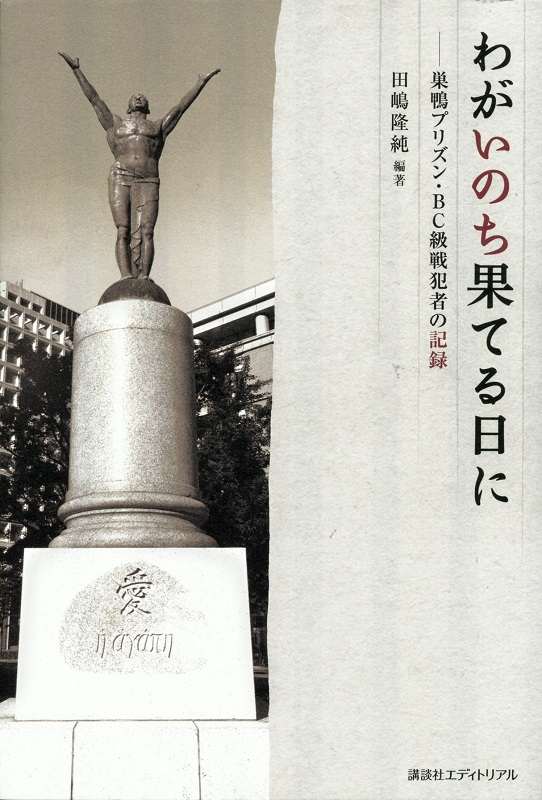 10:13 JST, September 21, 2021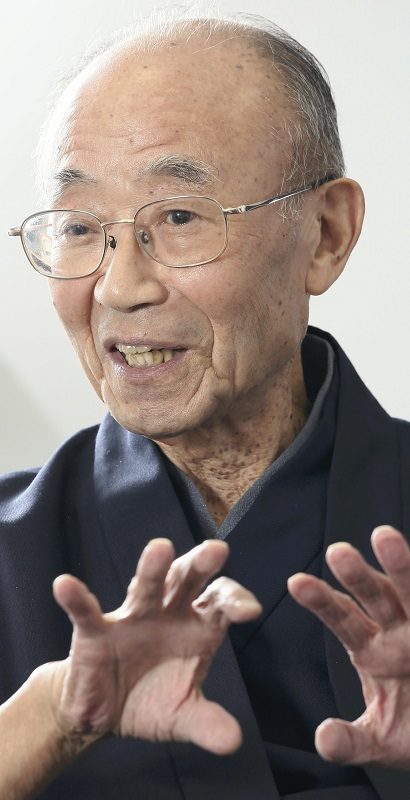 Tetsuo Yamaori, a religious scholar who turned 90 this year, has been making efforts to unearth the memories of Class-B and Class-C war criminals who were tried by the Allied Powers after World War II. His projects include having republished a book by a Buddhist chaplain who frequented a detention center where war criminals were held.
As a person old enough to remember the war firsthand, Yamaori is confronting the reality of the lives of 920 people who were executed after the trials.
"One of the criminals lashed out at a chief of the detention house, saying: 'I have not committed any crime for which I should be hanged. I want to know why they are doing this to me.' Another asked the chief to at least give his farewell note [to his family]."
These lines are from "Waga Inochi Hateru Hi ni" (On the day my life comes to an end), with content written and edited by Ryujun Tajima (1892-1957). Yamaori worked to have Kodansha Editorial, Inc. reissue the out-of-print book in July. Tajima was a chaplain for war criminals at Tokyo's Sugamo Prison, where the inmates fondly referred to him as "father." His vivid descriptions of the war criminals he interacted with, and their farewell notes, convey their regrets.
Adding his own comments to the reprinted edition, Yamaori wrote: "Of course, war is an unforgivable sin. … But once the state started it, even if the people of the nation sincerely believed that enemies must be killed, can it be enough to deem their acts to be the sins of only the individuals?"
Tajima continued to work as a chaplain even after his health began to fail. His eldest daughter, Sumiko, now 81, said: "Some of the war criminals were accused of crimes they were not guilty of. As a Buddhist, my father could not stand by and watch those war criminals [suffer]. I think he had a kind of a sense of mission."
Buddhism and responsibility
With a deep knowledge of religion and ideological history, Yamaori has been exploring Japanese people's spiritual framework, their views on life and death, and the cultural basis of such attitudes. However, he said that over the years, he has come to feel that Buddhists and other religious people in Japan have not faced the issue of responsibility for the war.
Yamaori thinks that the postwar issue of Class-B and Class-C war criminals has been left behind. Most people are probably familiar with Class-A war criminals, including former Prime Ministers Hideki Tojo and Koki Hirota, who were tried at the International Military Tribunal for the Far East (the Tokyo Tribunal). However, Yamaori said: "Many Japanese people, including myself, thought that the issue of war responsibility was over with the execution of the Class-A war criminals. Although there were many Class-B and Class-C war criminals who became victims of their superiors' evasion of responsibility, they were gradually forgotten."
In 2019, Yamaori edited the memoirs of Kentaro Toji, a former war criminal who was closely involved with Tajima, which were published by Chuokoron Shinsha Inc. as "Aru BC Kyu Senpan no Shuki" (The memoirs of a Class-B/C war criminal). Toji ran a company after his release from prison.
In 2020, Yamaori was also involved in the publication of a critical biography, "Sugamo no Chichi: Tajima Ryujun" (Father of Sugamo, Ryujun Tajima), published by Bungei Shunju Kikaku Shuppanbu.
It was 50 years ago when Yamaori worked on his first book, as an editor for Shunjusha Publishing Co. The book, "Bukkyosha no Senso Sekinin" (The war responsibility of Buddhists), was a 1970 work by monk Hakugen Ichikawa. Ichikawa examined how Buddhists had cooperated with the war effort. The experience of working on the book seems to have started Yamaori thinking about the issue of war responsibility.
After a long period of time, Yamaori seems to be reexamining his own past, too. "This issue has hardly been passed on. War and Buddhism, war responsibility and the state's responsibility, and the issue imposed on individual war criminals — we need to think about these seriously."
Much remains unclear
Recent research has revealed that the U.S. military cremated and scattered the remains of Class-B and Class-C war criminals instead of handing them over to the Japanese side. Hiroaki Takazawa, a lecturer at Nihon University, discovered an official document in the U.S. National Archives that describes the disposal of the bodies.
Takazawa also found in the archives an official document that states the remains of Class-A war criminals were scattered over the Pacific Ocean. The document, classified "top secret," is dated Aug. 13, 1948. It was issued by U.S. Gen. Douglas MacArthur as an order to the U.S. 8th Army and other forces occupying Japan.
Much remains unclear about the trials of Class-B and Class-C war criminals. "There were no precedents [to set] standards for the trials, and sentences and verdicts depended on the character of the judges and prosecutors. It is necessary to review the data in order to clarify the actual situation," Takazawa said.
Class-B and Class-C war criminals
While military and political leaders who were charged with war crimes, including the crime of starting a war, at the International Military Tribunal for the Far East, were convicted as Class-A war criminals. Class-B and Class-C war criminals were those charged with such war crimes as prisoner abuse and the murder of civilians. Trials for Class-B and Class-C war criminals were held in Yokohama and locations abroad, including venues in Pacific islands, Southeast Asia and China. Of 5,700 defendants who faced charges at the trials, 920 were executed.
Add TheJapanNews to your Google News feed.