Okinawa aims to ride 'karate fever' to economic boost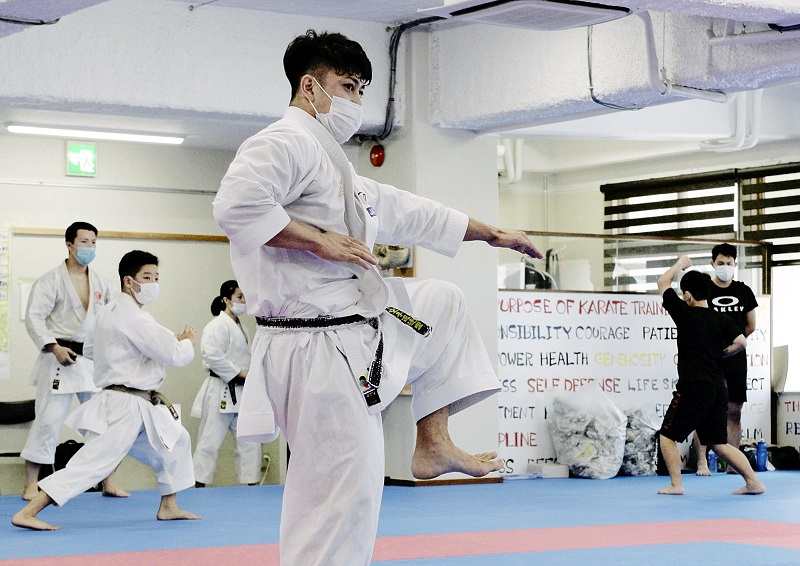 16:45 JST, September 20, 2021
NAHA — Karate had its day in the global spotlight when the Okinawa-originated martial art made its Olympic debut at the Tokyo Games. It also gave Okinawa its first-ever Olympic gold medalist in any sport, when Ryo Kiyuna won the men's kata event with a spirited performance.
Okinawa Prefecture has hopes that this surge in "karate fever" will serve as a tool in its next 10-year economic revitalization plan, to coincide with the 50th anniversary of the reversion of Okinawa to Japan next year.
But there are hurdles to overcome.
On a late August day in Naha, about 15 members of the Ryuho-kai club, ranging from elementary school children to adults, were going through a hard workout in their dojo training hall of the Ryuei-ryu style of karate. Alongside them, the 31-year-old Kiyuna was intensely focused as he repeatedly thrust out his hands in silence.
Karate was born in Okinawa during the Ryukyu Kingdom period (15th to 19th centuries), and made its way to mainland Japan during the Taisho era (1912-1926). There are about 380 karate dojos in Okinawa Prefecture, and the martial art has become part of daily life, with performances often an integral part of celebratory occasions. About 85% of the prefecture's public junior high schools adopted karate as their required subject of budo martial arts — compared to just 2% nationwide.
Karate has been spread around the world, by prewar Japanese who immigrated from Okinawa to Hawaii or South America and opened dojos there, and by U.S. servicemen stationed in postwar Japan who brought the martial art back home with them. Karate has about 130 million practitioners in 199 countries and territories.
Toru Kiyan, a 62-year-old karate expert, has been teaching U.S. military and other personnel in his 40-plus years of working on a U.S. military base in Okinawa.
"The quintessence of karate, in which a person faces oneself and hones mind and body, seems to resonate with Americans," he said.
Experience at a holy place
"For karate experts living abroad, Okinawa is a holy place," said the 52-year-old head of the Okinawa prefectural government's karate promotion section.
Programs at tourist facilities or dojos in which novices can directly receive instruction from a karate master are popular. In pre-pandemic times, several hundred foreigners would flock annually to Taiken Okoku Murasaki Mura, a tourist facility in the village of Yomitan, for their first karate lessons. Devotees would stay about 10 days on average, three times longer than ordinary holidaymakers.
As they also spent large amounts of money, it led to tourist agencies specializing in arranging tours designed for those wanting to experience karate.
To better disseminate karate-related information, the prefectural government established a new section for promoting the martial art in 2016, the same year that karate was selected to be added to the program at the 2020 Tokyo Olympics. In 2018, it organized its first international tournament, inviting about 3,000 karate practitioners from 50 countries and territories.
The central government also got involved, promoting "karate tourism" in fiscal 2019 and enhancing karate-related tours. That fiscal year, a record high of about 9,000 people visited Okinawa Prefecture from other parts of Japan and abroad for karate-related reasons.
Karate has also become a tool for "diplomacy" by the Okinawa government. Two months after participating in the 2018 international tournament, Russia sent a group to Okinawa to put on a demonstration of its home-grown martial art.
Russian Deputy Prime Minister Yury Trutnev, a karate practitioner himself, accompanied the group and held talks with Okinawa Gov. Denny Tamaki, who started learning karate after taking office. Tamaki indicated his desire for developing economic exchanges.
Recognition rate at 30%
As a base for providing information on karate, the prefectural government built the Okinawa Karate Kaikan in the city of Tomigusuku. It also drew up a blueprint for riding the "karate fever" sparked at the Tokyo Games in its economic revitalization plan to follow the 50th anniversary of the reversion of Okinawa to Japan.
From now, it will push forward with fostering karate instructors by helping to stabilize the management of dojos and related organizations, and improve readiness for accepting post-pandemic tourist programs with the public and private sectors acting together.
As a future goal, the prefecture is working on having Okinawan karate registered on the UNESCO Intangible Cultural Heritage list. That would entail having karate recognized outside of the prefecture as being of Okinawa origin. The prefectural government conducts an extra-prefectural awareness survey annually, and set a target of raising the recognition rate to about 50% by fiscal 2022. Currently, it stands at a little over 30%.
In addition, as popularity among sports becomes more diverse, dojos are facing a serious problem of a lack of successors to keep them open. Over the past 10 years, the number of dojos has dropped by about 50. With karate not on the program at the 2024 Paris Olympics, the sense of crisis has been growing among those concerned.
"To make sure all of the attention is not just a one-time thing, we need to find a way to strengthen the base, including fostering successors to take over dojos, and work to convey the appeal of karate," said Yasushi Nakamura, 61, director of the Okinawa Karate Kaikan.