Taxi drivers receiving training to support wheelchair users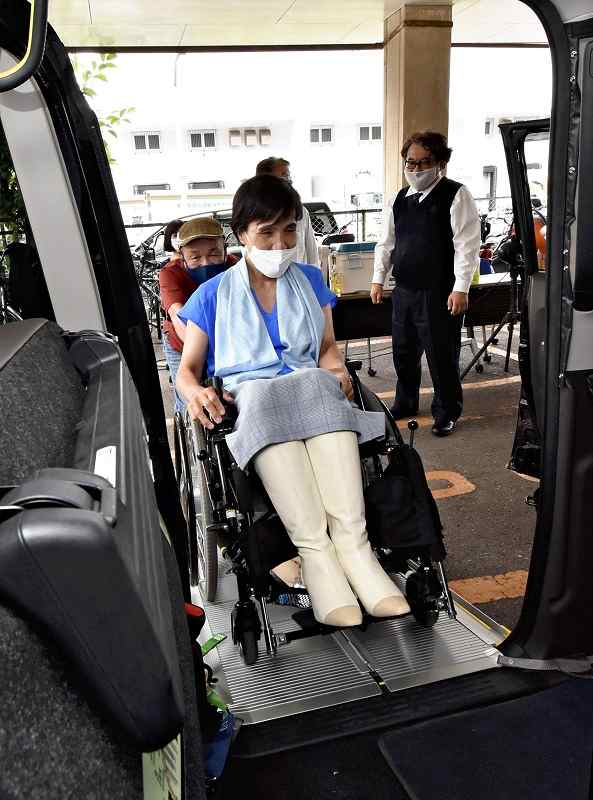 17:36 JST, August 30, 2021
Taking the opportunity of the Tokyo Olympic and Paralympic Games, many taxi companies have introduced cabs that provide easier access for wheelchair users and the elderly.
In order to optimize their investments in universal design taxis beyond the Games, cab companies are stepping up training for drivers and taking other measures.
Concerns about assistance
One problem to overcome is a hesitancy among some drivers to pick up and be responsible for special needs passengers.
"If you run into trouble, the best thing to do is to talk to people with disabilities who use taxis," said Satoshi Sato, 54, the secretary general of DPI-Japan, a nonprofit organization comprising groups of people with disabilities.
He gave a lecture to a dozen Marui Jidosha K.K. taxi drivers at their office in Adachi Ward, Tokyo, in mid-July.
Of the company's 79 taxis, 33 are universal design cabs, and all of the firm's drivers have received some training on how to use the vehicle.
However, some drivers still voice concerns, with one saying, "I'm not sure if I can assist them properly."
So the company decided to hold a training program before the Tokyo Olympics and Paralympics started.
On the day of the training, three disabled people including Sato played the roles of passengers, and the drivers learned how to set up ramps and help wheelchair passengers get in and out of a cab.
It takes a lot of strength to push a wheelchair up one of these ramps, but pushing too hard may unsettle the wheelchair's occupant.
"If you don't match the timing with the passenger, they may become scared. They will feel relieved if you do it on the count of three," Sato said.
According to the Land, Infrastructure, Transport and Tourism Ministry and others, the number of universal design taxis jumped from about 600 in 2014 to about 22,000 in 2020.
The ministry subsidizes part of the vehicle purchase costs, up to ¥600,000 for taxi operators, and many municipalities also have their own subsidy programs.
A DPI-Japan survey conducted in October 2019 found that nearly 30% of 120 wheelchair users had been refused a ride in a universal design taxi.
In response to this situation, the transport ministry has taken strict actions.
Since November 2018, two operators in Tokyo and Aichi Prefecture have had their vehicle permits suspended for refusing passengers in universal design cabs.
Since March 2019, taxi operators using the ministry's subsidy system have been required to provide training for their drivers.
Improvements underway
Manufacturers are also working to improve universal design vehicles.
Toyota Motor Corp., which began selling universal design taxis in 2017, received complaints from taxi companies that the procedures for installing ramps and securing wheelchairs are too complicated.
In 2019, Toyota improved some parts of the vehicle body and the ramp, and reduced the number of operational steps from 63 to 24 to alleviate the burden on the drivers.
"Taking the opportunity of the Paralympics, more and more companies are providing training for their drivers, which is a big step forward," Sato said.
"I hope that this will not be a one-time event, and that companies will continue to improve their training and vehicles, while communicating with the disabled people who actually need them."