Japanese firm help falsify Google reviews to boost hospital, clinic ratings.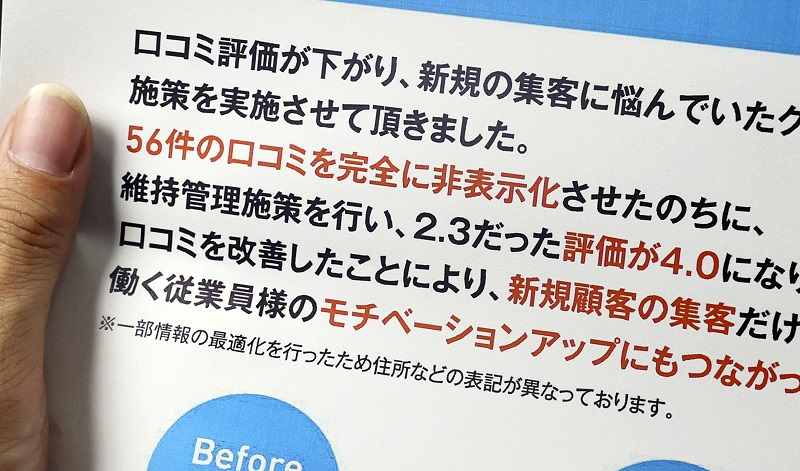 18:20 JST, August 29, 2021
When you look for a store or facility on Google's search engine, a review section is displayed along with a map. Reviews on the internet not only influence people's choice of products, but also where they go. The existence of several specialized companies that erase all the low ratings posted and replace them with high ratings has been uncovered by The Yomiuri Shimbun. These companies are said to target local medical clinics, where such ratings can make a big difference, to use their services.
Proprietary techniques?
The president of a Tokyo-based company that creates fake reviews revealed part of its method: "Our employees write the reviews. If we use the same account more than once, we will be found out, so we use several different accounts."
Two years ago, this company started a service called review countermeasures. The firm has received upward of 400 orders for the service, some from real estate agencies and beauty-related shops, but 70% of them are from medical facilities.
Google allows users to write their impressions of various places displayed on its maps, such as by giving a rating on a five-point scale. An average rating is displayed with comments.
Reviews usually cannot be deleted by the receiver of the rating. Although it is possible to request Google to delete a review, it is considered difficult because it is only allowed in cases where it is determined that the content is clearly in violation of the terms of use, such as offensive content.
However, the president of the company said, "We can hide all the reviews by using our company's proprietary techniques."
The company charges a contingency fee of around ¥500,000 and offers a review maintenance service in which it posts high ratings for a fee of ¥10,000 or more per post.
"We are looking into clinics with low ratings," the president said, "and launching a sales offensive."
Underhanded methods
The materials distributed to prospective customers by this company stress that business performance will suffer due to low ratings.
"If you have a rating of 3.5 or lower, you will be in serious trouble," it reads.
A clinic that supposedly signed a contract with the company is also quoted in the materials as saying, "Our rating went from 2.3 to 4.0."
An otolaryngology clinic in the Kansai region received a call from this company in April this year.
The director of the clinic refused the solicitation, saying, "It is not good to buy a reputation."
He said the salesperson told him, "You can reset [the review section] and start again," and "We will write words of gratitude from your patients."
The Tokyo-based company is just one of many similar firms nationwide. Clinics across the country often receive direct mail that stirs up anxieties, saying things like, "If negative reviews remain, they will damage the trust in your business."
In February, a complaint was posted in the review section of an obstetrics and gynecology clinic in the Kanto region, suggesting that a male doctor had sexually harassed a female patient.
The male doctor had no recollection of the incident and became suspicious when he saw a direct mail sent by one of the vendors shortly thereafter, which showed a picture of the post in question and said, "New reviews will raise your overall score."
Nearly unchecked
One of the reasons behind these practices is that many people pay attention to reviews, especially when choosing a hospital or clinic. However, some people do not know that anyone with an account can post comments on Google's review section and credibility is not guaranteed.
On the Amazon e-commerce site, reviews show whether the person commenting actually purchased the product being rated, but on Google there are no such checks.
Google's content policy states, "Contributions must be based on real experiences and information." Content considered to be spoofing is subject to deletion and the user's account may be suspended.
In reality, however, the situation is almost unchecked.
"Users should not rely on the review section," IT journalist Yo Mikami said.
He added: "Of course, it is the fault of these review writing firms and their clients, but Google is also responsible. If Google doesn't take measures to eliminate fraud and maintain a certain level of quality, users will be misled and the site will become an unhealthy place. If it is too difficult to handle, Google should consider abolishing the review section."
Add TheJapanNews to your Google News feed.