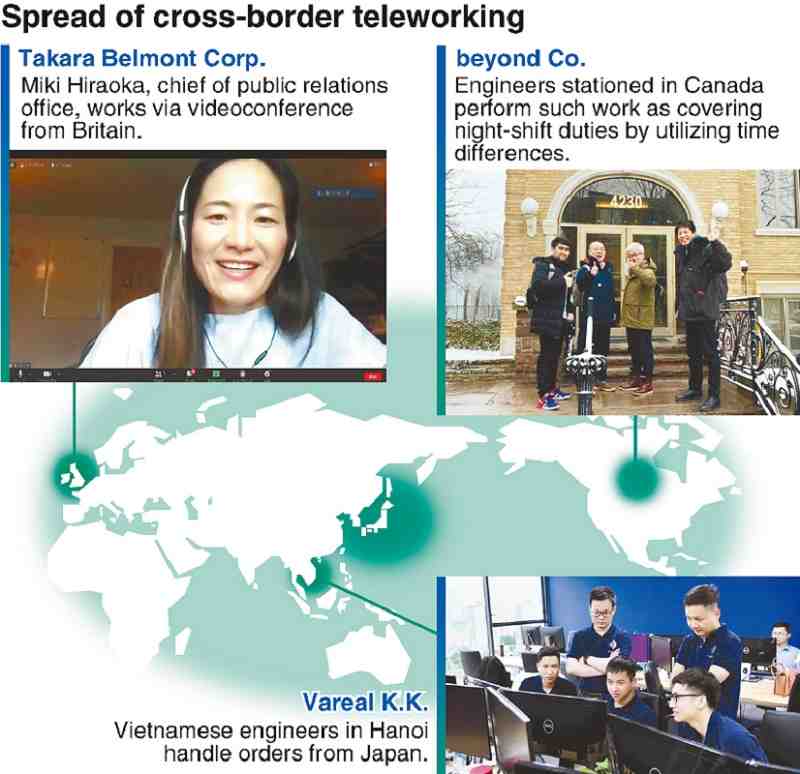 10:13 JST, August 24, 2021
Cross-border teleworking, in which people work for companies in Japan while living overseas, is becoming more routine, in large part because of technical improvements hastened by the novel coronavirus crisis. This aspect of remote working gives employers better opportunities to secure talented workers, while providing people almost anywhere with a wider range of job choices.
■ Videoconferencing
Miki Hiraoka, 41, chief of public relations at Takara Belmont Corp., an Osaka-based major manufacturer of beauty and barber products, became the company's first cross-border teleworker in June.
Her duties for operations inside Japan are unchanged, but she now works in a London suburb.
Hiraoka decided to emigrate from Tokyo when she married a man in Britain.
At one point, she considered working for a subsidiary in the country or resigning. But her desire to continue the same job was stronger. So she proposed to introduction of cross-border teleworking.
What gave her a supportive push was the proliferation of videoconferencing. Because business trips were limited soon after the start of the coronavirus crisis, the company had already utilized videoconference systems to connect major business bases in Japan, mainly between Tokyo and Osaka.
Hiraoka persuaded her superiors by saying, "If I'm in Britain, only time differences are added, and I will be able to attend meetings." The company allowed her to do so as an exceptional case.
The background of the company's allowing her to do cross-border teleworking is that it aims to raise the percentage of female managerial position workers, which is now as low as around 5%.
At 34, Hiraoka was promoted to a managerial post at the company, the youngest-ever among its female workers. Management expects that she will be a board member in the future.
This exceptional case has helped the company raise its awareness about improving working conditions so that employees can continue to work in the same jobs even if their living environments change due to such events as marriage and childbirth.
Hiraoka said, "I want to be a precedent case for women to be able to work with hope and not to quit a job they want to do."
■ Utilizing time differences
There are moves afoot to improve working conditions in Japan by utilizing time differences.
Osaka-based information technology company beyond Co., which monitors servers storing data around the clock, established a local unit office in a suburb of Toronto in November 2020.
The purpose of the move is to hand off to workers in Canada the night-shift duties at its Osaka head office. Because there are 13 hours to 14 hours of time difference with Japan, the period of 11 p.m. to 8 a.m. in Osaka is essentially daytime in Toronto.
Before the change, about 30 engineers took turns on the night shift in Japan. Now, four workers stationed in Canada cover this shift. The company plans to abolish the night shift in Japan in the near future.
Seiken Sato, 46, representative director of the Canada unit, said, he has felt positive effects. "Our employees' health can be protected. In addition, talented people have come to take our company's job interviews, as they are attracted to the idea of working overseas where there are rich natural environments."
The shift to more teleworking is creating other opportunities to locate human resources.
Vareal K.K., a Fukuoka-based information technology company, began operating in Hanoi in April 2019. The company was attracted by the fact that the average monthly salary in the Vietnamese capital is about $300, and thus it can hire engineers whose expertise and language capabilities are high at lower salaries than those in Japan.
Masahiro Teramoto, president of the company, recalled the days saying, "As our company is an emerging firm, we were not able to employ talented workers in Japan."
The novel coronavirus crisis accelerated the company's employment of workers in the country. While waves of digitization rushed toward companies and competitions in hiring talented IT specialists were increasingly fiercer, Vareal proactively hired Vietnamese who wanted to work in Japan but could not travel to Japan.
Currently, among 56 employees of the company, Vietnamese workers accounted for more than half at 33.
A 36-year-old Vietnamese engineer who works for the company in Hanoi expressed happiness to work as a member of a Japanese company with a high technological level while staying in Vietnam.
Teramoto aims to increase the number of newly employed Vietnamese engineers to 1,000 in total in the coming five years.
■ Benefits limited to some
Other than cross-border work, there are new working styles utilizing the scheme of teleworking.
One such style is the so-called workation, in which people work while simultaneously enjoying holiday activities in resorts. In Shirahama, Wakayama Prefecture, an increasing number of hotels sell service plans exclusively for workations.
There have also appeared households that choose a dual-residence lifestyle, in which people freely move between two residences in central Tokyo and provincial areas.
However, such benefits are available for a limited range of workers in specific jobs. The reality is that workers mainly in information communications and other businesses that are compatible with information technologies, or those working in general affairs departments and accounting sections, can receive the benefits.
Prof. Hiromi Sakazume of Hosei University, an expert of industrial and organizational psychology, said, "To make new working styles take roots, efforts are required to eliminate a feeling of unfairness of workers in factories and other workplaces where teleworking is impossible, and to educate managerial workers so that they can properly evaluate subordinate employees if it is difficult to meet with the latter in person."
Add TheJapanNews to your Google News feed.