Japanese researchers urge world not to allow Taliban to inflict another Bamiyan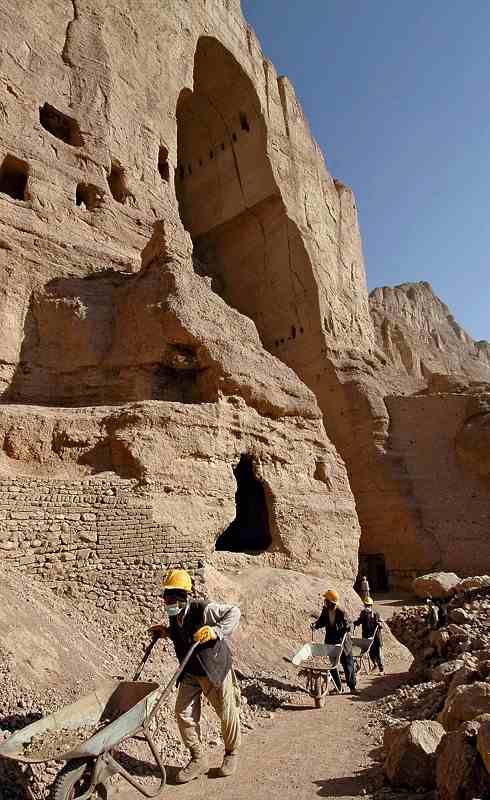 14:35 JST, August 19, 2021
Japanese cultural property researchers expressed concern following the retaking of Afghanistan by the Taliban, who destroyed two huge ancient Buddha statues in Afghanistan's Bamiyan Valley in 2001. Researchers at Tokyo University of the Arts are among those working to restore the Bamiyan ruins and calling for the protection of the ruins.
"It will become dangerous if the Taliban expand their influence further. Can't I defect to Japan?" It was a message Masashi Abe, a senior researcher at Tokyo National Research Institute for Cultural Properties, received on Aug. 9 through social media from an Afghan who is involved in Afghanistan's cultural assets management and has been working to excavate Buddhist ruins at Bamiyan and other places.
Abe has visited Bamiyan to work on conservation and restoration and was once in charge of the training of young Afghan experts in Japan to develop human resources for Afghanistan.
Back in 2001, the Taliban, intolerant of other religions, had outlawed the worship of idols, so they destroyed the Buddhist statues.
"Having once destroyed Buddhist monuments, the Taliban might try to target experts who have worked for the research and preservation of the ruins through the support of foreign countries," Abe said.
Kosaku Maeda, a visiting professor of Asian cultural history at Tokyo University of the Arts, and Takashi Inoue, a specially appointed professor of cultural heritage protection at the university, issued a statement arguing that Afghanistan's irreplaceable human heritage must be protected by all means.
"Afghanistan is a treasure trove of Silk Road heritage linked to the ancient culture of Japan," they said in the statement.
Maeda has been studying the Bamiyan ruins since 1964. In collaboration with experts from around the world including Germany and Italy, he worked for the preservation and restoration of the ruins after the Taliban destroyed the Buddha statues.
"The international community must raise its voice so that Afghanistan is not exposed to the fires of war again," he said.
During the Afghan civil war, cultural assets were looted from museums and archaeological sites, and smuggled out of the country through black market channels. Some of them ended up in Japan and were returned to Afghanistan.
"I fear that museums may be looted by the general public because of the worsening security situation," said Teikyo University Prof. Kazuya Yamauchi, an expert on archaeology of the Silk Road.
Add TheJapanNews to your Google News feed.