Local residents sustain memorial for U.S., Japanese who died in WWII B-29 crash in city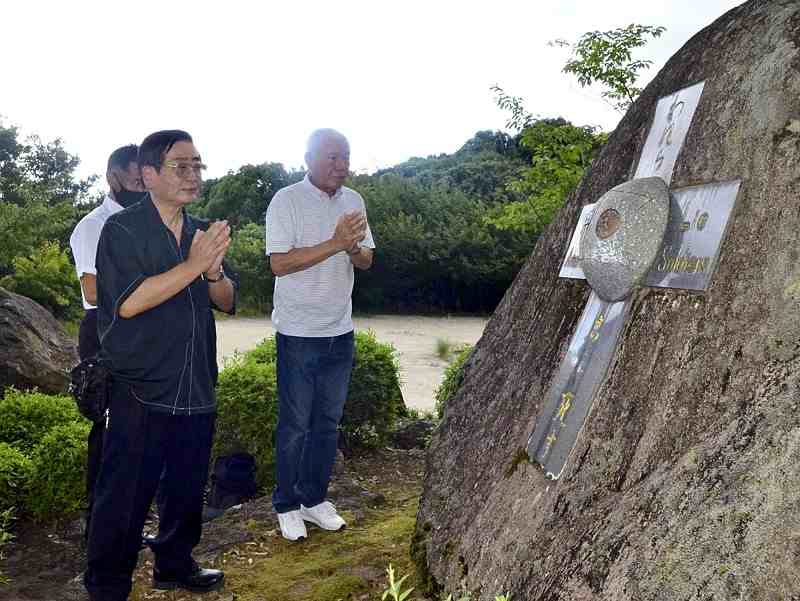 14:33 JST, August 18, 2021
NAKATSU, Oita — For more than 50 years, a memorial has been preserved commemorating the soldiers from Japan and the United States who died in an aerial battle over this northern Oita Prefecture city during World War II.
On May 7, 1945, a U.S. B-29 Superfortress heavy bomber was struck head-on by a Ki-45 Toryu (Dragon Killer) night fighter of the Imperial Japanese Army, crashing on Mt. Hachimen. The Japanese fighter pilot and eight U.S. soldiers died, while three other U.S. soldiers who managed to parachute from the B-29 were taken to Fukuoka and executed.
In 1970, local residents who believed there was no distinction between friend and foe when it came to those who have lost their lives erected a cenotaph in the mountain. The area was developed into a peace park in 1976 and another cenotaph, "Meiyo no Hi (Cenotaph of Honor)," was erected at the crash site.
Since 1970, a memorial ceremony has been regularly held at the park.
In May 2005, 60 years after the incident, the son of one of the U.S. soldiers who died visited the crash site. People present said the son shed silent tears in front of the cenotaph of honor, on which the Japan and U.S. national flags are painted.
"It was the first time for one of the bereaved to visit," said Shoichi Kusunoki, 70, a member of a local group supporting the peace park. "It was very moving."
Many local residents believe grief transcends borders and further strengthened their resolve to continue the memorial ceremony.
"Both Japanese and U.S. soldiers died for their country," Kusunoki said. "I hope compassion for each other will lead to a world without war."
A memorial hall in the park displays photographs of the 11 crew members of the B-29 bomber along with pieces of the Japanese and American aircraft.
A memorial service called the Peace Festival is also held, but the event has been scaled down over the years due to the aging of the local group. Only about 30 people attended this year's event.
The thoughts of the bereaved family members of the U.S. soldiers were compiled by former U.S. Air Force mechanic Mike Berg into a 2012 book called "The Crew of the Empire Express and Peace on a Quiet Mountain in Japan."
He was inspired by a friend's brother who was one of the crew members.
Berg based his book on interviews with bereaved families and military records. He described the personal histories of each crew member, letters sent from the battlefield to their families and letters from families awaiting their return, as well as efforts to memorialize the tragedy in Nakatsu.
A second edition was published in 2020, adding descriptions of Berg's interactions with Nakatsu residents when he visited the city to conduct interviews.
Mahito Kawashima, the 77-year-old president of an orthopedic hospital in Nakatsu, was one of the people who agreed to an interview with Berg.
"Most of the crew were young, in their teens and 20s," Kawashima said. "I want people to know that a just war does not exist."
Berg's book has also been published in Japanese, translated by people including Hiroyuki Fukao, a 50-year-old researcher in the history of aerial warfare who lives in Kunisaki, Oita Prefecture.
In June, Fukao donated Japanese copies of the book to the Oita prefectural and Nakatsu municipal libraries.
Katsuya Toji, 67, provided financial support for the Japanese version. Toji is a son of a military official who was involved in the execution of U.S. prisoners of war at the Western District Army Command in Fukuoka Prefecture.
"If we didn't keep a record," Fukao said, "it will be as if it never happened."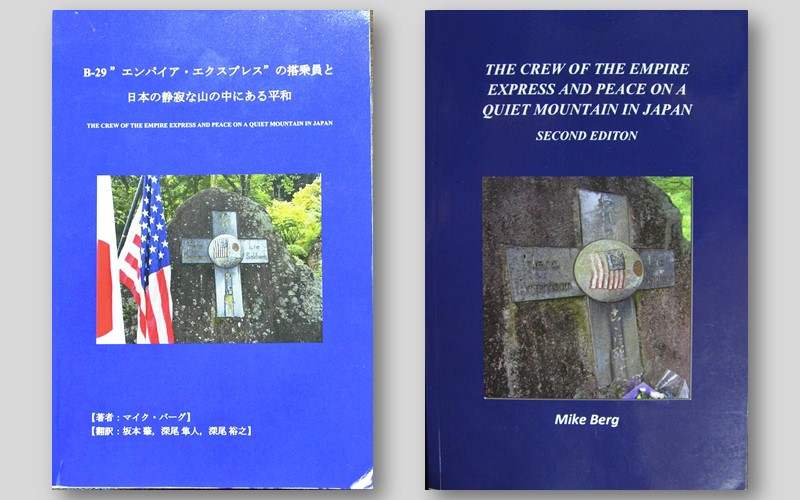 Add TheJapanNews to your Google News feed.