WWII veteran serves as living online link to Japanese battleship Musashi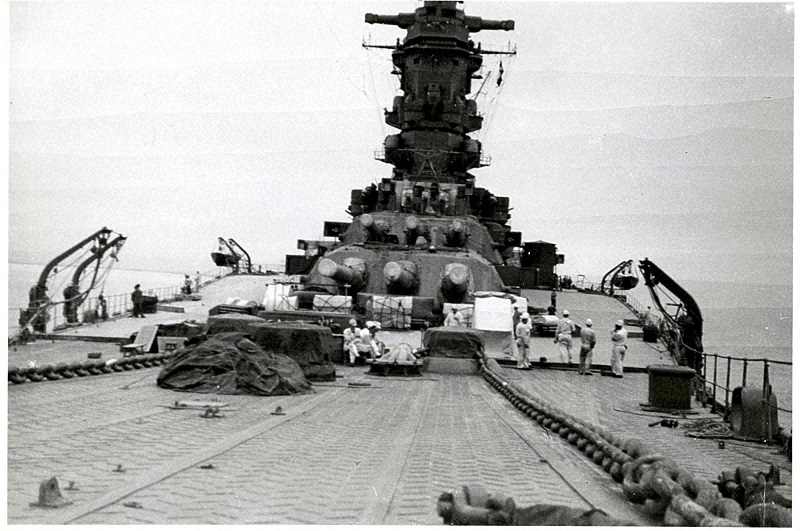 8:10 JST, August 17, 2021
As a former crew member on the ill-fated battleship Musashi, Koji Hayakawa remembers the explosions of enemy bombs and watching on as colleagues were thrown to their watery graves.
Seven decades later, Hayakawa, now 93 and living in Minami-Boso, Chiba Prefecture, has made it his new mission to share his story, as a living witness to the human toll of World War II. Amid the pandemic, he has found a receptive audience on the internet, where he has begun appearing in videos, to ensure the tragedy of war is not forgotten by future generations.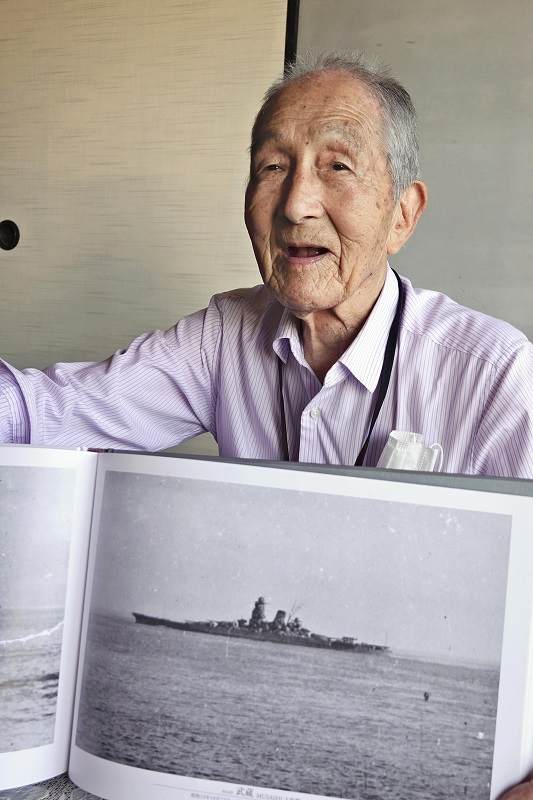 Hayakawa has a lump in his right arm, several centimeters in size. The scar is a reminder of the war that he has always carried with him.
"It's hard as bone, isn't it? A fragment of a bomb that took the lives of my friends is still in there," he said.
In February 1944, when he was 15 years old, Hayakawa volunteered to enter the Imperial Japanese Navy's navigation school. It was a time when weather forecasting was a closely-guarded military secret. In August that year, he graduated and boarded the Musashi as an aerographer.
A mere two months later, the Musashi would sail into some of the heaviest fighting of the war, when it clashed with U.S. forces on Oct. 24, off the Philippines coast in the Battle of Leyte Gulf.
When the battle began, Hayakawa and four other aerographers sheltered in a room facing the ship's deck, awaiting further orders. Sporadic attacks had been rocking the ship for nearly five hours, when a deafening explosion tore through the room. Hayakawa looked over to see two of his colleagues dead.
One of the casualties was an older soldier, who had fallen onto his back after being struck in the head with shrapnel. The other was a boy who had been close in age to Hayakawa. He had fallen forward, after taking a shell fragment to the abdomen.
"If I had been sitting somewhere else, I would have died," Hayakawa said.
Although Hayakawa had himself been injured by that shrapnel in his arm, he said he did not feel any pain at the time. He was focused solely on survival.
The Musashi sank just after 7:30 p.m. Hayakawa lost consciousness for a while after being thrown into the night sea.
When he awoke, he found himself adrift on the water with a fractured left hand. Some of the other castaways sang Japanese military anthems in an attempt to keep up morale. But they fell silent as they succumbed to exhaustion and were swallowed up by the sea water slimy with heavy oil.
Hayakawa's injuries left him unable to use his arms to grab hold of a flotation device. At one point, he thought he might die.
But his life was saved by a quick-thinking crew member on a destroyer that came to the rescue. The sailor tossed Hayakawa a large buoyant cloth bag used to collect rainwater, and Hayakawa was able to climb inside. ​
The Yamato-class Musashi had been one of the world's largest battleships. She carried a crew of 2,400, over 1,000 of whom were killed in action at the Battle of Leyte Gulf. Those who survived the sinking were sent to other battlefields. Only about 450 of the Musashi's crew would survive the war.
After the war's end, Hayakawa returned to his hometown to work as a postal employee, where his duties included delivering bereavement benefits to the parents of his classmates who had died in the war. "You were lucky," they told him. The words filled him with feelings close to guilt.
For a long time after the war, Hayakawa had been silent about his experiences.
A turning point came in 2015, when the long-lost Musashi was found on the sea floor at a depth of about 1,000 meters. Along with two other former crew members, Hayakawa visited the site of the battle for the first time since the war.
Attending a memorial service held on calm waters, Hayakawa said his mind was filled with the faces of his fellow soldiers who had been killed in the bombings and lost at sea. Overwhelmed by the moment, he called out to them: "Brothers, I'm here!"
Since then, Hayakawa started sharing his story at local gatherings, and in September last year, he gave his first online testimony.
The lectures are recorded in cooperation with the Japan Veterans Video Archive Project (JVVAP), a Tokyo-based group that collects oral histories of the war, and can be viewed by registered users of the project's website.
"People who know about the tragedies of the battlefields are aging, and there have also been fewer opportunities for such testimonies due to the coronavirus pandemic," said JVVAP member Satoko Tadokoro. "I hope Mr. Hayakawa will continue to tell his story."
Holding a photo of the Musashi, Hayakawa said: "The war that took so many lives can be summed up in one word: evil. We must not allow history to repeat itself."
Add TheJapanNews to your Google News feed.