Atomic bomb survivors go online to share their stories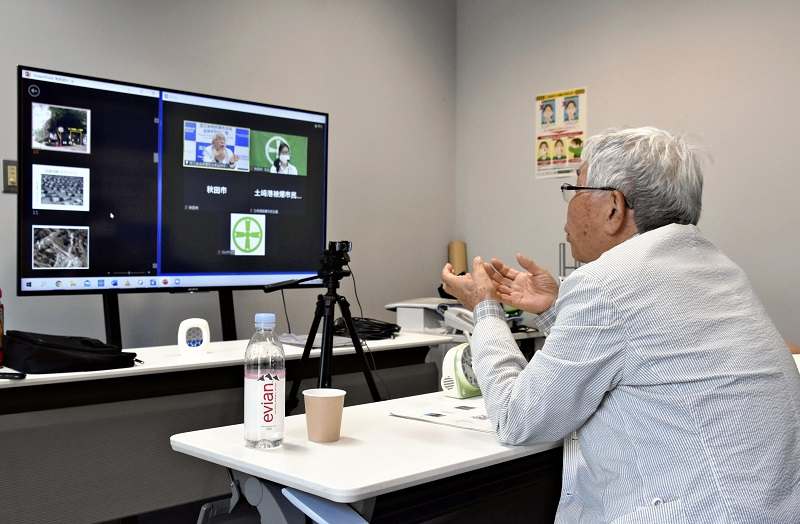 17:35 JST, August 9, 2021
NAGASAKI — A growing number of atomic bomb survivors are sharing their stories about the war online as the coronavirus continues to spread, hampering the holding of events with an in-person audience.
In a lecture room at the Nagasaki National Peace Memorial Hall for the Atomic Bomb Victims in late July, Nagasaki atomic bomb survivor Kazumi Yamada, 88, began to speak.
"I would like to share my story with you for about an hour," he said.
Before him there was no one.
Yamada was speaking toward a screen facing a small camera. One of the museum's employees was present to help operate various devices.
Through the teleconferencing setup, Yamada took part in a storytelling event organized by Akita City. Though about 1,200 kilometers away from Nagasaki, Akita experienced what has been called the last U.S. air raid, when at least 250 people were killed. U.S. forces dropped 12,000 bombs on the Tsuchizaki district of the city from Aug. 14 through the early morning of Aug. 15, 1945, the day World War II ended.
The city has been holding the storytelling event since 2012 to pass down knowledge of the war to future generations.
However, the city canceled the event last year due to the coronavirus pandemic. It was held online this year for the first time.
That day in July, about 40 people were logged in to listen to Yamada's story.
He was born in Manchuria and attended school in Nagasaki, where he lived with his grandmother and aunt when the atomic bomb detonated over the city on Aug. 9, 1945.
On that day, Yamada was 12 and near his home, which was about 2.3 kilometers away from the hypocenter, when some road construction workers said something about a parachute. When he looked up, he saw nothing.
As he resumed his walk, a flash of light temporarily blinded him.
"It was brighter than the midsummer sun and so hot," Yamada said. "I thought I would die."
Yamada believes he survived the atomic bomb because he happened to be behind a rock.
"Badly injured people were walking in a line away from the hypocenter," Yamada said. "'Fight the enemy!' a couple of men shouted, then walked away. One of them had an eyeball popping out of its socket."
Yamada also said he has never forgotten about a newspaper delivery boy, who was about two years older and whose name he didn't know. The boy had delivered the paper to Yamada's house that day.
"I told him, 'I'll deliver the newspapers in my neighborhood for you,'" Yamada said. The boy was delighted and started walking home, in the direction of the hypocenter. "When I think about the direction the boy was headed, maybe he experienced the blast."
After the hourlong lecture, Yamada reflected on the limitations storytelling online.
"It's difficult to gauge the mood and reactions of the people listening," Yamada said. "It's different from what I'm used to when people are right in front of me."
Some participants noted that there were times when it was difficult to hear because of glitches with the equipment.
Yamada still felt there were positives to holding the event online.
"It will become increasingly difficult for atomic bomb survivors to visit places for meetings as they get older," Yamada said. "Online, at least they'll be able to communicate in their own words, which has a strong appeal. I think the use of this format will increase."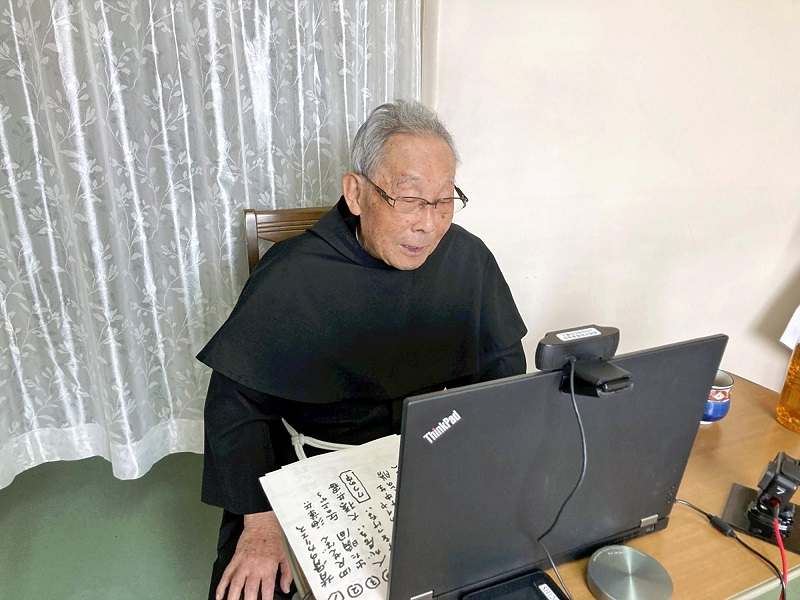 Monk's final session
Tomei Ozaki delivered his last lecture online on Feb. 25, the day after he moved into a hospice. In January, he had been diagnosed with pancreatic cancer.
The Nagasaki atomic bomb survivor changed from pajamas to his monk's habit for his "last day as a storyteller," speaking via computer from the hospice room.
He began the lecture by saying: "I'm Tomei Ozaki. I've been diagnosed with cancer, and I'm in a hospice."
Ozaki was 17 and at a weapons factory about 2.3 kilometers away from the hypocenter when the atomic bomb exploded. His home near the hypocenter was completely destroyed. Ozaki's mother, his only living relative, was never found. Not even her bones were discovered.
Ozaki started off speaking eloquently, but he burst into tears after describing how he felt after the atomic bombing.
Ozaki recounted how he had abandoned a child in need of help. He also confessed that when he saw an older boy — one who had beaten Ozaki in the past — suffering from serious injuries, he callously said, "Serves you right."
"As I walked through the burnt-out ruins, I felt a sense of 'elitism,' as if I was the only survivor," Ozaki said, revealing the guilt he had been carrying for 76 years. "I don't know why I felt that way."
After two months of being alone, he decided to become a monk.
"I lost everything in the atomic bombing, except my life," Ozaki said during the lecture. "I want to convey the reality of that experience and the preciousness of life."
After the 90-minute lecture ended, Ozaki laid down on his bed with a relieved expression on his face. He then posted on his blog, which he has been writing since 2009: "Everyone seemed glad to see me. I feel much better now."
Three days after the event, he wrote on his blog: "Online. What a convenient method we now have."
Ozaki had first begun to speak about his experience as a hibakusha on Aug. 9, 1994, the 50th anniversary of the bombing and his mother's death.
The Nagasaki Foundation for the Promotion of Peace, which supports citizens' peace initiatives, had asked Ozaki to give a lecture as a training course for its about 20 staff members.
Ozaki had readily agreed.
"I want to honestly tell people what really happened before my days are over," he had said.
Forty-nine days after his last lecture, Ozaki died at the age of 93.
Just before his death, Ozaki told the foundation's Michiko Yokoyama, who had been close to him for a long time, that the password to his blog was "kataribe," which means "storyteller."
"It showed his strong desire to remain a storyteller until the very end," Yokoyama said. "We were able to fulfill his wish because of the internet."