Mino washi papermakers leave their mark on Games with 'Olympic diploma'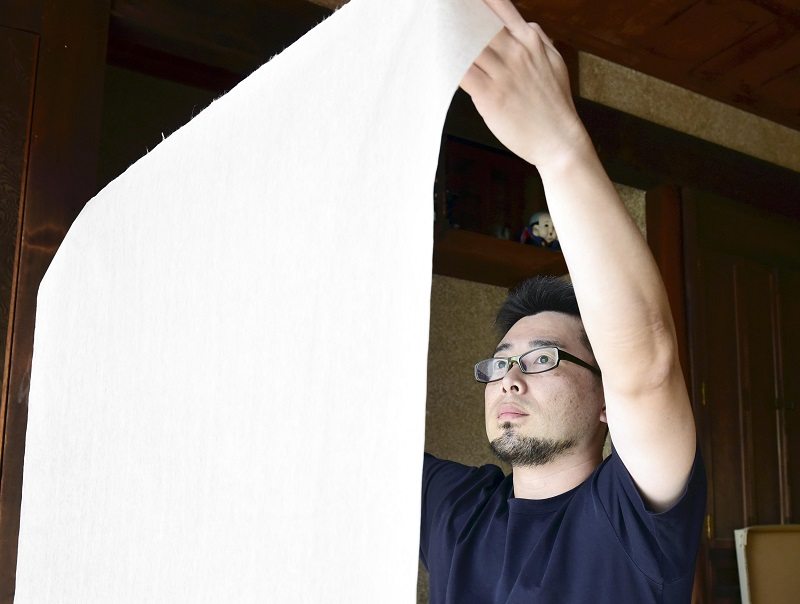 11:08 JST, August 2, 2021
GIFU — The top eight finishers in events at the 2020 Tokyo Olympic and Paralympic Games will be able to commemorate their achievement with Olympic diplomas, printed on traditional Mino washi paper.
Producing the handmade paper itself proved to be a Herculean task, one that took a team of 35 washi craftsmen nearly a year to complete the 18,480 sheets ordered for the Tokyo Games.
Washi craftsman Makoto Kurata, 42, hopes that his team's handiwork will be a precious opportunity for people the world over to discover washi, which has a history dating back over 1,300 years in Mino, near the center of Gifu Prefecture.
Kurata operates a workshop in the city, nestled among the mountains along the Nagara River. Born in nearby Kani, he was working a part-time job after graduating from high school, when he first experienced paper making at the recommendation of a friend, who saw a poster in a Mino museum calling for apprentices to keep the washi craft alive.
Fascinated by the sense of accomplishment that came from transforming tree pulp into beautiful sheets of paper, Kurata began to think that the craft would make an interesting career. He soon resolved to step up and carry on the traditions of the aging washi industry. In the summer of his 19th year, his life as a craftsman began. ​
​ Mino washi was the Edo shogunate's paper of choice for all official documents. The paper was also valued for use in shoji screens, thanks to its durability and thinness that allows light to pass through with an evenly diffuse glow.
Kurata said he felt proud upon hearing that his washi paper had been selected for the Olympic diploma, out of the many kinds of washi in Japan: "Entrusted with a great responsibility for Japanese washi, I knew that I absolutely could not deliver a subpar product."
Kurata safely fulfilled the Olympics order last spring. Then came the novel coronavirus.
The thought that the Games might be cancelled crossed his mind, and he worried that his hard work would have been for naught. So it was a relief when word came that the Games would still be held at a later date. It turns out postponement was a blessing in disguise, from the perspective of paper quality. Washi grows a brighter white the longer it is allowed to age. When exposed to air, the paper repeatedly absorbs moisture and dries, gradually developing a softer and more pleasant touch.
For the diplomas, he employed a special method to add a watermark with a hidden message. But Kurata's lips were sealed on the surprise.
"I can't tell you what the message is, but hope the athletes will hold the paper up to the light and see for themselves," he said.