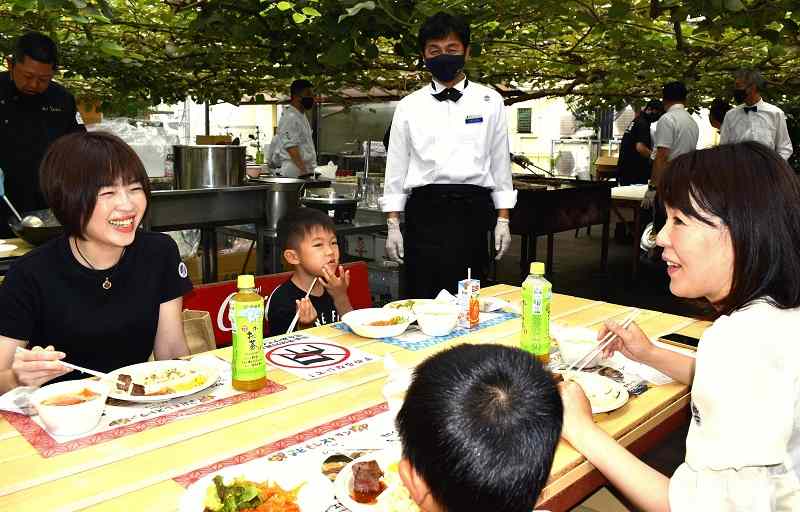 10:45 JST, July 18, 2021
A growing number of restaurants are joining the activities of "kodomo shokudo," or cafeterias set up to serve children nutritious meals for free or a small fee. In addition to volunteer initiatives, frameworks designed to facilitate the participation of restaurants are spreading.
For the children, this means that in addition to receiving meals and having somewhere to go, they also get to enjoy professional-level cuisine.
"Welcome!" bellowed out a participant at the kodomo restaurant, a children's event held in May at a farm in Nagareyama, Chiba Prefecture.
Members of the Higashikatsushika Lions Club, which hosted the event, dressed up as wait staff and greeted visiting parents and children with big smiles. Some of the club members own or are otherwise associated with five restaurants serving Japanese, Chinese, and other styles of cuisine. They used their skills to serve up freshly prepared dishes.
The menu included beef steak, a rice dish called takikomi gohan, shrimp in chili sauce and miso soup with pork and vegetables. Pastries were served for dessert.
The club used money from its activities budget to pay for the venue, food and other costs, with the restaurant owners and others only contributing their labor. A local aid group helped with inviting needy families to attend.
A 9-year-old fourth-grader from Kashiwa in the prefecture who came with his mother said with a smile, "Everything is delicious!"
Motoyuki Hirota, 49, a Chinese restaurant owner who took part in the event, said: "Running the restaurant has been tough during the pandemic, but I want to make food that will make children smile. I'd take part again if asked."
Mitsunori Ishida, another member of the club and a professor of sociology at Waseda University, said: "Children today have to live with various restrictions because of the coronavirus. Providing meals made by professional chefs is one way to enjoy something 'extraordinary.'"
Efforts to make it easier for restaurants to participate are spreading.
In 2019, Tokyo-based real estate company Tempo Innovation Inc. began helping to expand children's cafeterias as part of its corporate social responsibility efforts by asking restaurants it has lease agreements with to host cafeterias. About 270 events had been held as of the end of June.
Restaurants are provided with information such as how to register with government offices and local aid groups, and Tempo subsidizes food costs.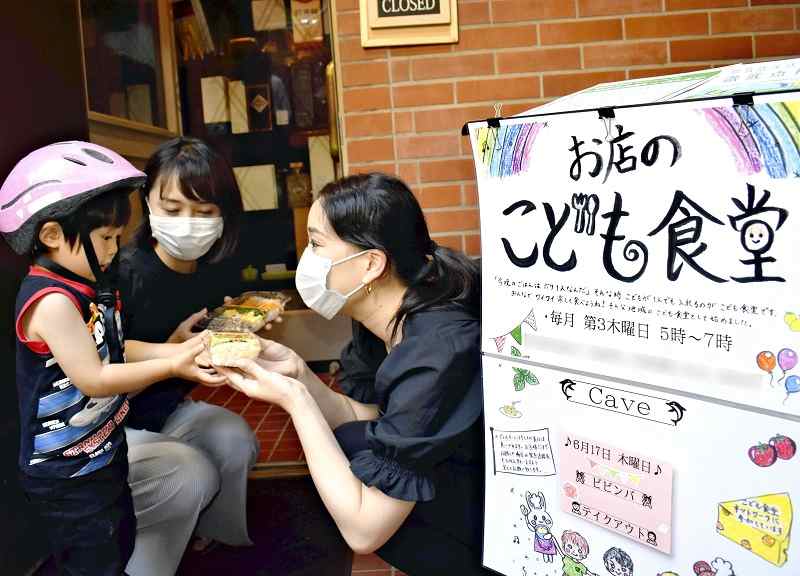 The Yomiuri Shimbun
Kitchen & Bar Cave in Minato Ward, Tokyo, distributes boxed lunches to families once a month. (The image has been partially modified.)
Kitchen & Bar Cave, a restaurant in Minato Ward, Tokyo, distributes boxed lunches by appointment every month.
"It makes me happy to get to know the parents and children of the community. I want to keep doing it," said owner Rina Morita, 30.
Since spring, the Fukuoka-based ramen noodle chain Ippudo has been sending food trucks to serve ramen at children's cafeterias in Tokyo and elsewhere that are introduced to it by Musubie, a Tokyo-based nonprofit organization that supports kodomo shokudo.
Midori Nakamura, a spokesperson for Ippudo, said: "It has been easy to work with aid groups in their efforts to secure venues and approach needy children. We would like to go nationwide in the future."
In addition to combating child poverty, kodomo shokudo help to forge community ties and give children a place to go.
Musubie Director Makoto Yuasa said, "It's reassuring to serve food from restaurants with good hygiene management, and it makes the children happy."
The pandemic has increased the number of families experiencing economic distress, and the need for children's cafeterias has grown.
"If we can come up with ways to help restaurants participate in areas such as with funding and how events are held, it could generate sustained support and forge relationships with the local community," Yuasa said.
Add TheJapanNews to your Google News feed.