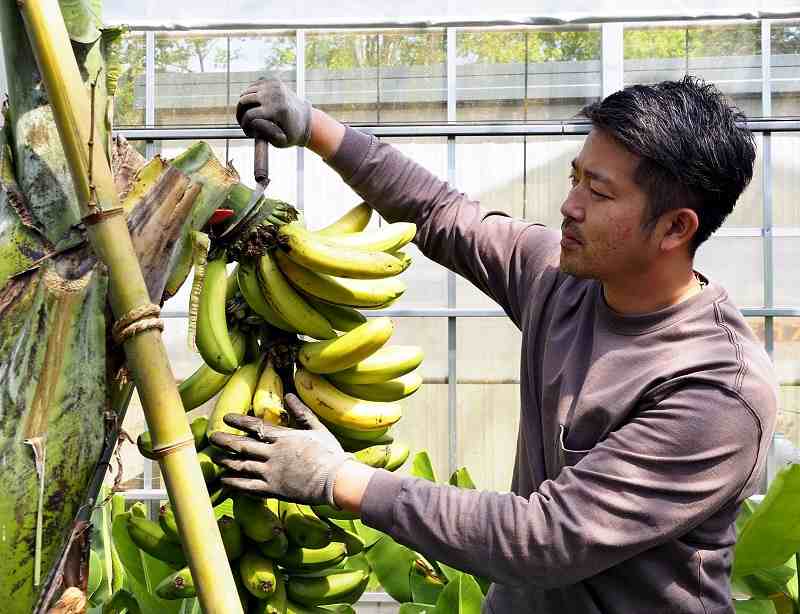 16:26 JST, July 13, 2021
KISARAZU, Chiba — A banana farm in Kisarazu, Chiba Prefecture, had its first harvest this spring of bananas featuring an edible skin grown without pesticides.
Although Kisarazu Farm was hit hard by typhoons two years ago, about 40,000 bananas were soon sold out. The farm also donated about 2,200 bananas to elementary schools in the city and to medical workers combating the pandemic.
The farm was established after the solar power generation company Uni Root purchased farmland and land for power generation in the Mariyatsu district of the city.
The Osaka-based company began growing chemical-free bananas in 2018 as a certified business operator under the city's agricultural management improvement plan.
Bananas grow mainly in the tropics, but their production in Japan began in recent years using seedlings grown using the "freeze-thaw awakening method." The method uses selective breeding to enable the seedlings to grow even in colder climates and was developed by an agricultural corporation in Okayama City.
Compared to imported bananas, which require pesticides, domestically grown bananas can be grown chemical-free, which appeals to many consumers.
Kisarazu Farm grows the popular Gros Michel variety, which have a high sugar content and are regarded as a luxury fruit for the taste.
Typhoon damage
The farm started growing its first bananas in autumn 2018 after buying seedlings grown using the freeze-thaw awakening method. However, the vinyl greenhouses where the bananas were growing were completely destroyed by typhoons in the autumn of 2019, immediately before harvest.
Now recovered, the farm grows about 200 banana trees in vinyl greenhouses covering 1,200 square meters.
Bamboo vinegar, a by-product of bamboo charcoal production in the Mariyatsu district of the city, is used to repel insects. The vinegar allows the bananas to grow without using any pesticides.
Named Kimisarazu Banana, about 40,000 bananas were harvested at the farm this season.
Of these, about 1,200 bananas were given to medical workers at Kimitsu Chuo Hospital, while another 1,000 were given to 18 city-run elementary schools.
"This is the first time for me to eat a banana with the skin still on. It's crunchy and has an unfamiliar texture," said Kisarazu Mayor Yoshikuni Watanabe after tasting the banana at a banana donation ceremony recently held at the Kisarazu city government office.
Watanabe added, "We'd like to use the bananas to educate children about nutrition."
Tadashi Tanaka, the chief of the medical corporation that administers Kimitsu Chuo Hospital, expressed his gratitude for the banana gift.
"Such thoughtfulness will be a source of our energy for tomorrow as many staffers are exhausted mentally and physically due to the fight against the coronavirus and disheartening rumors" targeting them regarding the virus, Tanaka said.
The farm's president Yuki Sakata, 39, hopes to increase banana production.
"We'd like to arrange the planting times so we can harvest bananas all year round," Sakata said.
Add TheJapanNews to your Google News feed.