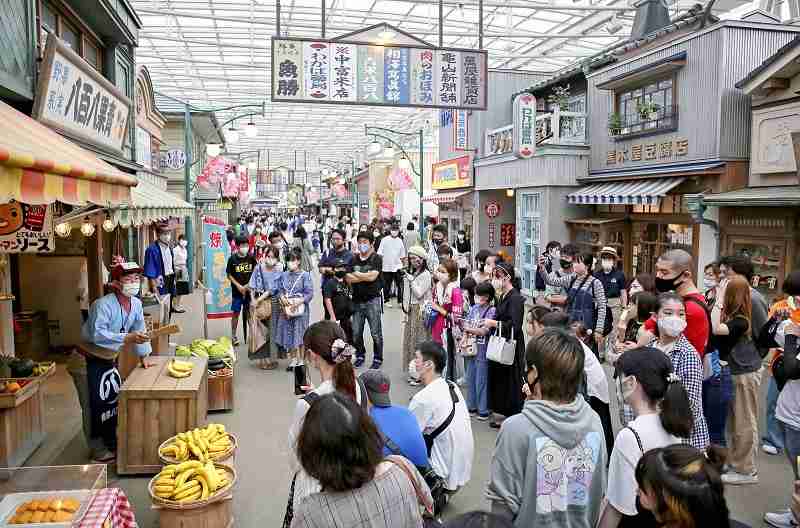 16:15 JST, June 27, 2021
Since May, visitors to the newly reopened Seibuen Amusement Park have been able to take a stroll down nostalgia lane, through an attraction that re-creates the townscape of a Showa era (1926-89) shopping arcade. Dubbed Sunset Hill Shopping Street, the addition is one of renovations that have transformed the park in Tokorozawa, Saitama Prefecture, with a Showa retro theme.
The nearly 150-meter-long street is lined with 30 meticulously re-created shops and facilities — from an electric appliance purveyor, coffee shop, post office and even a public bathhouse — offering a rosy window into the Golden Sixties that paved the way for Japan's postwar economic miracle.
About half of the outposts are functioning shops where visitors can travel back in time and purchase some of the wares and flavors of yesteryear, including grilled squid and cream sodas.
An interactive experience of the lively Showa milieu awaits on other street corners. A roadside vendor demonstrates "banana no tatakiuri," hawking discounted bananas from a cart with songs and banter, while reenactors capture the drama between a policeman and a thief. In the nearby Yuhikan, a building designed to resemble a movie theater, visitors can strap in for a Godzilla-themed ride.
Seibuen Amusement Park was opened by Seibu Railway Co. in 1950 as part of a leisure development plan that took shape along the train line. However, due to aging of the amusement park's facilities and the diversification of leisure activities in more modern times, the number of visitors had been charting a steady decline. Although the park drew about 1.94 million annual visitors in its heyday in 1988, attendance had dipped below the 500,000 mark in recent years.
In response, the park decided to undergo a six-month facelift costing about ¥10 billion. Hoping to inspire a "warm-hearted sense of happiness," the park chose as its theme "Showa retro."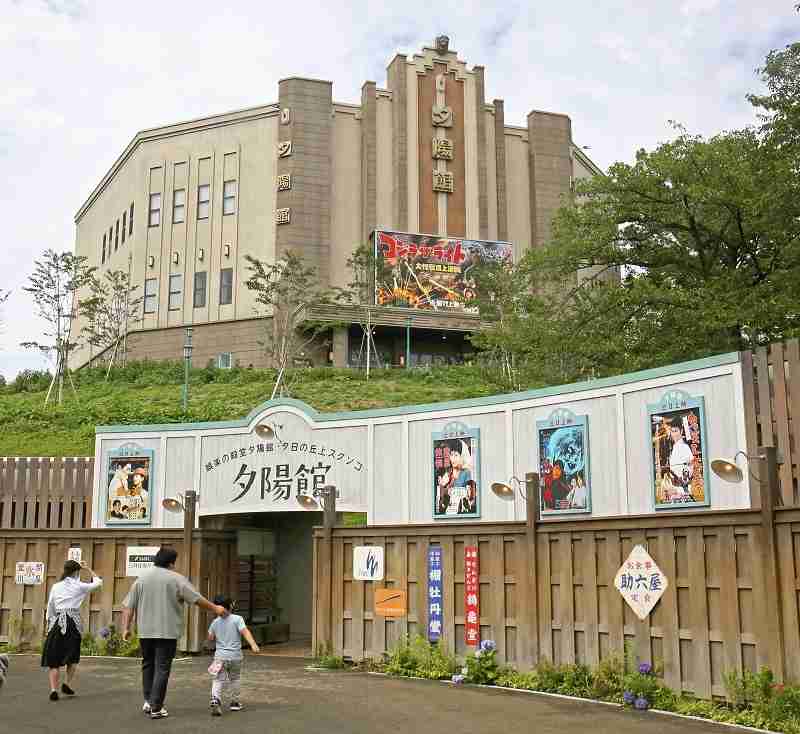 At a press conference in April, Takumi Fujii, president of Seibuen Amusement Park, said, "In this day and age when human relations are becoming so tenuous, we would like to provide a place where people can feel warm heart-to-heart contact with kind and friendly people."
A woman from Osaka had donned a Showa-style kimono to visit the amusement park with a friend from Setagaya Ward, Tokyo. Pausing between taking photos of each other at various spots in the shopping street, the woman said: "We were both born in the Heisei era [1989-2019], so we have never actually experienced the Showa era. But, it's like, really fun. We will definitely be coming back."
Admission to the park is ¥4,400, including tax, for junior high school students and older and ¥3,300 for children 3 years of age through elementary school. The price of admission includes access to all the rides and other attractions, including the old Ferris wheel and merry-go-round, which have been preserved in the renovation as true vestiges of the Showa era.
---
Click here to watch the video
---
Add TheJapanNews to your Google News feed.