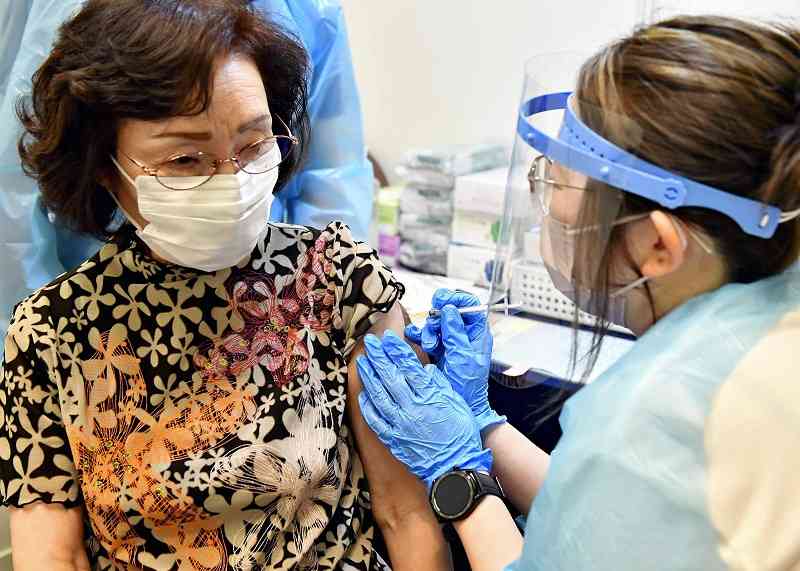 15:36 JST, June 26, 2021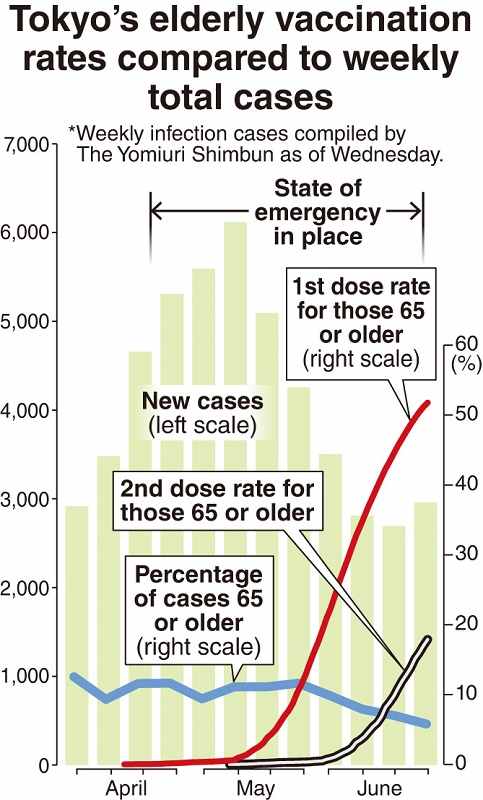 The ramped-up vaccination rollout for elderly people is showing signs of blunting the spread of the novel coronavirus in Japan.
More than 50% of elderly people have received their first vaccine dose. Now there are indications that new infections are declining — a trend mirroring what happened in nations that began their vaccine rollouts ahead of Japan. Boosting the vaccination rates among other age groups will be essential for ensuring the jabs remain effective and for fending off highly contagious variants of the virus.
"The proportion of elderly people among new cases is declining," Norio Omagari, director of the Disease Control and Prevention Center of the National Center for Global Health and Medicine, told the Tokyo metropolitan government's coronavirus monitoring meeting on Thursday.
According to figures compiled by The Yomiuri Shimbun, the decline in elderly people's share of new infections corresponds with the increase in their vaccination rate.
The proportion of elderly people in the capital who had received their first shot began rising in early May, when the Golden Week holidays ended, or about one month after vaccinations started for people 65 or older. This proportion topped 25% on June 2 and reached 51.8% on Wednesday.
Elderly people accounted for 12.5% of new infection cases in early April, but this figure began dropping at the end of May and fell to 5.8% on Wednesday. The vaccines' protective effects reportedly take about one or two weeks to kick in.
"Given that new infections in Tokyo started declining soon after vaccines started being administered in larger numbers, it's highly probable that the vaccination of elderly people was having an effect," said Tetsuya Matsumoto, a professor at the International University of Health and Welfare who is an expert on infectious diseases.
Among medical workers, new infections had dramatically declined as of mid-June, with 90% of them having had both vaccine doses.
Highly infectious variants
The remarkable impact of the vaccines also became evident in nations that started their inoculation campaigns before Japan did. According to a report by the Nomura Research Institute, the number of new infections began clearly declining in countries such as Israel and the United States once around 40% of the population had been vaccinated.
Britain, which at one point was recording more than 60,000 new infections daily, started its vaccine rollout in December. That nation also plunged into a lockdown in January, and new infection cases began to drop. In May, when 50% of the population had been given their first vaccine dose, the number of new daily cases fell to below 2,000 on some days.
However, the situation is changing due to the impact of the highly contagious Delta variant, which was first detected in India. New infections started increasing from about late May. The number had climbed to about the 10,000 mark daily, with most cases being detected in young people.
Vaccines are only about 33% effective against this new variant after one dose. The fact that many young people have not completed both vaccine jabs appears to be one cause of this rebound. A two-dose regime is said to be up to 88% effective, so the British government is pushing to have two-thirds of adults receive both jabs by mid-July.
Only 8% fully inoculated
Concern about the Delta variant is also growing in Japan. This variant was detected in 8.2% of samples screened in Tokyo from June 14 to 20. Some experts have predicted Delta could become the dominant variant by early July.
It is said that 60% to 80% of a population needs to have immunity before reaching "herd immunity," which would bring the spread of the coronavirus under control. As things stand, only 8% of people in Japan have received both vaccine shots.
"Further accelerating the vaccine rollout will be essential, considering that variants could emerge and the vaccines' effect could wane over time," said Tetsuo Nakayama, a specially appointed professor of clinical virology at Kitasato University. "The authorities should strengthen their monitoring of virus variants and devise ways to ensure vaccinations are administered to young people, too."
Jabs vital for young, old
Getting young people to receive the COVID-19 vaccine is a pressing task in Japan's effort to combat the virus.
Some reports indicate that the higher the age, the higher the percentage of people who want to be vaccinated. According to a survey conducted in May by Tokyo-based market research company Cross Marketing Inc., about 70% of men in their 60s and about 60% of women in this age bracket said they wanted to be vaccinated "soon." This figure was only about 20% for men and women in their 20s.
These results reflect the fact that the benefits of getting jabbed are less obvious for younger people, compared with elderly people, who are more at risk of developing serious health problems should they catch the coronavirus. Another possible cause is the tendency for vaccine side effects to occur more often among younger people.
The United States and European nations, which started their inoculation campaigns before Japan did, also faced this problem. In Britain, the Delta variant is spreading across the nation, but it seems most new infections are occurring among young people who have not completed the two-shot vaccination.
According to the British government, some data indicates that about two-thirds of people hospitalized after being infected with the Delta variant by early June had not been vaccinated.
The British government has turned to social media and other channels to spread messages encouraging young people, in particular, to get jabbed. It also started a service through which vaccine experts answer questions.
Akifumi Imamura, head of the Infectious Disease Department at the Tokyo metropolitan Komagome Hospital, said conveying the importance of getting vaccinated to young people was crucial.
Add TheJapanNews to your Google News feed.