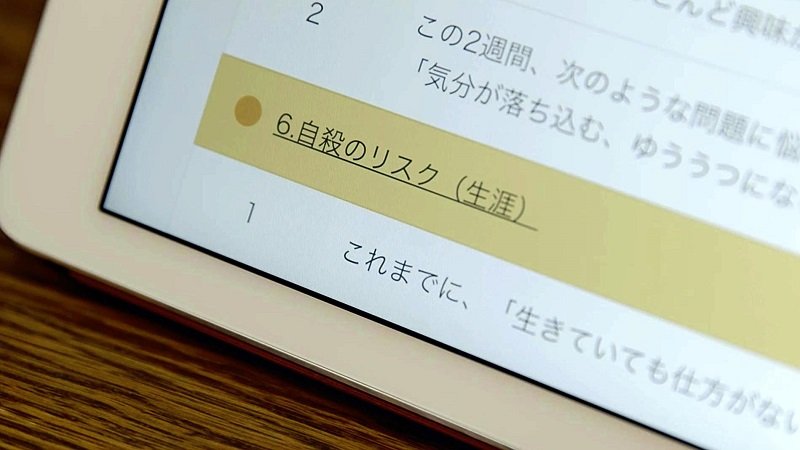 16:09 JST, June 17, 2021
"Have you ever thought, what's the use in living?"
It is one of 11 questions that appear on a tablet screen to check physical and mental health problems. A student answers them alone in the nurse's office at school.
Over the past year, child suicides have reached a record high, making suicide prevention an urgent issue for schools and other facilities.
With the aim of quickly gaining a sense of a child's troubles, the use of information and communication technology (ICT) is actively being promoted, with the government also providing support.
Based on the student's answers to the initial questionnaire, the school nurse or other health professional will ask follow-up questions. The results are entered into the tablet, which then displays the student's suicide risk on a 4-level international psychiatric scale.
This system is called RAMPS (Risk Assessment of Mental & Physical Status), which provides a visualization of a child's mental disorders. It was developed in 2018 by a team including Yuko Kitagawa, a project research associate at the University of Tokyo.
Information and evaluations obtained through RAMPS are shared between teachers, school counselors and parents. Depending upon the degree of risk, the next step could be a conference with the parents or a check at a medical institution.
To get a grasp on a student's mental distress, the common methods are to listen to teachers, conduct classroom questionnaires or check the records of visits to the nurse's office. However, as Kitagawa points out, "Children at their limits tend not to ask anyone for help."
RAMPS can ask the type of questions that are difficult for a teacher to ask directly, such as "Have you ever thought that you want to die?"
A junior high school student in the Kanto region who confessed a wish to die in the RAMPS system said, "I wouldn't have said anything if I wasn't asked."
RAMPS has been introduced at about 60 junior high and high schools in Niigata, Nagano and other prefectures. Niigata Prefecture began using the system in 2018 after a rash of suicides by junior high and high school students, and hopes to eventually install it at every school.
Niigata's Maki High School, which is run by the prefecture, found that a student who was frequently absent from school had felt suicidal after struggling academically.
"In addition to getting a grasp on a student's physical and mental risks, the system makes it easier to share a sense of crisis between teachers and parents," the school's nurse said.
Finding true feelings
From this academic year, the Chiba prefectural board of education teams up with Chiba University to conduct a stress check three times over the year on about 100,000 students at all prefectural high schools via their smartphones. Personal interviews will be recommended for students determined to be under high stress.
In Nishinomiya, Hyogo Prefecture, where a tablet device is distributed to every student, the board of education decided that from this school year to utilize it to diagnose mental health as well.
There are still issues with the use of such devices in classrooms in terms of teachers' technical skills and other aspects. Even so, they add another tool for getting the true feelings out of students.
The Nishinomiya board checks the psychological state of public school students from fifth grade of elementary schools to the third year of junior high school using a system called Kokoron Thermo, which was co-developed with Mukogawa Women's University.
There are about 30 questions, such as "Can you quickly get over it when something bad happens?" The answers are reflected on a cobweb chart showing the students' self-esteem and social skills, and even makes a comparison with the averages of their class or grade.
As it is possible that the bright, smiling student seen by the teacher in reality has low self-esteem, the system has the potential to help teachers recognize at an early stage signs of bullying or other factors that could lead to absenteeism.
"We expect data-backed measures to be established to supplement teachers' instincts and experience," a city official said.
Government support
In 2020, the number of suicides by elementary, junior high and high school students increased by 100 from the previous year to a record 499, with the pandemic seen as an underlying cause.
By age group, there were 14 elementary school students, up six from the previous year, 146 junior high schoolers, an increase of 34, and 339 high schoolers, up 60. The number of high school girls increased drastically by 60, while that of boys remained flat.
As counseling on child suicide and bullying through social media platforms such as Line is widely used, the government is also looking into mental checks using ICT.
The Education, Culture, Sports, Science and Technology Ministry plans to incorporate the use of ICT in its efforts for suicide prevention. There have been calls that personal information needs to be handled with great care, and the ministry plans to take up the advantages and disadvantages of ICT use as well.
The ministry takes that stance that an approach tailored to the community is necessary, and will help local governments adopt their own strategies through the collection and dissemination of advanced cases.
Add TheJapanNews to your Google News feed.