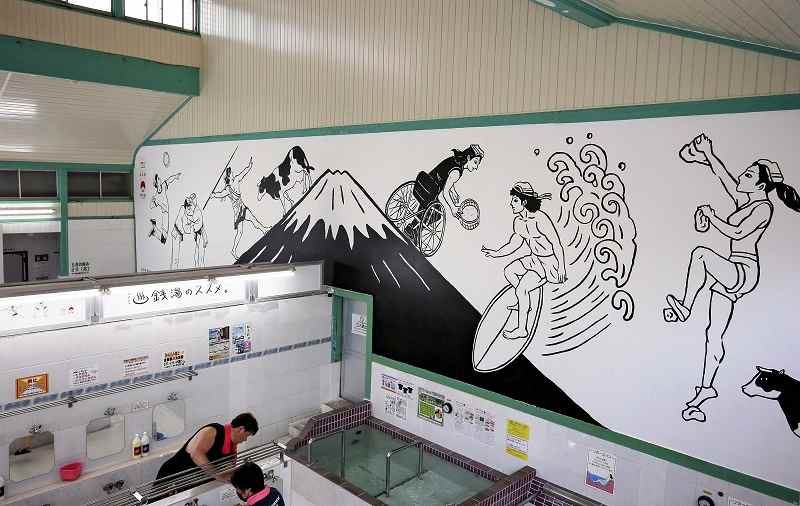 17:05 JST, May 30, 2021
Manga artist Mari Yamazaki made her name with a popular manga series called "Thermae Romae," which connects the public baths of ancient Rome with those of modern Japan. She created similar artwork that has been reproduced as a large mural in a Tokyo public bathhouse.
Under the theme of sports and bathing, the unique mural at Kotobuki-yu in Taito Ward, which has been in business since 1952, depicts athletes in ancient Greek garb competing in six events of the Olympics and Paralympics with bathhouse essentials, for example holding a bath bucket or with folded hand towels on their heads. Mizuki Tanaka, one of the few remaining sento (public bathhouse) painters in Japan, reproduced the artwork as a mural. The mural was completed in April and is planned to be displayed until September.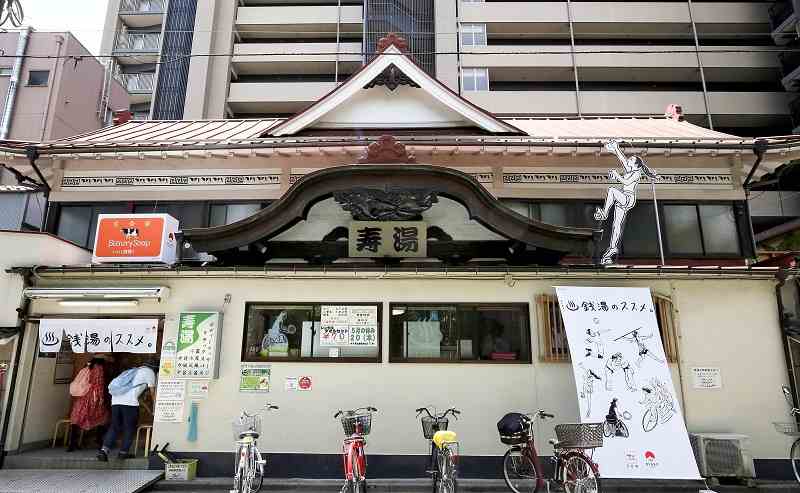 Public bathhouses used to be common throughout Japan, serving as local gathering spots for exchanges of information. They were places to soothe the mind and body, and a vital part of ordinary life. However, changes in lifestyle are making public baths obsolete. Combined with aging facilities and a lack of successors to keep them going, this has led to more and more closing for good every year.
Yamazaki's artwork is part of a project titled "Sento no Susume" (promotion of bathhouses), which was launched in 2019 to renew awareness of the cultural value and splendor that bath houses enjoyed in the past. It is sponsored jointly by Osaka-based Cow Brand Soap Kyoshinsha Co., which is dedicated to preserving bath culture, and Beams Japan in Shinjuku Ward, Tokyo, which sells unique Japan-designed clothing both domestically and abroad.
In this case, Kotobuki-yu was a willing participant, and allowed the main bath room to be "taken over" to reproduce Yamazaki's work.
"I am so happy because when I was a child, I used to aspire to be a painter after seeing the murals on the walls of public baths," a smiling Yamazaki said at an online event to mark the completion.
"I've lived in Italy for more than 30 years in total and have seen many ruins of ancient Rome and ancient Greece. And wherever there were ruins of baths, there were always ruins of sports grounds nearby. Baths and sports have long had a strong affinity," she added in explaining her choice of theme.
Ryozo Naganuma, 42, the third-generation owner of Kotobuki-yu, said the mural makes his bathhouse stand out. "Unlike other bath house murals, this one is very innovative," he said. "I want many people to come and see it. I'll keep working to make this a place of relaxation and enjoyment for everyone."
T-shirts and other goods based on Yamazaki's bathhouse artwork can be purchased at some Beams Japan outlets and the official online store.
(Old & New is a series exclusive to The Japan News.)
---
Click here to watch the video
---
Add TheJapanNews to your Google News feed.