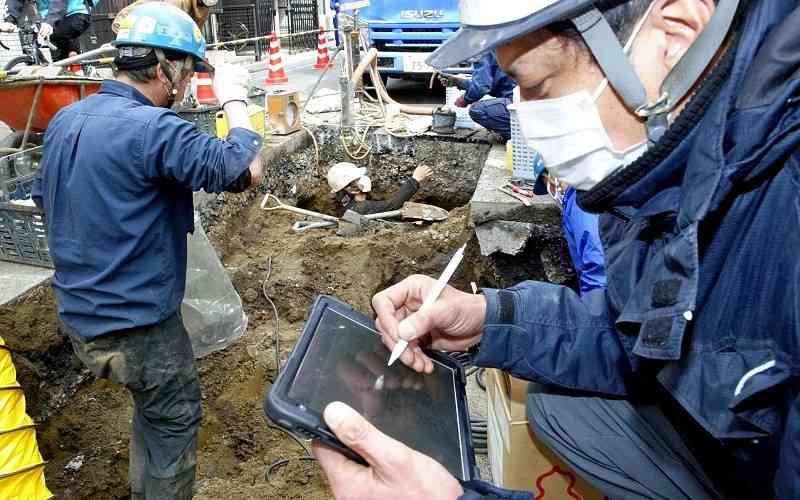 10:08 JST, May 4, 2021
As the coronavirus pandemic drags on, Japan continues to cautiously test out the waters on telework. In March, the Health, Labor and Welfare Ministry revised its guidelines on telework. Even tasks that have traditionally been viewed as unconducive to remote work, from construction to team-oriented works, have recently been the subjects of telecommuting. Companies are devising ways to promote telework by showing employees the types of work conducive to telework, creating the place for chats unrelated to work on the internet, and taking other measures.
Commuting once a month
Masaki Otsuji, 37, works as a draftsman for Capty Co., a subsidiary of Tokyo Gas Co. Before the pandemic, Otsuji commuted from his home in Sakura, Chiba Prefecture, to the company's offices in Sumida Ward, Tokyo. Being able to work remotely has freed up an extra three hours each day that he would have otherwise spent in transit.
"Now I have more time to actually talk to my wife," he said.
In the old workflow, construction site supervisors used to have to return to the office and make handwritten diagrams, showing which gas pipes had been replaced. These provisional diagrams would then be physically passed to draftsmen like Otsuji, whose job was to digitize the schematics on a company computer.
Now, field supervisors have been equipped with tablets and stylus pens, so they can submit their sketches directly from the construction site, freeing Otsuji and his colleagues to do their jobs remotely. Under the new system, Otsuji said he only needs to commute to the office once a month or so, and field supervisors are also able to go directly from construction sites to their homes.
The tablet system was developed by Tokyo Gas in October 2019, and is now used in about 70% of the company's nearly 10,000 cases of constructions a year.
A Capty official said, "We assumed it would be difficult to incorporate telework into construction jobs, but the need to take preventive measures against the coronavirus spurred us to rollout the system quite rapidly."
Preventing overwork
On April 15, the Tokyo metropolitan government announced the results of a survey to gauge awareness of telecommuting. Of the 10,000 Tokyo residents polled, only about 26% said that 30% or more of their duties had been replaced with telecommuting.
Yasutoshi Nishimura, minister in charge of economic revitalization, pointed out at a press conference on the evening of April 16 that foot traffic around train stations in the Tokyo metropolitan area and the Kansai region had been increasing. He emphasized, "I want companies to provide even more opportunities to telework, as a symbol of the new normal."
On March 25, the health ministry revised its previous guidelines to emphasize that both employees as well as employers be on board with how a company goes about teleworking.
The ministry recommends that companies decide in advance which of their employees and specific job categories will be eligible for teleworking, thereby smoothing the transition in a way that mitigates both productivity losses and the risk of overburdening employees.
Working from home tends to blur the lines between professional and private, making it difficult to unplug.
Staffing agency Pasona Group Inc. has found one way to prevent its remote employees from overworking by setting company-issued computers to shut down at 8:30 p.m. by default.
At the time of January's state of emergency, Hitachi Ltd. set up a shared chatroom in its videoconferencing system dedicated to water cooler small talk, where employees across departments could congregate virtually and leave casual messages, such as one gauging interest in holding an online party.
Mutsuki Tsukayama, acting chief of the company's workstyle solutions department, said: "I've only been to the office about a dozen times since March last year. As there are colleagues whom I've never met in person, being able to chat about topics unrelated to work is a helpful way to learn about each other's personalities."
For 'business bachelors'
Some companies have been using the teleworking trend as an opportunity to call back employees from faraway postings and allow them to work from home.
At Fujitsu Ltd., 80% of their about 80,000 employees in Japan have been teleworking. In July last year, the company began paring down its roster of such "business bachelors," which numbered around 4,000 at the time. By January, about 900 of these employees had been reunited with their families, running the gamut from salespeople to administrative staff and system engineers. The company said they embarked on the initiative with the consent and understanding of their business partners and clients.
Supervisors at each branch remain in their posts, and those newly minted teleworkers make an occasional business trip, if the need arises for them to meet with clients and other contacts in person.
"We will continue our efforts to provide more flexible employment options even after the pandemic has ended," said a Fujitsu official.
Calbee Inc., a major confectionary maker, has transitioned about 800 — nearly 20% — of its employees in Japan to teleworking, in principle. The company has also been letting its business bachelors return home, when circumstances allow.
Add TheJapanNews to your Google News feed.