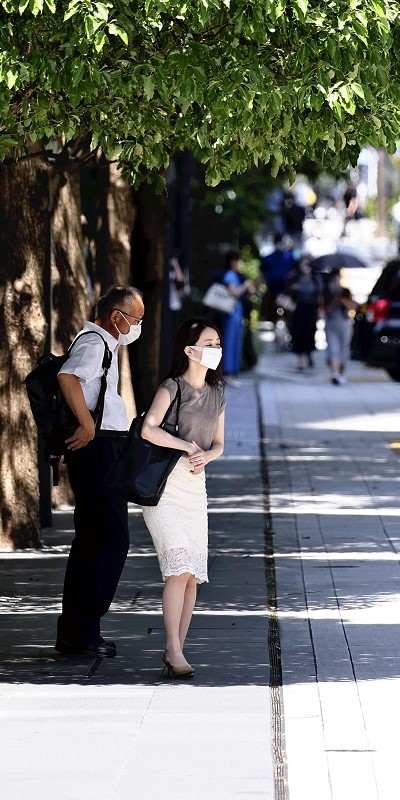 14:56 JST, April 30, 2021
As many as 98% of respondents to a recent survey conducted by The Yomiuri Shimbun said they have been donning masks when in public as a protective measure against the novel coronavirus.
The survey, which sought to gauge attitudes toward the coronavirus crisis, asked respondents to report which of nine infection control measures they had taken amid the pandemic, with multiple answers allowed.
Mask-wearing was followed by careful handwashing and disinfection (89%), avoiding crowds (80%), eating at home as much as possible (77%), and eating alone (76%).
However, the survey also identified some measures that many respondents had failed to practice. Only 37% of those surveyed said they checked their temperature every day or maintained the recommended social distance of at least two meters from others.
The survey showed that following infection prevention measures has been a source of stress for many respondents. As many as 48% of those surveyed said they found it "difficult" or "somewhat difficult" to wear masks on a daily basis.
When asked about their post-pandemic plans, 766 out of 1,118 people who answered the question, or nearly 70%, said they want to travel or enjoy leisure activities. A woman in her 60s in Osaka Prefecture wrote: "I used to travel with my husband every year on our wedding anniversary. I want to enjoy all the leisure I have missed out on because of the pandemic."
In addition to traveling, 368 people said they want to indulge in food-related activities after the pandemic has subsided. A woman in her 40s in Kagoshima Prefecture said she wants to visit Tokyo to eat pancakes.
The latest mail-in survey was sent to 3,000 randomly selected registered voters across the country from March 9 through April 15. Valid answers were given by a total of 2,155 out of 2,242 respondents, for a response rate of 72%.
Add TheJapanNews to your Google News feed.