Survey: Childcare applications down in 70% of high-demand municipalities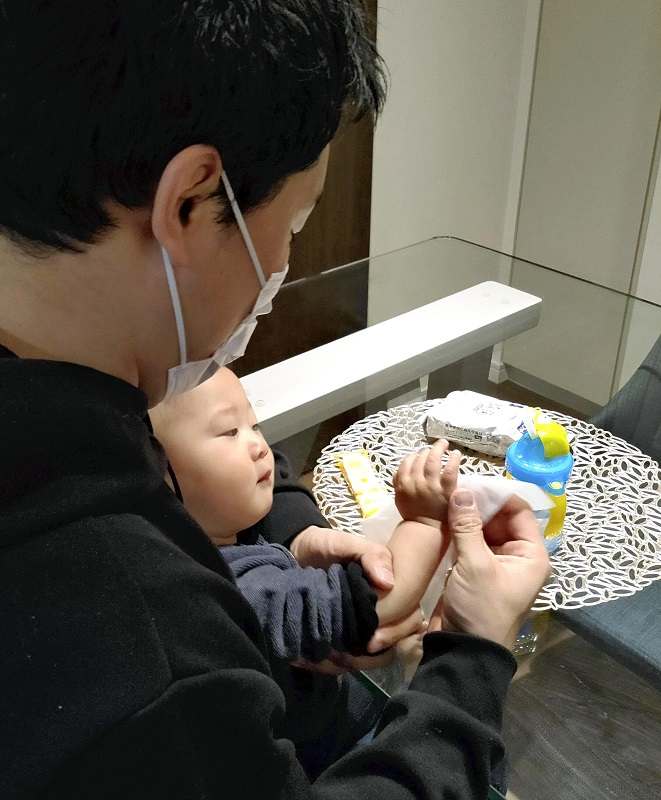 15:10 JST, April 2, 2021
Applications for childcare services fell in 70% of the highest-demand municipalities in the new school year, a survey by The Yomiuri Shimbun has found. The decline is thought to reflect parents' reluctance to use childcare during the pandemic, due to concern that the facilities might become vectors for transmission of the novel coronavirus.
Conducted from February to March, the survey looked at the number of applications to childcare centers located in Tokyo's 23 wards, ordinance-designated cities and other municipalities that had waiting lists of 50 children or more as of April last year as identified by figures from the Health, Labor and Welfare Ministry. Out of a total of 106 municipalities included in the survey, valid responses were obtained from 95 municipalities.
The total number of applicants in these 95 municipalities was about 249,800, down 5% from the previous year. A decrease in the number of applicants — including those seeking transfers to other childcare centers — was reported to have occurred in 75 of the 106 municipalities.
Meanwhile, the number of "unsuccessful applicants" — those applicants who were not offered a spot in the first round of selection — dropped to 56,100, or 22% of applicants, in the 95 municipalities, down 18.6% from the previous year.
According to an annual report on all municipalities released by the central government in September, the number of childcare applicants has been rising steadily on the national level in recent years, a trend primarily attributable to an increase in two-worker households. But the number is expected to decline in 2021.

Risk of infections
"Because of the novel coronavirus, we decided not to apply for childcare," said a 32-year-old company employee in Tokyo, while disinfecting his 9-month-old son's fingers.
The man and his 39-year-old wife, who also works for a company, concluded that putting their child into a group day care service would be too much of a risk. While the couple has been taking measures to avoid the coronavirus and refraining from outings, they see no prospect for the end of the pandemic. Ultimately, the wife decided to extend her childcare leave for another year to care for their son at home.
When the 75 municipalities that had seen the decline were asked in the survey to speculate on reasons, with multiple answers allowed, 41 municipalities said there were simply fewer preschool-aged children in their areas. The second most common response, cited by 26 municipalities, was that the pandemic had caused more parents to put off enrolling their kids this year.
In Yokohama, the number of applicants dipped 4% from last year to about 17,840. "I think many parents have decided to take care of their children at home instead of placing them in childcare facilities out of concern over the coronavirus," said a city government official. The city often fields requests for consultation by people who hope to extend their childcare leave.
An official with the Sendai municipal government, which also saw a decline in the number of such applicants, said, "Parents have come in to talk about forgoing childcare this year as a result of uncertainty over the coronavirus."
In addition, 14 municipalities cited changes in parents' working styles, such as an increase in the number of those working from home.
According to a poll of nearly 2,000 companies with at least 30 employees that was conducted in June last year by the Tokyo metropolitan government, 58% of the firms had implemented work-from-home policies, more than double the 25% that was recorded in fiscal 2019. Some parents are believed to have decided not to apply for childcare, given the option of teleworking and caring for their children themselves at home.
System may need review
As many as 33 municipalities said the demand for childcare services has become difficult to gauge as a result of the pandemic. The geographic range of these municipalities — from local governments in the Tokyo metropolitan area, which were particularly hit-hard by the virus, to regional cities with far fewer infections — suggests that this unpredictability may be a national trend.
Data about the demand for childcare services is important for local governments to plan accordingly. The national government has also been working to address the wait-list issue. In December last year, it released a plan to support child-rearing, aimed at accelerating efforts to reduce the number of wait-listed children by the end of fiscal 2024.
The national government plans to provide childcare facilities for about 140,000 children over four years from fiscal 2021.
In the survey, 26 local governments answered that they will be able to eliminate day-care waiting lists by fiscal 2021, while 20 local governments said they will be able to do so by fiscal 2022. If many childcare facilities are built to eliminate the lists, there will be vacancies in case there are few children entering the facilities.
Tokyo's Setagaya Ward — where 470 children were on the waiting list in April 2019, the highest figure in the country — reduced that list to zero in 2020, thanks partly to improvements in childcare facilities and measures to ascertain the number of such children. The number of applicants for childcare facilities starting in April also dropped by 10% from 2020 to about 6,000. The ward government, however, already has plans to provide more childcare facilities to cover an additional 834 children in fiscal 2022.
"It's hard to tell whether the number of the applications next year will increase as the pandemic will have ended, or conversely decrease due to further changes in the way people work," a ward official said, adding the ward office may reassess its plan to build or improve childcare facilities as needed.
Add TheJapanNews to your Google News feed.