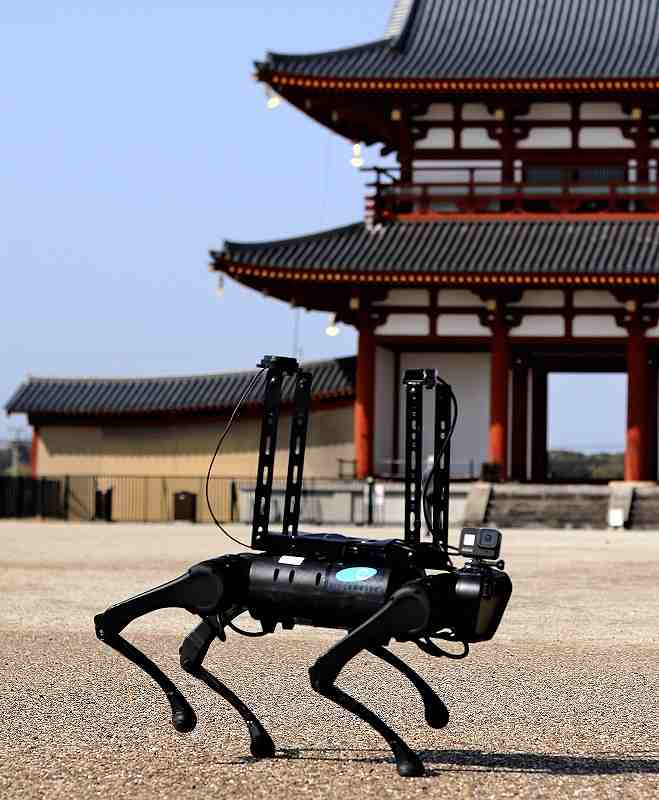 12:07 JST, March 14, 2021
A test run on the use of an unmanned quadrupedal robot in area patrol and inspection was held at one of Nara City's World Heritage Sites. This cutting-edge technology is expected to improve work efficiency and reduce the burden of human laborers.
The trial at the Nara Palace Site Historical Park was conducted by information system developer NTT Comware Corp. On March 10, the quadrupedal robot strolled along a path, moving its legs at a speed similar to that of a human's gait. A camera captured images of the park, while the integrated AI analyzed those images for any fungi that could damage the park's trees.
This initiative is part of the Nara Palace Site Historical Park Smart Challenge, which began in fiscal 2019 under the leadership of the Land, Infrastructure and Transportation Ministry. Various companies are conducting experiments, including those that work with automated driving systems and virtual reality, with the aim of both facilitating movement and improving the efficiency of park maintenance and management. The results of this experiment will be used to help bring a smart city that utilizes advanced technology to fruition.
According to NTT Comware, park patrol workers have to travel more than 20 kilometers a day on foot, which took eight hours.
In order to streamline the work and reduce the workload, the company began considering the possibility of utilizing robots and AI in addition to the human patrollers. The first step was to create a 3D model of the park using data taken by a drone. A camera-equipped unmanned robot patrols the park, and the AI analyzes those images and superimposes any abnormalities on the 3D model to assist with park management.
While the company had also experimented with the use of unmanned electric carts to photograph the park, there were many places where the carts could not access because of stairs and other obstacles. To overcome this problem, the quadrupedal robot was installed. The company has plans to improve the AI's image analysis accuracy so that it can ascertain other information such as the location of injured people, fallen trees and fallen garbage.
Add TheJapanNews to your Google News feed.