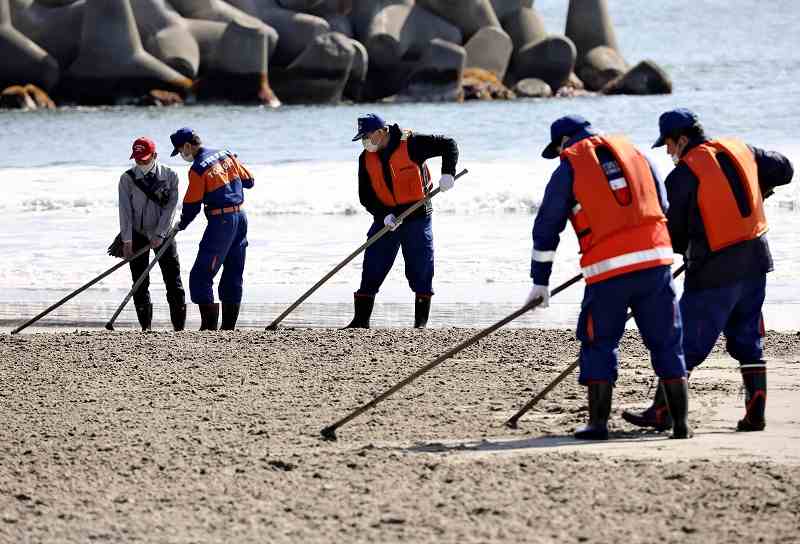 16:27 JST, March 11, 2021
TOMIOKA, Fukushima — About 530 people conducted an intensive search in coastal areas in Fukushima Prefecture on Thursday, as 196 people in the prefecture remain unaccounted for 10 years after the Great East Japan Earthquake and tsunami.
Firefighters and prefectural police officers were among those combing the areas for signs of the missing people across 23 locations in 10 municipalities. Similar searches were conducted in other prefectures the same day.
On the coast near a port in Tomioka, about 50 people, including officers from a prefectural police station and volunteer firefighters, turned over the ground using rakes and other tools starting at 9:30 a.m.
"We should do whatever we can to return the bodies of missing people to their families, and this thought has remained unchanged since the disaster," said Takeru Hanawa, 34, one of the participating police officers.
Since June 2011, the prefectural police have conducted an intensive search on or around the 11th of every month, with a total of about 27,000 officers having been deployed. In 2011, the bodies of 1,599 people were identified.
Fewer bodies of missing people have been discovered since 2012, with only two to five people identified each year through 2016.
Seawalls and parks aimed to reduce disaster damage have been developed in these areas as reconstruction work has progressed, making it more and more difficult to uncover any clues.
No bodies of missing people have been discovered in Fukushima Prefecture since December 2016.
Add TheJapanNews to your Google News feed.