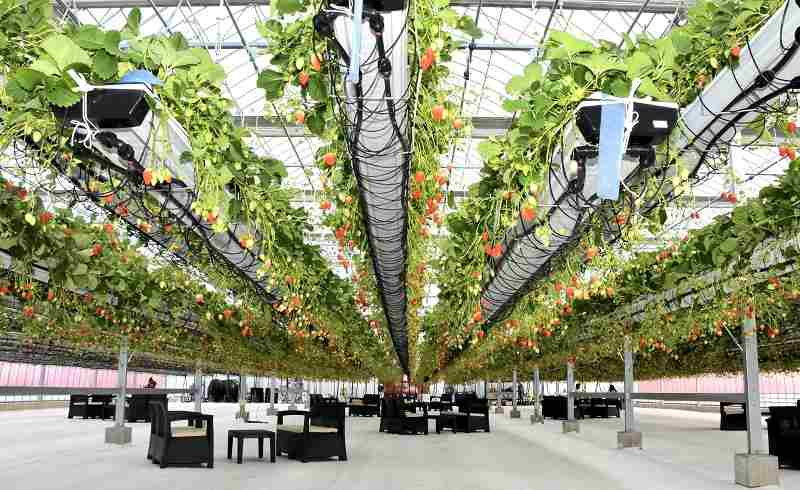 14:34 JST, March 9, 2021
GIFU — A unique strawberry farm has opened in Godo, Gifu Prefecture, where visitors can pick strawberries grown overhead. The idea of seeing strawberries high in the air has drawn in many Instagrammers.
Totoribe Farm, a strawberry production, processing and sales company based in Ono in the prefecture, opened the facility using cutting-edge technology. The company is also trying to raise operating funds online through crowdfunding, while promoting their strawberries to help with revitalization work in the region.
"Even though strawberries turn red, we can't say they are sweet," said Daisuke Toriuchi, 41, the president of the company. While strawberries turn red after picking, their sugar content level does not increase, according to Toriuchi.
Originally, Toriuchi started the business as a sole proprietor in 2016. After the business took off, he turned it into a company in 2019.
The riper the strawberries are, the more easily they get crushed and the sooner their expiration dates arrive. For that reason, he picked strawberries before they were fully ripened and sent them to mail-order customers.
"I felt bad that I couldn't deliver strawberries that were at their best," Toriuchi said.
Thus, he came up with the idea of a strawberry-picking farm where visitors can enjoy the taste of fully ripened strawberries on the spot, and he began planning.
The strawberry farm is about 1,000 square meters. Temperature, humidity, carbon dioxide levels, hours of sunlight and other conditions are all managed by computer while strawberries are automatically watered and fertilized. He introduced the method of growing strawberries hanging overhead following practical examples in other countries like the Netherlands. A lot of space can be procured in a greenhouse and interior temperature changes are minor, creating an ideal environment for plants. Such an environment also enables elderly or disabled people to move around it easily, according to Toriuchi.
The strawberry farm grows three varieties of strawberries: Yotsuboshi, Kaorino and Yayoihime.
"If we carefully check the balance between the sweetness and sourness before picking, they are comparable to expensive brand varieties," Toriuchi said.
He also thought it important to have others' perspectives to better promote the products. He began searching for people who could take charge of promotion, and found two university students. Hinako Takahashi, 21, is a fourth-year student of Tohoku Gakuin University who is studying the characteristics of media and marketing. Narumi Kikuchi, 22, is also a fourth-year student of Hosei University.
He assigned the two to plan and create a site for crowdfunding. They started the crowdfunding on Dec. 25 and raised the target amount of ¥500,000 in just two days.
As Takahashi and Kikuchi are engaged in social contribution activities in Tono, Iwate Prefecture, they have discussions with Toriuchi remotely using a video conference system and other tools.
Add TheJapanNews to your Google News feed.