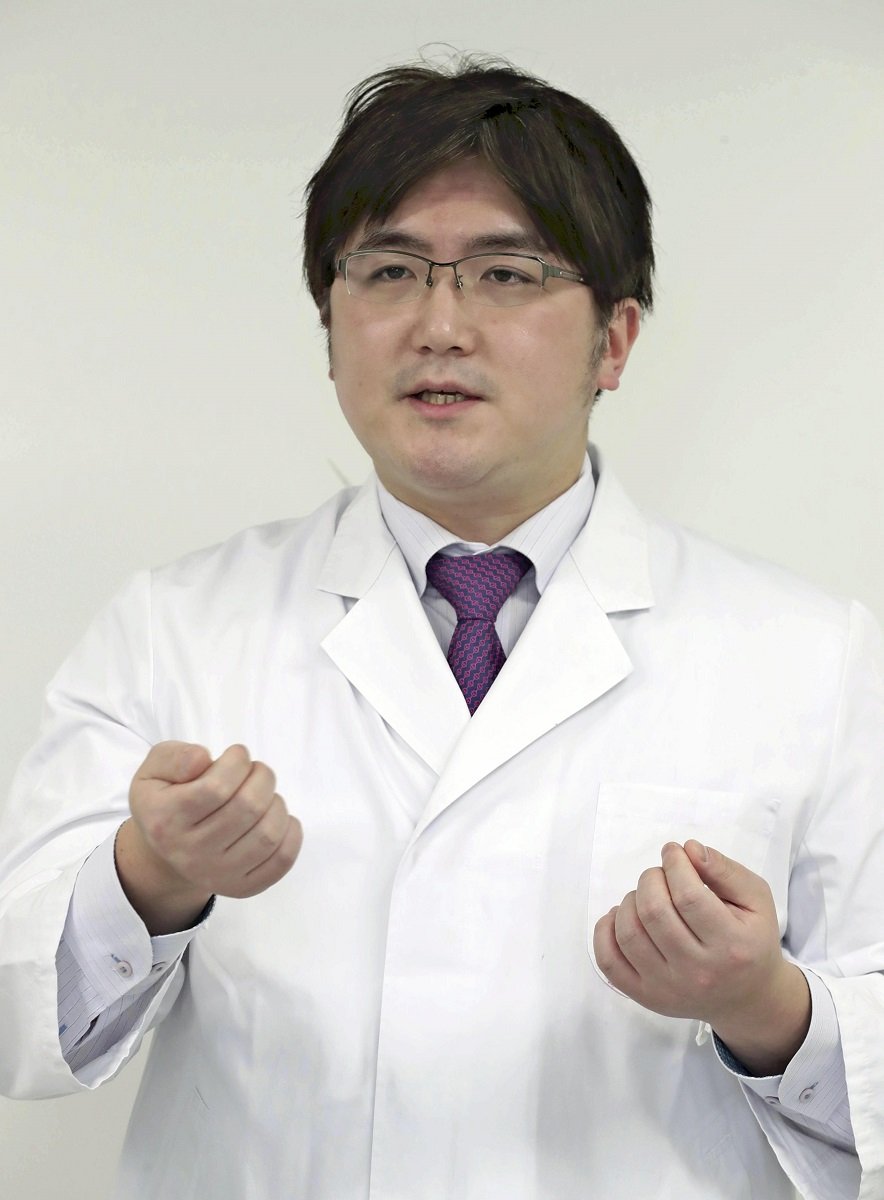 10:55 JST, February 24, 2021
SENDAI — Takeshi Kanno, a 41-year-old gastroenterologist at the Tohoku University Hospital in Sendai, gives lectures on disaster medicine in various parts of the country. He was chosen as one of "the world's 100 most influential people" by Time magazine, in recognition of the many lives he saved in the quake-stricken area in the spring of 2011.
Kanno has never thought of himself as special. But he feels that he must carry on the mission of telling others about his experiences and the lessons he learned.
On March 11, 2011, there were more than 100 inpatients at the publicly run Shizugawa Hospital (presently Minamisanriku Hospital) in Minami-Sanriku, Miyagi Prefecture, where Kanno was working. Immediately after about 30 patients, including bedridden people, were evacuated to the meeting room on the topmost fifth floor of the hospital, muddy water reached the fourth floor. The radio was issuing warnings against the arrival of the second tsunami, but Kanno managed to save nearly 10 people downstairs.
Together with patients and other people, Kanno managed to hang on in an otherwise empty meeting room, waiting to be rescued. As he finished getting everyone into Self-Defense Forces helicopters, and then boarded one himself, the last person to be rescued, tears gushed from his eyes.
His family had helped him martial his courage. Kanno's wife Yukie, 42, had returned to her parents' home in Sendai with their eldest daughter Mizuki, 12, and gave birth to a healthy boy five days after the quake. Hoping the boy would acquire the sense and wisdom to overcome hardships, they named him Rei, using a kanji character meaning clever or wise. Kanno thought that as the father of a boy with this name, he must not run away from hardships.
So after he attended his son's birth, Kanno supported quake-victims by bunking down at evacuation shelters in Minami-Sanriku for about one month, although he had already been assigned to work at Tohoku University Hospital starting that spring.
Shortly after he moved to Sendai, he learned that he had been chosen as one of the world's 100 most influential individuals by Time. As many doctors exhausted themselves caring for patients in the quake-hit areas, he wondered with embarrassment, "Why just me?"
But it was undeniably a turning point in his career. Encouraged by a senior doctor to behave in a way worthy of his selection, Kanno resolved to tell others about his experiences and the lessons he learned during the disaster.
Over the past 10 years, he has given 200 lectures to more than 20,000 people, including health-care workers and local government officials. Kanno points out the importance of preparedness, saying the only thing he could do in that meeting room was stay close to the patients, as he had neither medicines nor medical equipment.
He also advocates relocating hospitals and nursing-care facilities for the elderly to areas with a low risk of being affected by a disaster.
Kanno also teaches disaster medicine at such places as Jichi Medical University, his alma mater in Tochigi Prefecture. The students' earnest expressions please him. Kanno believes, "Even if personal memories of the disaster fade, those memories won't be lost if our experiences and the lessons we learned survive."
He chose Riku as the name of his second son, born in 2015, taking a kanji character from the town of Minami-Sanriku. Even now, Kanno goes to the town, which is being rebuilt, once every two months. While feeling somewhat sad about the drastically changed landscape, he enters the sushi shop he knows there.
Ready to risk life
After the first tsunami struck Shizugawa Hospital, Kanno ignored entreaties from the people around him to stop and ventured downstairs. He thought, "I don't want to have any regrets" and ready to risk his life, he wore his wedding ring, which he usually takes off when examining patients. After he was rescued, Kanno served as a coordinator to allocate doctors to evacuation sites.
Add TheJapanNews to your Google News feed.