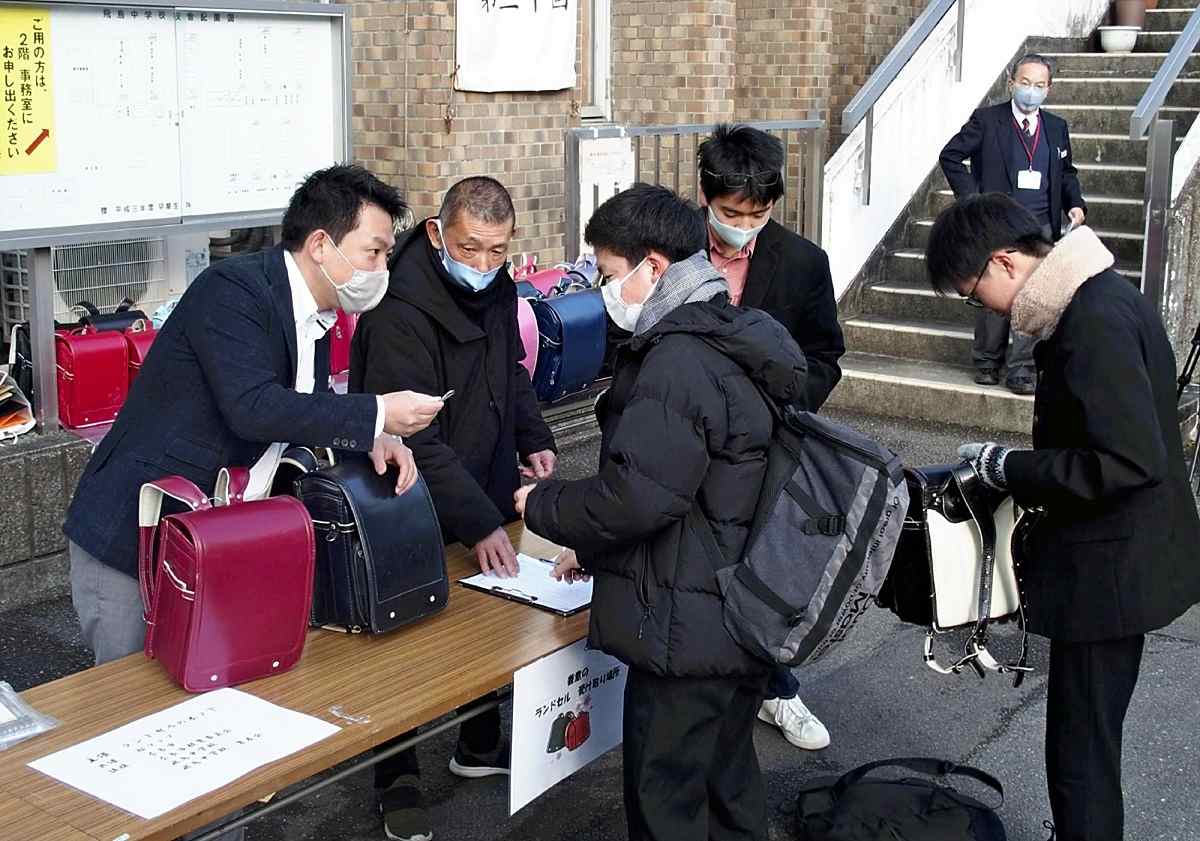 13:11 JST, February 16, 2021
NARA — A shop in Nara is collecting old randoseru backpacks used by elementary school children for distribution to people in need.
Located in Furuichi-cho in the city, the shop is distributing the randoseru free of charge after cleaning and repairing them.
Many families don't want to just throw away their children's old randoseru due to the memories associated with them, and end up keeping them even though they're not being used. At the same time, some households hesitate to purchase these relatively expensive bags, which are made of leather or synthetic leather, particularly families suffering from lower incomes amid the coronavirus pandemic.
Shuhei Kinoshita, 41, runs a randoseru shop in Furuichi-cho. He came up with the idea of collecting and redistributing used backpacks, with the hope of "connecting the wishes of people who have used a randoseru in the past and those who need one now, while also helping households in need."
Repaired and cleaned
Students, parents and guardians brought used randoseru one after another to a collection site in front of the city-run Asuka Junior High School in Nara earlier this month.
The collection was held in tandem with the start of school in the morning and was done with the cooperation of the school, which had called on its students ahead of time to contribute, at Kinoshita's request. Members of the Cherry Club, a local community group to which Kinoshita belongs, also participated in the drive, and 33 bags were collected on the day.
Kokoro Nakahara, a 13-year-old first-year student of the school, donated his old backpack. "The randoseru contains lots of my memories. I hope the person who gets it will put their memories into it, too."
The campaign resulted from discussions by Cherry Club members about doing something to help families in need amid the coronavirus crisis.
Kinoshita said he was impressed with the activity launched by a friend of his who lives in Fukui Prefecture, a campaign to collect used school backpacks and send them to the areas in Kyushu hit by torrential rain last summer.
"In a normal year, I have a busy period from around Golden Week [from late April to early May] to the time of summer recess, but there were fewer customers [last year] than usual. It occurred to me that many people could be in need, prompting me to do something about it," Kinoshita said.
Kinoshita usually repairs randoseru free of charge. The donated backpacks will be repaired through such means as applying steam to smooth out twists in the shoulder straps; they will also be cleaned and sterilized. They will then be distributed from March 1 to families with children scheduled to be enrolled in April.
Would-be recipients need to come to the shop directly or pay for delivery. Bags will be given away on a first-come-first-served basis.
The shop is still accepting donations of used randoseru.
Himself the father of a boy attending nursery school, Kinoshita said, "I hope the kids who get a donated randoseru will head to their enrollment ceremony with a smile, with their randoseru on their back."
Add TheJapanNews to your Google News feed.