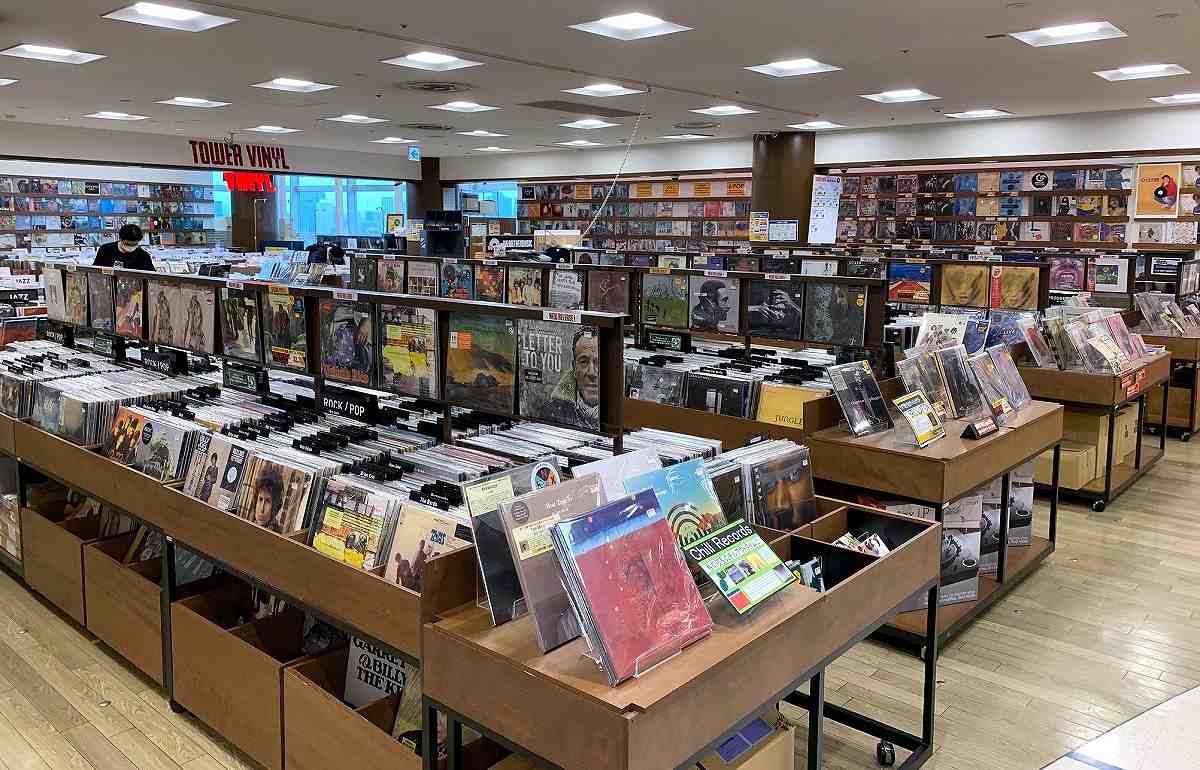 14:00 JST, January 15, 2021
Vinyl records are making a comeback. More than 30 years ago, CD's started becoming the main physical medium for listening to music, however, in the past 10 years, the production volume for vinyl records has been steadily increasing, and large stores and fashionable small shops have been opening up one after another.
■ Resurgence of used record stores
The area around Shibuya Station in Tokyo has dramatically changed in the past year. In Miyashita Park, which is a park, commercial facility and hotel all rolled into one that opened in July 2020, used record store Face Records stands out among the many high-end stores and restaurants.
The storefront is lined with vinyl record jackets, and some passersby can't help but stop and have a look. The store is also in charge of the background music played throughout the facility.
In March 2019, Ginza Records & Audio opened in Hankyu Men's Tokyo in Yurakucho. In November 2019, a record store opened in the newly renovated Shibuya Parco as well as a cafe that plays records.
Vinyl records are becoming a feature of new commercial facilities as the medium enters a new phase in its revival that has been underway for several years.
■ Revival originated in U.S.
There were about 100,000 vinyl records produced domestically in 2010. In 2015, it exceeded 600,000, and in 2019, it was about 1.2 million. While CD production, on the other hand, has been on a steady decline, but it still stood at about 130 million in 2019.
In the United States, it was reported that vinyl records sales in the first half of 2020 surpassed CD sales for the first time since the 1980s. The trend of people buying more records started in the U.S. and was triggered by Record Store Day, the third Saturday in April. It began in 2008 and is a day meant to support local record stores.
Japan started promoting Record Store Day in 2012. The number of records released in conjunction with this day increased to 100 last year. Another 110 were released last year on Japan's own Record Day on Nov. 3, which began in 2015.
In response to this boom, the number of record stores catering to those unfamiliar with the medium significantly increased in the city. The HMV Record Shop Shibuya, which opened in 2014, was the catalyst for this trend, offering record players priced at around ¥10,000 and creating an environment that made it easy for someone to start their vinyl collection. Tower Records Japan Inc., the largest company in the industry, also opened its first record store Tower Vinyl Shinjuku in March 2019 on the 10th floor of its Shinjuku store.
"We changed the image of a small, dark record store and made it bright and easy to look around so young people can casually drop by," the manager of the store said.
■ Discovering hidden gems
Another reason for the recent rise in popularity of vinyl seems to be the increase in the number of fans who are more particular about their music taste. Some prefer records because of the soft sound quality that cannot be heard from CD's. Others find joy in spending time listening to and searching for new music.
While the CD market is shrinking, outdoor music festivals, which are usually held in remote locations and exposed to the harsh natural environment, are booming, proving that what fans are looking for in music is an experience rather than convenience.
Furthermore, as YouTube and subscription music streaming services have made it easier to listen to old music from other countries, it has made it easier for music fans to find hidden gems.
The genre of city pop has been regaining some of its popularity in recent years in Japan. City pop has also been garnering attention from abroad as people discover music from the 1970s and '80s by artists such as Tatsuro Yamashita. This inbound interest is also supporting the domestic record market.
However, as a result of the coronavirus pandemic, the expansion of record production was put on hold, and customers overseas looking to get their hands on a certain record are being forced to wait. The industry will have to work hard to ensure that the boom does not become a passing fad.
Add TheJapanNews to your Google News feed.