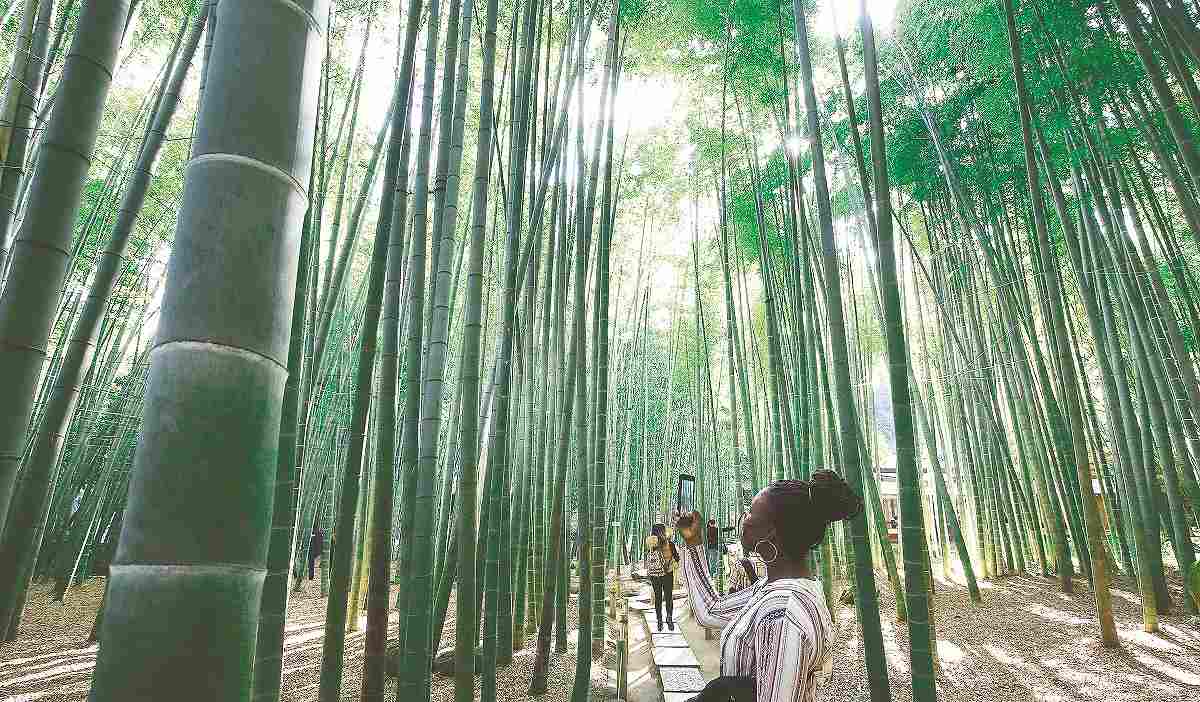 16:23 JST, January 11, 2021
Bamboo shoots use up most of their energy in spring just to grow out of the ground and in Autumn, when their vitality returns, they become leafy green. "Take no haru" (Bamboo Spring) is an autumnal theme in haiku poetry that refers to bamboo's spring-like freshness so late in the year.
I visited Hokokuji Temple — known for its famous bamboo garden — in Kamakura, Kanagawa Prefecture. Awash in sunshine, the bamboo glittered like jade. Despite this, Motohiro Ujihara, 65, a senior temple official, looked glum.
"It's not as nice as it was before," he said.
A typhoon in autumn 2019 had ravaged about half of the bamboo forest.
To repair the damage, he raised bamboo shoots one by one and solidified the soil at their base. But only about one-third of the usual amount of bamboo shoots grew.
"I will add soil and fertilize it," he said. "I hope there will be a lot next year."
Located off the beaten track of the hustling and bustling Wakamiyaoji street, Hokokuji Temple was founded in the 14th century and prospered as a site for the powerful Ashikaga and Uesugi families. It also faces Jomyoji Temple, one of Kamakura's five famous Zen Buddhism temples, known as Kamakura gozan. Both Hokokuji and Jomyoji temples belong to the Rinzai sect of Zen Buddhism and can be found near each other on Kanazawakaido street.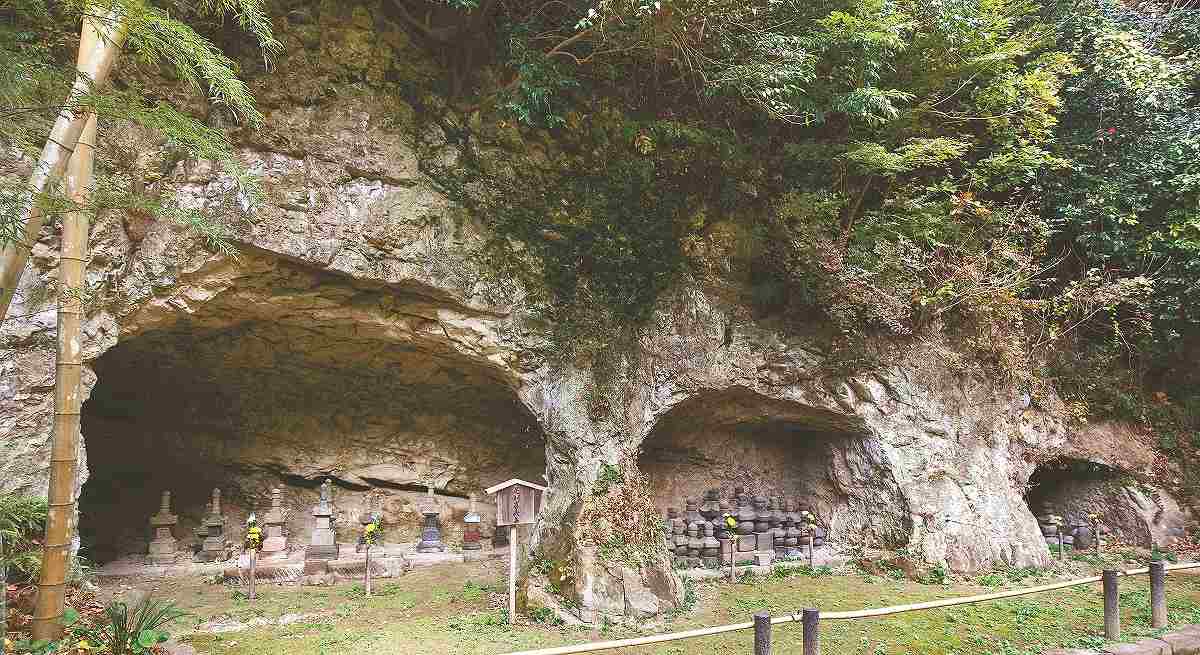 Religion and spirituality have long been deeply embedded in Kamakura's terrain. Yato, a narrow valley tucked into Kamakura's lush, mountainous landscape, also has a temple built into it.
But Hokokuji's bamboo garden is a relatively fresh addition. It is said that the former chief priest maintained the grove but it only became a popular tourist destination after the Michelin Green Guide Japan, a guidebook issued by Michelin of France, gave the garden three stars in 2009. The bamboo garden, which takes around 10 minutes to view, used to welcome several thousand visitors a day before the novel coronavirus pandemic.
"In Kyoto, there is a temple in a bamboo grove," said Ujihara. "But to have a bamboo garden in a temple, that's rare."
Bamboo, which stands back up after it's been knocked down, also represents regeneration. As the seasons change and winter nears, many trees experience leaf loss, but Bamboo grows straight into the sky with lustrous green leaves.
Kamakura's historic monuments might also have been breeding grounds for one of Japan's most prolific authors: Yasunari Kawabata (1899-1972), a Nobel Prize-winner who lived in the Hokokuji Temple estate for several years.
In Kawabata's representative work written in his later years, "Yama no oto" (The sound of the mountain), the protagonist is an elderly man living in a valley in Kamakura who frequently listens to the mountain winds late at night. To him the gusts sound like foreboding rumblings from deep within the earth delivering a recurring omen of his imminent death.
In addition to literary inspiration, Kamakura was also the site of an ancient battle during a period in the Japanese middle ages. At that time samurai were scattered throughout the country and many of them convened on Kamakura in an effort to take it over. On their victorious path, many died spilling their blood into the lands.
As I wandered throughout the bamboo garden, I wondered if Kawabata's literary perspectives on old Japanese sorrow had been developed in the ancient city of Kamakura.
I paused and looked at the bamboo.
Their green trunks thudded hollowly against each other.
■ Western-style gardens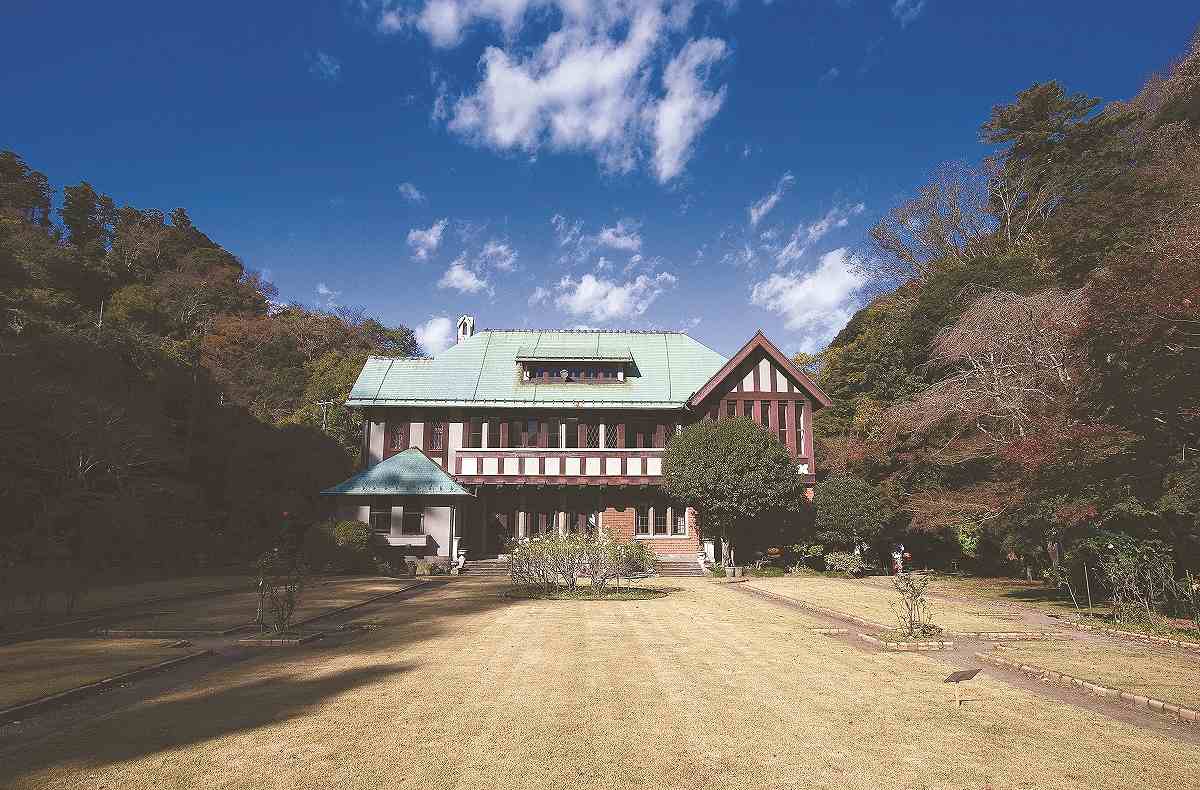 The area around Hokokuji Temple is not solely a space for Japanese culture enthusiasts. The former residence of Marquis Kacho features a Western-style building and gardens that contrasts uniquely with the surrounding temples.
Built in 1929 by Marquis Hironobu Kacho in a quaint French-style, the gardens are fragrant with winter roses.
Jomyoji Temple, a Kamakura gozan built in the 12th century, also has a Western-style building. Ishigama Garden Terrace boasts an English-style natural garden, is the former residence for a House of Peers member and was designed by a German builder in 1922. The temple repurchased the grounds in 1999, which included the land lease right, and former chief priest Takeshi Koga,79, decided to reuse the Western-style building.
"I couldn't bear the destruction of such a precious building," he said.
It was redeveloped as a restaurant the following year that serves handmade bread and food.
While Koga was on the lookout for a gardener, he met Nicholas Lenaghan, who said, "I want to create a place where people feel like they are in their own garden." Lenaghan, 45, was born in Scotland and studied landscape architecture.
Koga agreed with Lenaghan's approach. Instead of building a garden that only featured gorgeous flowers, Lenaghan took into consideration a plan that would strike a balance with the temple's garden. He scattered plums and cherry blossoms, and planted herbs and Japanese wild grasses.
In time the revitalized garden blended into the natural beauty of the nearby mountain and the bamboo rising up from the ancient site and traditional culture of Kamakura.
Add TheJapanNews to your Google News feed.