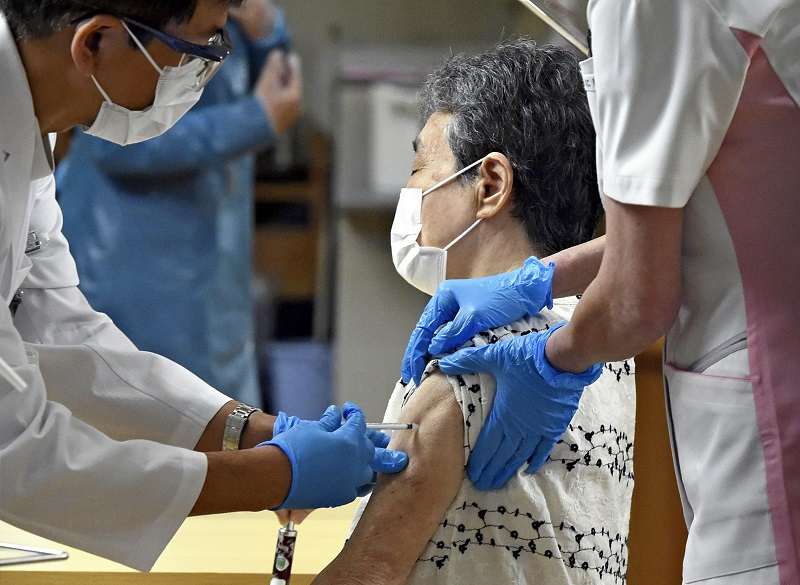 11:09 JST, June 14, 2022
As the third round of vaccinations for coronavirus continues, at least 400,000 doses of vaccines have been discarded in Tokyo because they reached their expiration date without being used, the Yomiuri Shimbun has found.
Reluctance to receive the Moderna vaccine, which is said to produce strong adverse reactions, on top of the sluggish vaccination rate are seen as the cause of the massive waste.
The Yomiuri Shimbun surveyed Tokyo's 53 municipalities and wards, excluding those on islands, on the amount of vaccine discarded through the end of May. Only 11 local governments, including Koto and Arakawa wards and Chofu and Komae cities, said they discarded none. Setagaya Ward did not respond.
Shinagawa Ward was forced to discard about 63,000 doses of the Moderna vaccine in May. "The main reasons are that the infection situation has relatively settled down, and there are young people who think at this point they are not likely to have serious [symptoms]," a ward official in charge of vaccinations said.
As a whole, the vaccination rate in Tokyo for the first and second doses is 80%, but drops to just under 60% for the third dose as of June 6. The rate among people aged 65 or older stands at over 90%, compared to only 40% for those up to age 39.
Shinagawa Ward did away with reservations and implemented nighttime vaccinations, but still fewer than half of those under 50 have received the third dose.
Itabashi Ward brought up the impact of the large-scale vaccination center set up and run by the Self-Defense Forces in central Tokyo. Not only did the ward dispose of 22,800 Moderna doses, but about 2,500 doses of Pfizer vaccine as well.
Noting that many ward residents received vaccinations at the SDF site, "It was difficult to predict how many would be vaccinated in our ward," an Itabashi Ward official said.
The Moderna vaccine has an expiration date of nine months, three months shorter than the Pfizer vaccine. There were cases when the vaccines had only a few months left by the time they arrived at the municipalities from the central government.
In May, Shinjuku Ward discarded about 25,000 doses that it received in January and February. When the doses arrived, they had only three to four months left until their expiration date.
"We quickly sent them to our vaccination sites, but they weren't used up, partly because of the tendency to avoid the Moderna vaccine," a ward official said.
A mechanism is in place to re-route the vaccines to other municipalities through the Tokyo metropolitan government, but "at the start of the new year, everywhere seemed to have been saturated with vaccines," the official said.
Suginami Ward, which had already disposed of about 26,200 doses, had another 18,400 doses that expired Friday.
Ward officials had gone to pick up vaccines after being informed by medical institutions that the expiration date was approaching and brought them to other vaccination sites. It also sent a letter urging people who had not received a third shot to get vaccinated.
However, the ward still failed to use up all of the vaccines in stock.
A shortage of vaccines was a major problem during the first and second immunizations. As a result, local governments scrambled to secure stocks ahead of the third shot, an effort that produced a negative side.
Kita Ward already disposed of about 12,500 doses, and had another 35,000 doses expire Friday.
Back in January, the ward had been looking to avoid a future shortage and secured about 277,000 doses, the same number as the second shots that it administered. Upon learning of a shortage of Pfizer vaccine, it secured Moderna vaccine. Then, when Pfizer increased production, it acquired more of its vaccine.
But its vaccination rate for a third dose turned out to be only 60%. "Even if there was a [reservation spot] for the Moderna vaccine, it wasn't filled," a ward official said.
In Chuo Ward, nearly 90% of those making reservations requested the Pfizer vaccine. The ward gave about 450 Moderna doses to Meguro Ward in mid-May, but still had to dispose of about 12,000 doses.
"Every municipality puts the highest priority on the safety and security of its residents when it secures vaccines, and has accommodated neighboring areas with surplus doses," a ward official said.
"We may be able to reduce waste if there's a network that enables more efficient coordination within a wide region of municipalities."
Add TheJapanNews to your Google News feed.