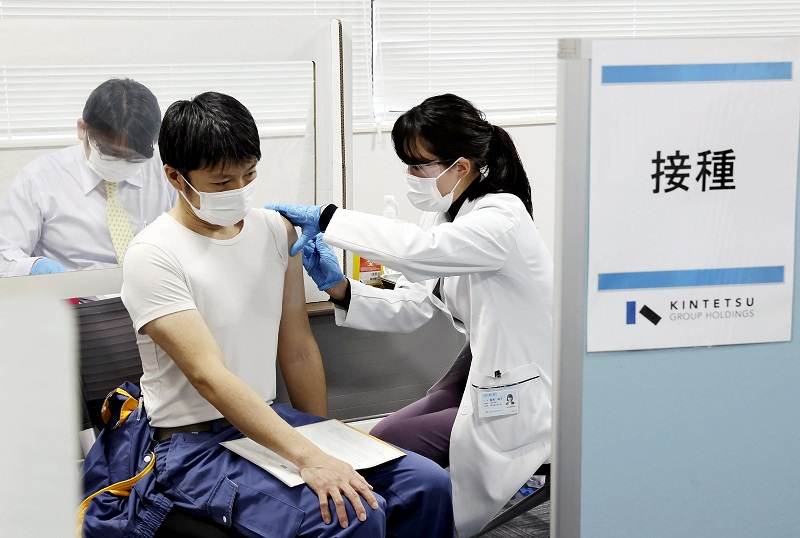 13:17 JST, March 30, 2022
Progress remains slow in administering booster shots of COVID-19 vaccine at workplace inoculation sites.
To raise the overall vaccination rate in Japan, the government moved up the date for starting booster shots at workplaces by about two weeks. Despite this move, however, only 1.54 million doses were administered in the first five weeks, just a quarter of the number over the same period after workplace vaccinations started last June.
Some companies are even rethinking their plans for worksite vaccinations, as fewer people than expected are seeking a booster shot at those venues.
"The aim was to increase opportunities for administering the vaccine, but businesses may struggle to see the merits of promoting the third round of shots," a senior official of the Health, Labor and Welfare Ministry said.
Over five weeks from June 2021, workplace shots accounted for about 10% of all vaccinations. However, in the corresponding five-week period since the third round of workplace vaccinations started on Feb. 12 this year, booster shots at workplaces represented only 3% of total inoculations.
The government moved the start of booster shots forward from the initially planned date in March because the vaccination rate for third shots was not rising as expected. But this and other moves have so far failed to have a tangible impact.
As of March 22, companies and other entities had applied to set up 2,922 workplace vaccination sites, about 70% of the 4,044 seen in the last round of shots, the health ministry said.
The government secured a total of 12 million vaccine doses for the third round of vaccinations at workplaces. But so far, less than 20% of those doses have been used.
Out of pocket
One reason why businesses are reluctant to provide booster shots is the expense involved. The government provides some financial assistance for workplace inoculations, but as the environment for local authorities to administer booster shots has improved, businesses and other entities have likely concluded that there are few merits to securing vaccination sites and doctors on their own.
The trucking association of Saitama Prefecture, which implemented workplace COVID-19 vaccinations last summer, has decided not to do so this time. Previously, the association shouldered the work of securing personnel for the vaccination sites, and the cost of outsourcing the creation of a system to accept applications for getting a shot.
"We have to pay out of our own pocket, and not that many member companies want to implement workplace vaccinations this time," said an official of the association. The association is calling on workers at its member companies to get a booster on their own, at vaccination sites provided by local governments.
It is also difficult for businesses to ascertain their employees' needs. The third shot can be received six months or more after the second shot. As the timing when people can get their third shot differs, Toshiba Corp. plans not to implement worksite vaccinations across the board at its group firms.
"Many of our workers will be able to get the third shot only from around May. Even if we make preparations now, it's difficult to forecast how many of them will want to get a shot at a workplace site at that time," said an official at Toshiba.
Some companies have scaled back their worksite vaccination plans.
Suntory Holdings Ltd. launched its third round of shots on Feb. 28, with the assumption that about 25,000 workers would be inoculated. It later reduced this number, however, to about 22,000.
"It's easy to make reservations to get a shot at places provided by local governments, so a lot of people seem to have switched venues from worksites," a Suntory official said.
Add TheJapanNews to your Google News feed.