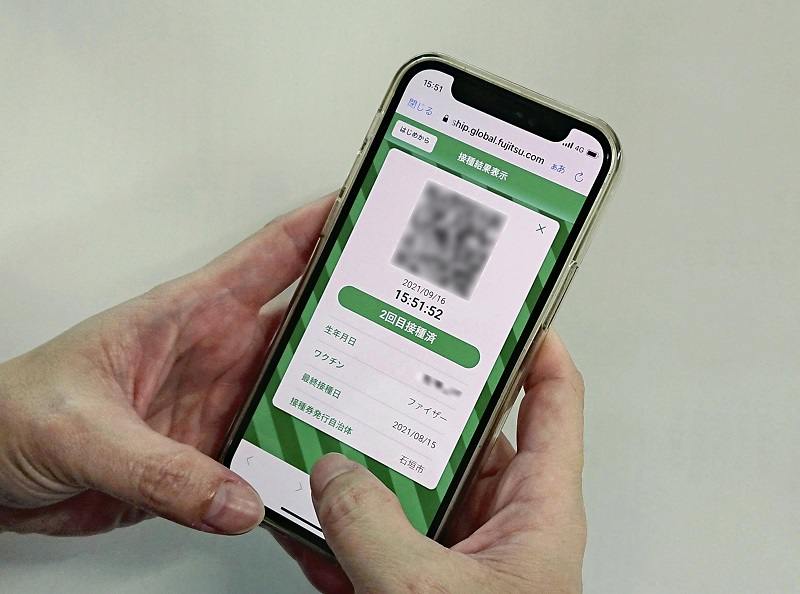 12:26 JST, September 23, 2021
In anticipation of the government using COVID-19 vaccination certificates in easing novel coronavirus-related restrictions, municipalities and businesses are starting to offer preferential treatment to people who have been vaccinated.
To help normalize the economy, many local governments are issuing their own vaccine certificates or giving discounts on dining and travel.
Public-private initiatives aimed at balancing the easing of restrictions with infection controls are expected to spread.
Taking the initiative

A supplementary budget was submitted to the Nara prefectural assembly on Sept. 16 to pay for coupons worth ¥3,000, which could be used at restaurants in the prefecture that have been certified in infection control.
The coupons would be awarded by lottery to Nara residents who have received both vaccine shots.
"We want to turn the prefectural economy around even amid the pandemic. This will also motivate young people to get vaccinated," a prefectural official in charge of the matter said.
Gunma Prefecture announced it would issue its own vaccine certificates as early as October, which will probably be earlier than the central government.
Its system will likely involve having residents enter their vaccine ticket number and other information into the prefectural government's official Line account, which would then display a digital certificate.
Prefectural residents with certificates would receive ¥5,000 to use toward traveling within Gunma.
In addition to linking with the government's digital certificates, which could roll out by the end of the year, the system may also be used to provide certificates of negative COVID-19 tests for unvaccinated residents.
Since July, the municipal government of Ishigaki, Okinawa Prefecture, has been issuing "travel passports" to tourists who have either had both shots or a negative test result within 72 hours.
The passports can be used for discounts at about 180 hotels, souvenir shops and other locations.
While only about 30% of the passports were issued to vaccinated people initially, this has since doubled to 60%.
"In order to keep the city's health care system from collapsing, we needed to encourage visitors to be vaccinated or tested before coming as much as possible," a city official in charge said.
The city plans to start issuing certificates that would provide similar benefits to residents who have received both shots.
Peace of mind
With more than half the country having had two shots, hopes for economic normalization are growing among the business sector, which has suffered amid the prolonged COVID-19 crisis.
Travel giant HIS Co. offers tours exclusive to people who have been vaccinated or have negative antigen test results, with discounts for vaccinated people.
Preparations to provide a sense of safety are also ramping up. The Imperial Hotel started on Sept. 15 performing antigen tests on unvaccinated employees once a week.
The restaurant chain Watami Co. encourages employees to get vaccinated, and those who do not want to will instead undergo regular testing.
Worries over divisions
Starting in November, when everyone who wants to be inoculated is expected to have had both shots, the government plans to start using vaccine certificates — so far used for overseas travel — to start eliminating and easing requests to not cross prefectural borders and limits on the number of people in dining parties.
Western nations are already using certificates like this. Since August, France has mandated that certificates be presented at restaurants and when using long-distance public transport.
San Francisco requires certificates be presented when using indoor facilities such as bars and movie theaters.
Japan is expected to look to Europe and elsewhere in creating its systems.
Ritsumeikan University Prof. Hideki Endo, who studies tourism sociology, said: "For providers, the use of certificates can also give a sense of security and help with infection controls. However, some people who want to be vaccinated can't, for reasons such as illness. We need to make sure there is no discrimination or division [based on whether someone has a certificate]."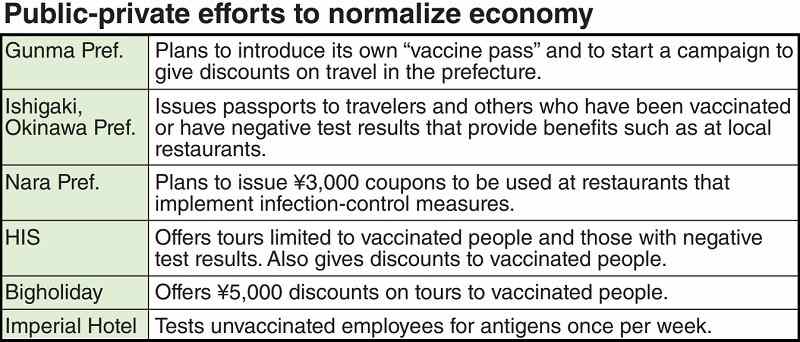 Add TheJapanNews to your Google News feed.