Japan Ministry Project Aims to Digitally Reproduce Brain Functionality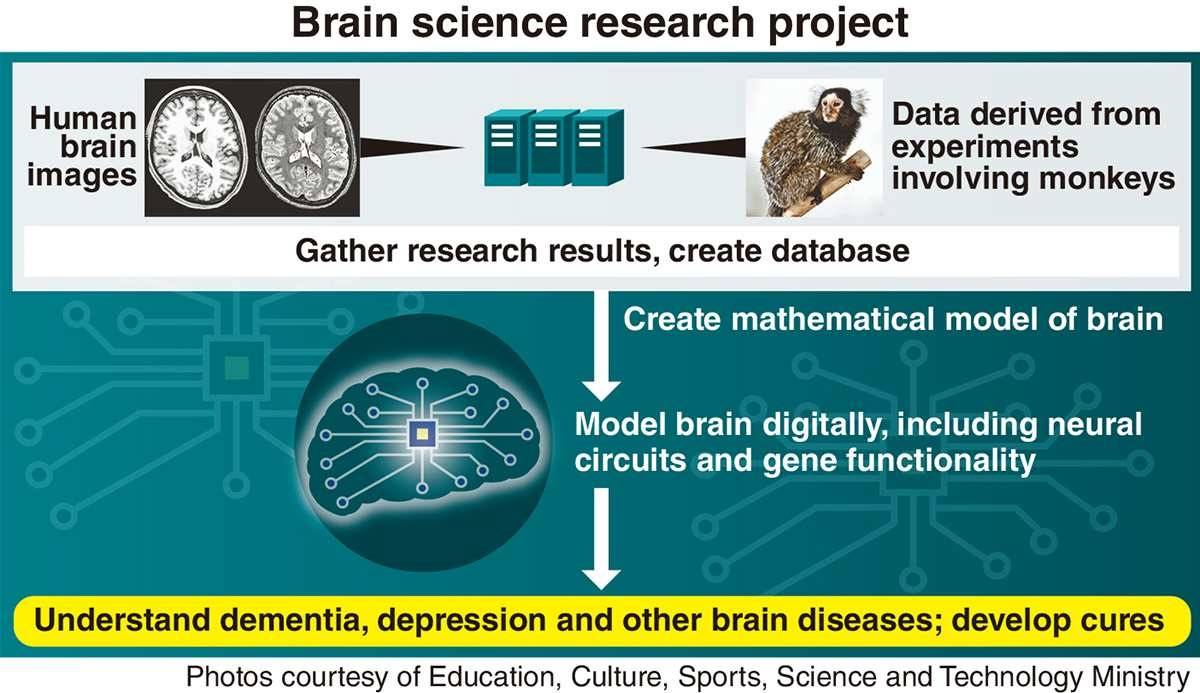 14:23 JST, June 24, 2023
The government is to embark on a large-scale research project to digitally reproduce human brain functions with the aim of tackling cranial nerve-related diseases such as dementia and depression.
Reproducing the complex mechanisms of the brain and the state of disease in a digital model is expected to help develop treatment methods and the discovery of new drug.
This project will be led by the Education, Culture, Sports, Science and Technology Ministry for a six-year period beginning next fiscal year.
Initially, the ministry will develop a database that consolidates Japan-based cranial nerve-related studies. The database will include brain images of patients and data derived from experiments involving monkeys, which have brains similar to humans.
Project researchers will then use data on cerebral neural circuits, brain cell functionality and genes related to the occurrence of diseases to formulate mathematical formulae that can digitally reproduce brain functions.
Using this "digital brain," the researchers will utilize supercomputers and other devices to analyze disease-afflicted brains, with the aim of developing new treatments and medicines. They will also try to identify abnormalities that cause diseases and find ways to detect such maladies at an early stage. Digitally reproducing the intricacies of brain diseases could allow researchers to test the effectiveness of candidate drugs prior to clinical trials, according to the ministry.
Japan's world-class brain science-related research infrastructure includes a "brain bank" that stores brain tissue of deceased persons with the consent of their families. However, research has not translated effectively into practical applications due to insufficient cooperation between universities, doctors and pharmaceutical companies.
For this reason, the ministry sought to establish a central hub for domestic research results and create a research system that involves the industrial community, too. The ministry's budgetary request for next fiscal year will include relevant expenditures of about ¥10 billion to cover development of the database and cranial nerve-related research, among other fields.
The United States, Europe and China also are conducting national research products into brain diseases such as dementia that do not have cures.
Lecanemab — a drug designed to delay the progression of Alzheimer's disease developed by companies including the Japanese pharmaceutical company Eisai Co. — was approved under an accelerated approval pathway in the United States in January, generating worldwide attention.
According to the ministry, its new project is globally pioneering.
"We're keen to centralize our country's research capabilities in the field of brain science," a senior ministry official said.
Add TheJapanNews to your Google News feed.