Future world order: Economic tug-of-war / Global competition for energy puts small countries in a bind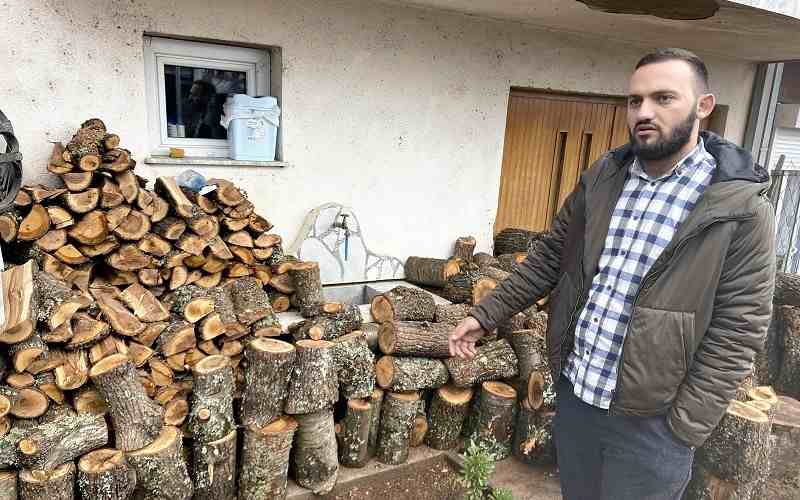 10:36 JST, January 10, 2023
The post-Cold War global structure has collapsed amid the confrontation between the United States and China, and Russia's invasion of Ukraine. What will become of the world order long led by the United States? What strategies should Japan take in response? The following is the third installment in a series of articles examining the struggle for dominance among global powers in the economic arena.
***
The invasion of Ukraine by resource-rich Russia is forcing a restructuring of the world energy order.
In December, Germany's first marine import terminal for liquefied natural gas (LNG) was completed in Wilhelmshaven in northern Germany on the North Sea, a major marine transportation artery. The project to build it was announced only 10 months ago.
A smiling German Chancellor Olaf Scholz, at a press conference aboard a cruise ship near the LNG terminal, said: "It is quite an important contribution to our energy security … This is now the new German speed."
Previously, Germany had depended on cheap Russian gas, delivered by pipeline, for 55% of its gas imports. But when sanctions were imposed on Russia after its invasion of Ukraine, Russia retaliated by reducing gas exports to Germany. As a result, Germany decided on a policy of ending its dependence on Russian gas.
Germany has been indiscriminately finding new suppliers, and has already signed a 15-year contract to import 2 million tons of LNG a year from Qatar.
Berlin's approach to procuring gas has spurred the fierce competition for energy unfolding on a global level and is said to be partly responsible for soaring gas prices.
In North Macedonia, a small country in Eastern Europe, a "de-electricity" movement is spreading.
Agon Ukshini, 28, a resident of Kumanovo in northern North Macedonia, has 6 cubic meters of firewood stacked in his yard. He stocked up on the firewood this past summer.
Although firewood costs 2½ times as much as in 2021, he stressed that keeping his house warm is indispensable as his 3-year-old daughter has caught a cold four times this winter.
He said burning firewood is less expensive than electric heating. Electricity bills have soared by 50% over the past year due to the Ukraine crisis, with the gas supply from Russia to Europe greatly reduced, directly affecting his household expenses.
Ukshini has been a migrant worker in Germany, the strongest economic power in Europe. Germany has decided to inject €200 billion (about ¥28 trillion) in fiscal stimulus to comprehensively deal with rising energy prices through such measures as capping electricity and gas bills.
In contrast, North Macedonia is far from affluent. Government assistance to deal with the energy crisis mainly targets the socially vulnerable.
"After all, we are living in the world of capitalism. It can't be helped. Small countries like us have no way to protect ourselves," Ukshini said.
Davide Tabarelli, of an Italian energy research firm, said: "Compared to major EU nations, the energy crisis is quite serious in Eastern European and Balkan nations. Many of them are economically weak and dependent on gas from Russia, which is geographically close."
When running low on fuel, they cannot easily secure alternative import sources, unlike larger countries.
Under the circumstances, the burden is concentrated particularly on smaller countries and developing nations.
Yet even Japan, which depends heavily on the Middle East and relatively less on Russia than Europe does, also faces an urgent need to review its energy strategy.
A senior official at the Economy, Trade, and Industry Ministry said, "Before we knew it, a certain company ended up buying half of its gas supplies from Russia," admitting that Japan had underestimated the risk of its dependence on Russia.
Hiroshima Gas Co. had come to depend on Russian supplies for about 50% of its LNG procurement, and Toho Gas Co. had done so for 20%.
The difficulty of energy procurement has been complicated by decarbonization efforts.
JERA Co., a company equally owned by TEPCO Fuel & Power, Inc. and Chubu Electric Power Co., terminated a contract to procure a little over 5 million tons of LNG annually from Qatar at the end of 2021.
The decision was made based on the judgment that LNG demand would decline due to decarbonization.
Now, some regret the "miscalculation."
As a resource-poor country, Japan is exposed to the risk of a supply disruption from Russia. At the same time, it faces the dilemma of not being able to immediately implement a policy of ending its dependence on Russian gas.
Add TheJapanNews to your Google News feed.