Scenes of U.S.-China confrontation / China's gift of construction work at Cambodian naval base sends powerful signals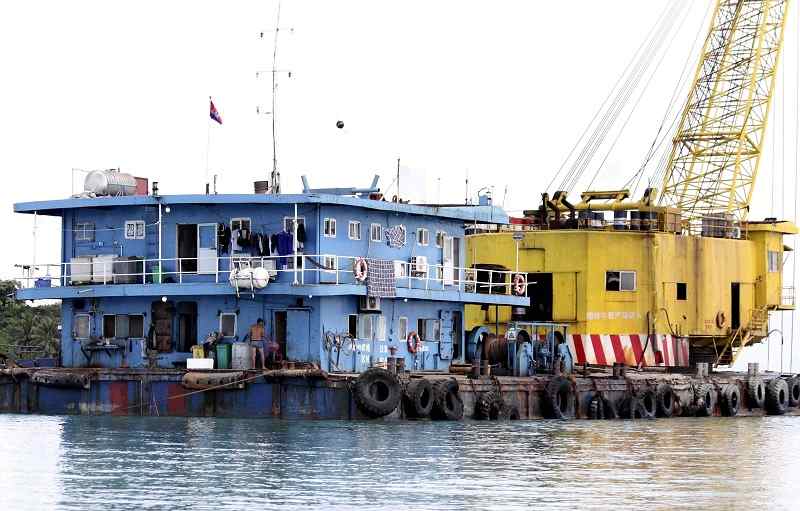 10:05 JST, August 5, 2022
The U.S.-China conflict has become more intense in the Indo-Pacific region in recent years. While China is aggressively expanding its maritime activities, the United States is increasingly involved in the region in the name of freedom of navigation. Cambodia's Ream Naval Base is now emerging as one of the front lines of the conflict, as there is concern that it will be used by China for military purposes.
The naval base faces the Gulf of Thailand and is surrounded by mangroves. Newly built prefab huts stand around the dock at the base and men who appeared to be workers were seen moving around in the area. In late June, cranes were dredging sand near the dock, apparently aiming to make the water deep enough for large ships to enter a port.
The work is said to have been initiated by entities related to the Chinese government. A 54-year-old fisherman working in the sea near the base said, "An increasing number of Chinese people go in and out of the base these days."
In early June, China started construction work to expand the base — for free. The sand-dredging appears to be part of that construction. U.S. media have reported that about one-third of the naval base would be set aside for the use of the Chinese Navy once the construction is completed.
The United States is increasingly uneasy about the situation. The Ream Naval Base is close to the South China Sea, where countries including the Philippines have territorial disputes with China, and it is just a little way from Thailand, a U.S. ally.
China might make Cambodia the site of its second overseas military base, following Djibouti in East Africa, to further increase its maritime presence in various parts of the world.
Cambodia is increasingly leaning toward China in return for a large amount of economic assistance, and the close relationship between the two countries is unlikely to be weakened for now.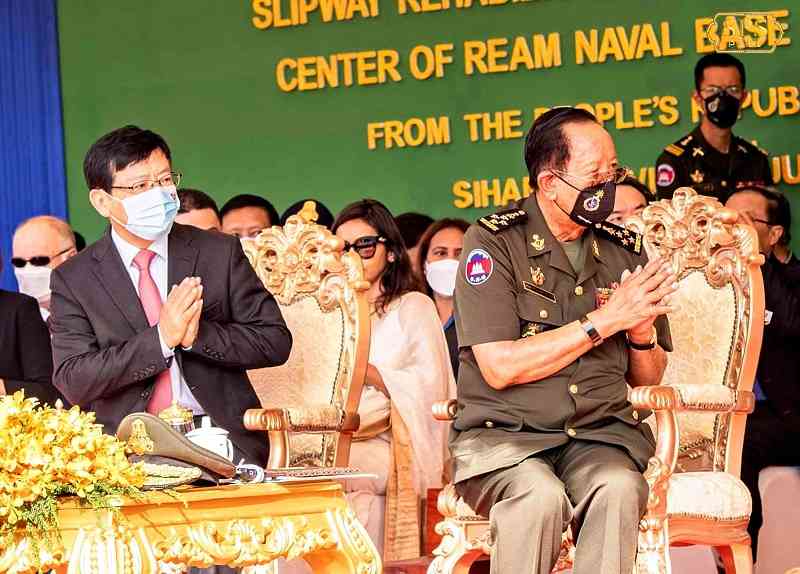 Complex relationship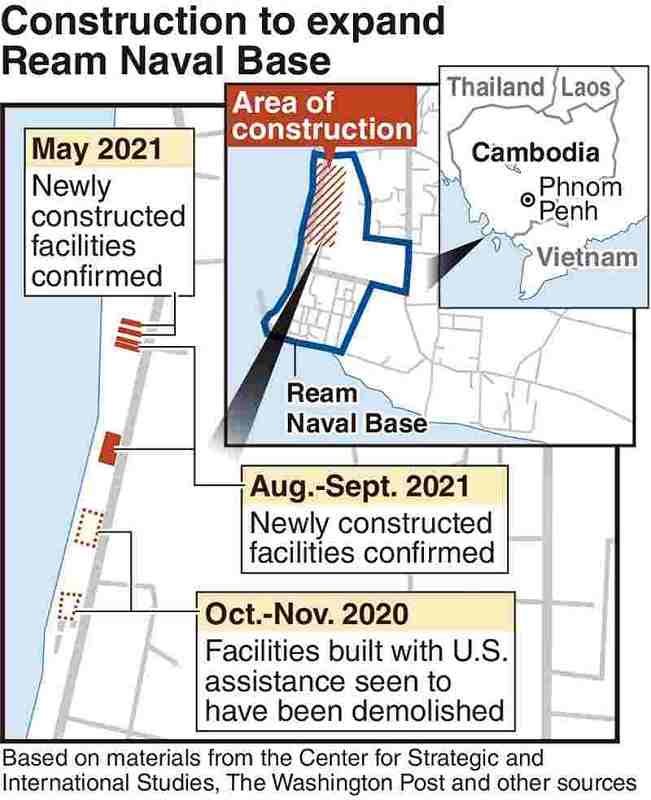 On June 8, a groundbreaking ceremony for the Chinese-funded expansion construction was held at the Ream Naval Base in southern Cambodia. Cambodian Defense Minister Tea Banh and Chinese Ambassador to Cambodia Wang Wentian were seated side by side, and Wang emphasized that the project would benefit both countries.
The previous day, a photo was posted on Tea Banh's Facebook page, showing him and Wang swimming in the sea together. The photo was accompanied by the minister's comment saying that their shared dip was to strengthen "cooperation" and "brotherhood"
Cambodia and China have a complex history, but their current close ties have existed for more than 20 years.
The Khmer Rouge regime led by Pol Pot, which ruled Cambodia in the late 1970s, claimed about 1.7 million Cambodian lives through forced labor and other abuses. Current Prime Minister Hun Sen emerged as a major politician after Pol Pot's fall from power, rising to second prime minister in a two-prime-minister system of government before overthrowing the pro-Taiwan first prime minister in a 1997 coup that triggered international condemnation. Under those circumstances, China supported Hun Sen — and has now done so for many years.
China has provided both military and economic support for Cambodia. Cambodia achieved economic growth of over 7%, with China as its top direct investor. Cambodia's infrastructure was developed at a rapid pace by China.
Meanwhile, the United States has taken a tough stance on Cambodia in recent years. Hun Sen, who has held a long-lasting grip on power, has become more dictatorial since 2017 when he dissolved an opposition party and increased oppression of media and journalists.
In response, the United States suspended part of its economic assistance to the country in 2018 and imposed economic sanctions such as freezing assets of high-ranking military personnel. The administration of U.S. President Joe Biden, which champions human rights diplomacy, expresses concern about the current situation in Cambodia.
Amid such a situation, Cambodia is further leaning toward China and distancing itself from the United States. While Cambodia and the United States had been conducting joint military exercises every year, Cambodia has suspended them since 2017. As for the Ream Naval Base, The Wall Street Journal reported in 2019 that Cambodia agreed to allow the Chinese military to use the base. In 2020, it was learned that facilities built with U.S. assistance had been demolished. The existence of newly built facilities was confirmed in 2021. The United States believes China had a hand in those developments.
According to Sophal Ear, an associate professor at Arizona State University who is familiar with politics in Cambodia, China's assistance for Cambodia is essential for the Hun Sen administration to continue — and the Ream Naval Base symbolizes the situation.
Add TheJapanNews to your Google News feed.