Kishida and nuclear disarmament / Japan PM Kishida keen to convey realities of A-bombings at next year's G7 summit in Hiroshima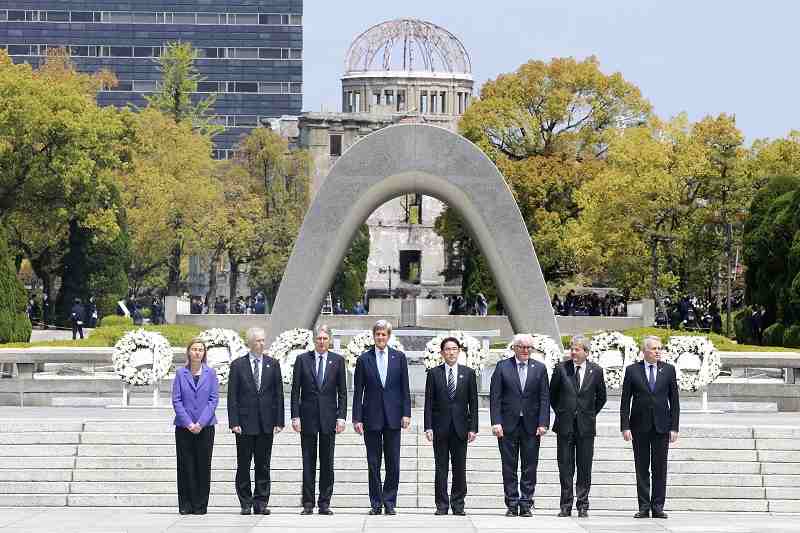 6:00 JST, August 4, 2022
As the world faces a growing nuclear threat exacerbated by Russia's invasion of Ukraine, among other factors, this series explores the strategy and prospects of Prime Minister Fumio Kishida's nuclear disarmament-related diplomacy. This is the final installment in a three-part series.
※※※
When U.S. President Joe Biden rose from his seat following summit talks with Prime Minister Fumio Kishida at the State Guest House in Moto-Akasaka, Tokyo, on May 23, Kishida moved toward the 79-year-old American leader and said, "With Russia threatening to use nuclear arms, it would be historically significant for us to gather in Hiroshima."
By that time, Tokyo had already leveraged working-level talks to broach with Washington the possibility of holding next year's Group of Seven summit in Hiroshima. Kishida, however, insisted on telling Biden about the idea directly, in his own words.
A smiling Biden expressed his support by saying he thought it was a good idea.
Kishida subsequently began laying the groundwork to secure similar positive feedback from other G7 member countries regarding the idea. Incumbent leaders of France and Britain — both nuclear powers — have never visited Hiroshima before, and officials in the two countries were initially wary of the notion. The Japanese side sought to assuage their fears by saying the idea was not aimed at criticizing nuclear nations.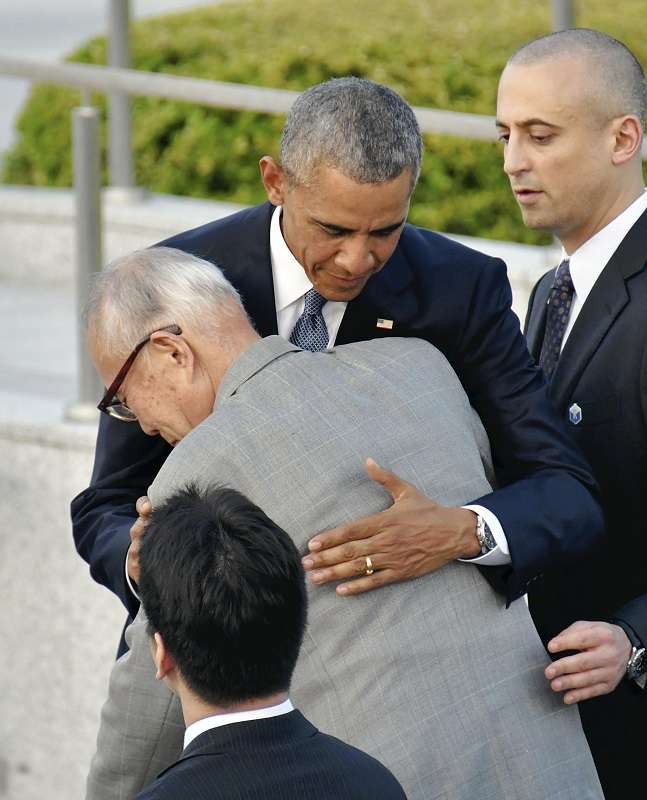 Kishida, 65, had previously enjoyed success when then U.S. President Barack Obama visited Hiroshima in May 2016. Obama laid a wreath at the cenotaph commemorating the victims of the atomic bombing in Hiroshima Peace Memorial Park — the first serving U.S. leader to do so. In a subsequent speech, he voiced his resolve to abolish nuclear arms, saying, "We have a shared responsibility to look directly into the eye of history and ask what we must do differently to curb such suffering again." He also exchanged words with a number of atomic-bomb survivors, and even embraced one of them.
The year before, then Prime Minister Shinzo Abe had told then foreign minister Kishida that the 2016 G7 summit would be held in Ise-Shima, Mie Prefecture. Kishida spoke with then Vice Foreign Minister Akitaka Saiki, 69, saying, "I want you to find a way to bring Obama to Hiroshima."
Saiki asked Caroline Kennedy — who, as U.S. ambassador to Japan had built a close relationship with Kishida — for her assistance in the matter. Kennedy, 64, was open to Saiki's request, and said she would help action the plan. While Kennedy pushed Kishida's idea in the U.S. corridors of power, Kishida strove to build a favorable reception of his idea by telling Washington behind the scenes that he had no intention of asking for an apology.
Kishida's hard work paid off when a G7 foreign ministers' meeting was realized in Hiroshima in April 2016. Kishida and his counterparts from other G7 countries, including then U.S. Secretary of State John Kerry, 78, visited Hiroshima Peace Memorial Park.
Following a tour of Hiroshima Peace Memorial Museum, which displays items that belonged to atomic bomb victims and other related exhibits, Kerry said it had been a "gut-wrenching." He later promised to urge Obama to make a visit.
Within the U.S. government, however, some officials, including then National Security Advisor Susan Rice, 57, were wary about Obama's museum trip. Some people in the United States believe the atomic bombings quickened the end of World War II and saved many lives.
Yet, Kishida was extremely keen that Obama experience a trip to the facility, saying, "The museum visit is essential to convey the realities of atomic bombing and radiation exposure." When Obama made his historic visit to Hiroshima, Kishida spoke with him in English offering explanations about the museum and the Atomic Bomb Dome, among other matters.
In December 2016, Abe and Obama visited Pearl Harbor in Hawaii. Some 70 years after the end of World War II, there was a feeling that a significant chapter had closed on Japan and the United States' checkered history.
The G7 summit in May will mark the zenith of Kishida's atomic-bomb-related diplomacy. The prime minister hopes all G7 leaders will visit Hiroshima Peace Memorial Park together and tour the museum.
At the Review Conference of the Parties to the Treaty on the Non-Proliferation of Nuclear Weapons (NPT), held in New York on Monday, Kishida announced Japan's intention to establish a $10 million U.N. fund to allow the youth of the world to visit Hiroshima and Nagasaki.
During the final session of the G7 summit held in Elmau, Germany, on June 28, Kishida spoke passionately, saying, "Next year, we'll demonstrate the G7's resolve to disallow threats of nuclear arms use and any attempt to overthrow the international order."
Russia has suggested using nuclear weaponry as part of its ongoing military aggression in Ukraine. Public opinion in the United States and European countries suggests growing fears that nuclear weapons will be used at some point in the future. It appears the momentum geared toward nuclear disarmament may have plateaued. China is increasing its nuclear buildup to keep step with the United States and Russia.
Kishida is aware that his advocations come amid difficult times. Nonetheless, he intends to share with other G7 leaders the feelings of people in atomic-bombed areas and his belief in the need for nuclear disarmament.
"Rather than simply giving up because it won't yield results, I'll give it my all to produce results," Kishida reportedly told people close to him recently.
Add TheJapanNews to your Google News feed.